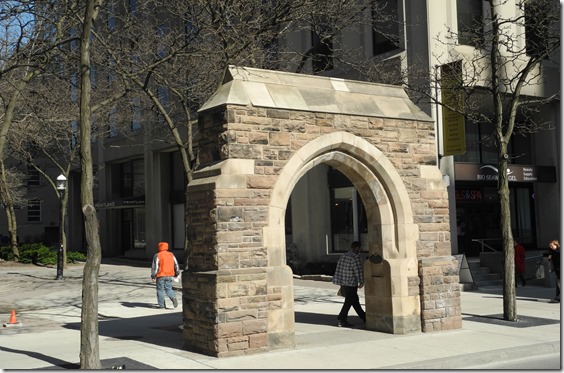 While walking Toronto's Yonge Street, the city's "main drag," I have often walked past the Gothic stone archway located on the sidewalk on the east side of Yonge Street, south of Carlton Street, opposite College Park. The plaque on the arch states that it was once a part of the former St. Andrew's United Church, built in 1923, at Bloor Street East at Park Road (formerly named Gwyne Road). Park Road runs southwest through the Rosedale Valley Ravine and terminates at Bloor Street, between Church and Yonge streets.
Central Methodist (1890-1925) and Westminster Presbyterian Church (1891-1925) joined and became Westminster-Central United Church in 1925. These two congregations joined with the Old St. Andrew's United to form St. Andrew's United Church, located at Bloor Street East and Park Road. When their church was demolished in 1981, it was an arch from this building that was placed on Yonge Street. A commercial tower was constructed on the site, and the church retained space in the business complex, located at 117 Bloor Street East.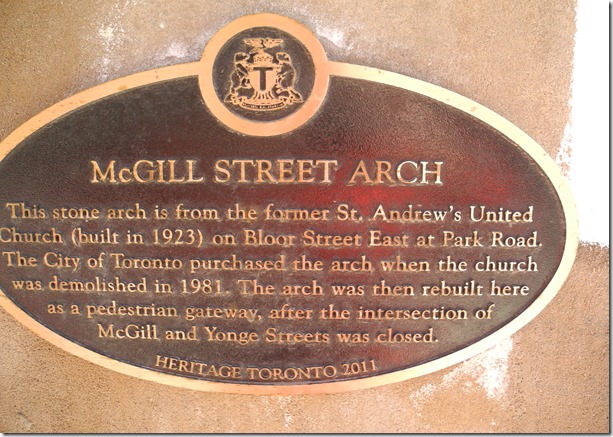 Historic plaque on the McGill Street Arch.
(Left photo) View of the arch from the north side, looking south on Yonge Street. (Right) A view of the west side of the arch, the view from inside the arch, looking east on McGill Street.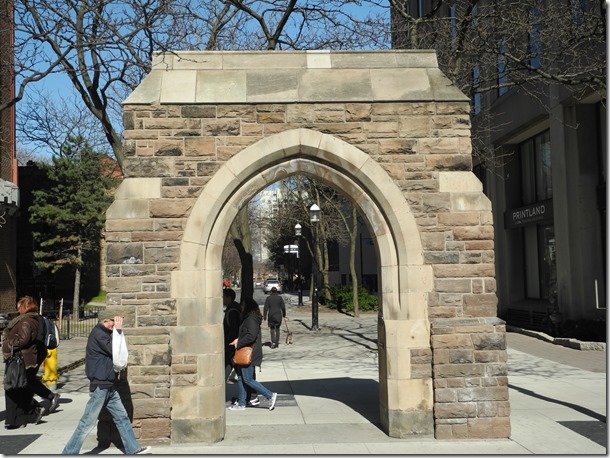 The west side of the McGill Arch in March of 2013.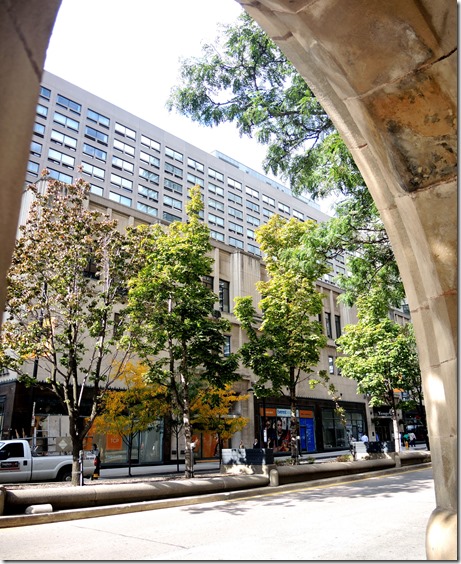 View gazing from the McGill Street Arch to College Park, on the west side of Yonge Street, south of College Street.
To view the Home Page for this blog: https://tayloronhistory.com/
To view links to other posts placed on this blog about the history of Toronto and its buildings:
https://tayloronhistory.com/2013/10/08/links-to-historic-architecture-of-torontotayloronhistory-com/
To view the links to posts that rediscover Toronto's old movie houses:
https://tayloronhistory.com/2013/10/09/links-to-toronto-old-movie-housestayloronhistory-com/