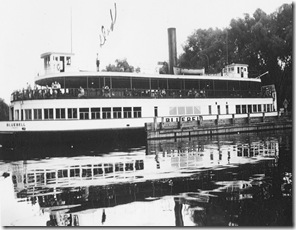 During the early decades of the twentieth century, the Toronto Island ferries were mostly named after flowers. During the 1920s, they provided an extra treat when baseball fans crossed the harbour to attend games at the stadium at Hanlan's point. In that decade, two older boats remained in service, the Jasmine and the Luella.
The Bluebell was powered by side-paddles, the tall smokestack from its coal furnaces reaching high into the air. The steam from the boiler drove the huge pistons that rotated the paddles to provide momentum. It was a glorious manner to cross the harbour to the spacious parklands of the Toronto Islands.
My Uncle George Brown was one of the captains on the ferry. The picture of the ferry shown shown here, taken in August of 1943, depicts him on its top deck, near the wheelhouse. His daughter wrote the word, "Dad" on the picture. I remember crossing the harbour one evening with my family. My uncle allowed us to visit the wheelhouse. This entailed climbing a ladder that extended precariously over the water. I was seven years old, and it was a terrifying experience, but one that was not to be missed.
The only ferry of this era that survives today is the "Trillium." It is the photo below, on the left.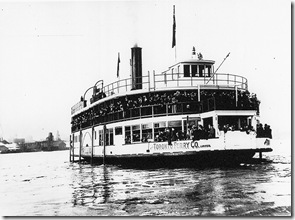 The information quoted above is from the first book of the Toronto Trilogy, "Arse Over Teakettle." The novel is the story of a boy growing up in Toronto during the 1940s. It tells of his adventures on the Toronto Islands and Sunnyside, as well as the laneways and streets of the city. It is a humorous tale of a young boy's coming-of-age during the war years, and his quest to learn the secrets of the "big boys." The book contains many archival photographs of the city.
For further information on the three volumes of the Toronto trilogy:
https://tayloronhistory.com/2012/01/21/the-toronto-trilogy-recreates-the-citys-past-while-providing-intriguing-stories/
The author's Home Page: