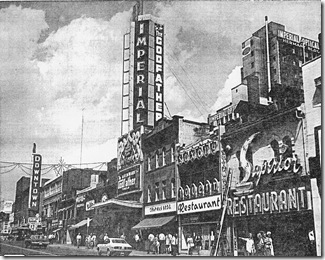 As spring of 1943 gave way to summer, waves of heat spread across the city, causing the air-conditioned theatres to attract ever-increasing crowds. The Imperial Theatre (now the Canon/Pantages), the film "Star Spangled Rhythm" highlighted the talents of Bob Hope, Bing Crosby, and Betty Hutton. At Shea's Hippodrome Theatre, located on the site of the New City Hall of today, the movie "Yankee Doodle Dandy" was playing, starring James Cagney.
At the Uptown, located at Bloor and Yonge Streets (the theatre now demolished was Bud Abbott and Lou Costello in "It Ain't Hay." At the Royal Alexandra Theatre was a film with Hedy Lamarr, entitled "Ecstasy." The "Royal Alex" rarely showed films, but these were tough times. The advertisements declared it as, The daring romance of a woman who craved love.
The above picture depicts the Imperial Theatre (now the Pantages/Canon) on Yonge Street, south of Dundas. Further north is the "Downtown Theatre" (now demolished). Though this photo is not from 1940s, it shows the magnificent marquee of the theatre.
Live theatre was also flourishing, although many performers were overseas entertaining the troops. At Maple Leaf Gardens, Sigmond Romberg and his concert orchestra appeared. He had composed the scores for great musicals such as "The Desert Song," "Maytime, and "The Student Prince." Tickets ranged from 60¢ to the outrageous price of $1.80. Patrons purchased tickets to see Andre Kostelanz at the Heintzman's Box Office, near Yonge and Queen Streets. "The Modernaires" were at Casa Loma, where people danced the night away for the grand price of $2.00 a couple. If a person owned a car, and preferred outdoor dancing, there was The Pavilion (The Pav) at Cedar Beach at Musselman's Lake, north of the city.
The passage quoted above is from the first book of the Toronto Trilogy, "Arse Over Teakettle." The novel is the story of a boy growing up in Toronto during the 1940s, and the movie houses of the city play a major role in the story.
For further information on the three volumes of the Toronto trilogy:
https://tayloronhistory.com/2012/01/21/the-toronto-trilogy-recreates-the-citys-past-while-providing-intriguing-stories/
The author's Home Page: