There are many photographs and copious information about Toronto's old movie houses in the Toronto Archives, Toronto Reference Library and the Ontario Archives, but not all the theatres are well documented. This is understandable, since it is estimated that at the height of the popularity of the city's movie theatres, there were over 150 theatres in Toronto. Some of them were quite small and other were luxurious movie palaces. There is much research material available on the downtown venues and some of the larger neighbourhood movie houses. However, for some of the lesser-known theatres the material is scarce. The theatres below are some of those in the latter category, but at least I was able to locate photographs of them.
If anyone has any personal knowledge of these theatres or is aware of any sources of information that I could consult, I would greatly appreciate being informed. I can be contacted at [email protected].
The Cameo Theatre
The Cameo Theatre was at 989 Pape Avenue near Cosburn. It is one of the theatres included in John Sebert's book, "The Nabes," and is featured on the cover of his book. He states that the theatre was designed by Kaplan and Sprachman in 1934. It was built for Sam Strashin and remained in the possession of the family for the entire life of the theatre. It was sold in the late 1950s to Loblaws. (Photo, Toronto Archives, Series 1104 File 101).
Since this post was published, I discovered more information about the Cameo. The link to this post is:http://tayloronhistory.wordpress.com/2014/12/05/torontos-old-cameo-theatre/
The Playhouse Theatre (Melody)
The Playhouse Theatre at 344 College Street, near Brunswick Avenue, was also known as the Melody. The above photo is from the Toronto Archives, taken about 1936 (SC 488-1099).
The Pix Theatre (Aster)
The Pix Theatre was originally named the Aster, and was located at 233 Ossington Avenue. It was on the southeast corner at Dundas, two doors from the corner. City of Toronto Archives, 377898-17.
The site of the Pix Theatre after it ceased to operate as a theatre.
Doric Theatre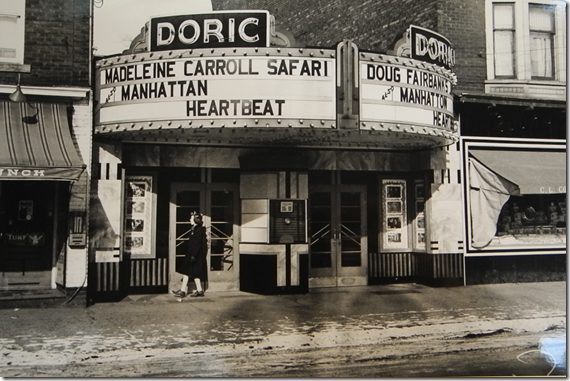 I was unable to discover any information about this theatre. However, the above photo was taken c. 1940, and the theatre was located at Bloor St. West and Gladstone Avenue. Photo, Globe and Mail 71416.
I discovered further information about the Doric Theatre. For a link to it: http://tayloronhistory.wordpress.com/2014/12/20/torontos-old-doric-theatre/
Book published in 2014 about Toronto's old movie theatres, which explores 50 of Toronto's old theatres and contains over 80 archival photographs of the facades, marquees and interiors of the theatres. It also relates anecdotes and stories from those who experienced these grand old movie houses.
"Toronto's Theatres and the Golden Age of the Silver Screen"
To place and order for this book, either in electronic or hard copy format, follow the link below.
https://www.historypress.net/catalogue/bookstore/books/Toronto-Theatres-and-the-Golden-Age-of-the-Silver-Screen/9781626194502
Theatres Included in the Book
Chapter One – The Early Years—Nickelodeons and the First Theatres in Toronto
Theatorium (Red Mill) Theatre—Toronto's First Movie Experience and First Permanent Movie Theatre, Auditorium (Avenue, PIckford), Colonial Theatre (the Bay), thePhotodome, Revue Theatre, Picture Palace (Royal George), Big Nickel (National, Rio), Madison Theatre (Midtown, Capri, Eden, Bloor Cinema, Bloor Street Hot Docs), Theatre Without a Name (Pastime, Prince Edward, Fox)
Chapter Two – The Great Movie Palaces – The End of the Nickelodeons
Loew's Yonge Street (Elgin/Winter Garden), Shea's Hippodrome, The Allen (Tivoli), Pantages (Imperial, Imperial Six, Ed Mirvish), Loew's Uptown
Chapter Three – Smaller Theatres in the pre-1920s and 1920s
Oakwood, Broadway, Carlton on Parliament Street, Victory on Yonge Street (Embassy, Astor, Showcase, Federal, New Yorker, Panasonic), Allan's Danforth (Century, Titania, Music Hall), Parkdale, Alhambra (Baronet, Eve), St. Clair, Standard (Strand, Victory, Golden Harvest), Palace, Bedford (Park), Hudson (Mount Pleasant), Belsize (Crest, Regent), Runnymede
Chapter Four – Theatres During the 1930s, the Great Depression
Grant ,Hollywood, Oriole (Cinema, International Cinema), Eglinton, Casino, Radio City, Paramount, Scarboro, Paradise (Eve's Paradise), State (Bloordale), Colony, Bellevue (Lux, Elektra, Lido), Kingsway, Pylon (Royal, Golden Princess), Metro
Chapter Five – Theatres in the 1940s – The Second World War and the Post-War Years
University, Odeon Fairlawn, Vaughan, Odeon Danforth, Glendale, Odeon Hyland, Nortown, Willow, Downtown, Odeon Carlton, Donlands, Biltmore, Odeon Humber, Town Cinema
Chapter Six – The 1950s Theatres
Savoy (Coronet), Westwood
Chapter Seven – Cineplex and Multi-screen Complexes
Cineplex Eaton Centre, Cineplex Odeon Varsity, Scotiabank Cineplex, Dundas Square Cineplex, The Bell Lightbox (TIFF)