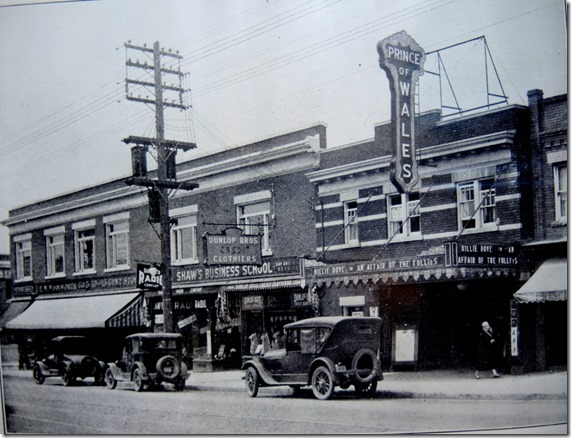 The Prince of Wales in 1927, photo, Toronto Reference Library
The Prince of Wales Theatre was located at 2094 Danforth Avenue, on the north side of the street, near Woodbine Avenue. Today, the Woodbine subway station is nearby. The theatre opened on May 5, 1924, six years after the Prince Edward Viaduct was completed across the Don Valley. On its brick facade were several narrow horizontal bands of stone, which gave the building a degree of individuality that differentiated it from the structures on either side of it. The theatre possessed a heavy cornice that contained a row of dentils beneath it. Above the cornice was a parapet that created the illusion of extra height. On the second storey were residential apartments, their rental income helping to defray the operating expenses. The theatre's auditorium contained 1250 seats.
Map from Google, 2014
There is very little information on the theatre in the archives, but it likely possessed a stage and an area to accommodate musicians, since it was built in an era when theatres featured vaudeville acts along with the silent films. Both of these forms of entertainment required music.
The film advertised on the marquee of the 1927 photo of the Prince of Wales is "An Affair of the Follies," released in February 1927, directed by Millard Webb, starring Billie Dove. This movie is one of many films from the era of silent films that has been lost. The fact that the film was being shown at the Prince of Wales the same year it was released illustrates that the theatre was showing recent films in direct completion with the larger theatres on Danforth Avenue. The theatre shut its doors in 1966, but the building remains today though it has been altered to accommodate other commercial enterprises.
Note: The author is grateful to cinematreasures.org for the information about the opening and closing dates of the Prince of Wales Theatre.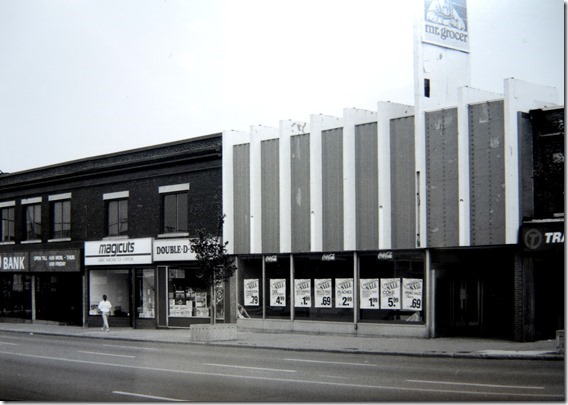 The site of the Prince of Wales after the theatre was demolished. Photo, Toronto Archives.
To view the Home Page for this blog: https://tayloronhistory.com/
To view links to other posts placed on this blog about the history of Toronto and its buildings:
https://tayloronhistory.com/2013/10/08/links-to-historic-architecture-of-torontotayloronhistory-com/
To view previous blogs about old movie houses of Toronto—historic and modern
https://tayloronhistory.com/2013/10/09/links-to-toronto-old-movie-housestayloronhistory-com/
Recent publication entitled "Toronto's Theatres and the Golden Age of the Silver Screen," by the author of this blog. The publication explores 50 of Toronto's old theatres and contains over 80 archival photographs of the facades, marquees and interiors of the theatres. It also relates anecdotes and stories from those who experienced these grand old movie houses.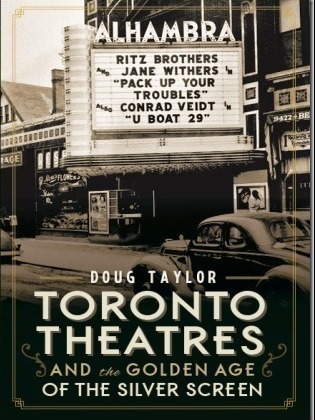 To place an order for this book:
https://www.historypress.net/catalogue/bookstore/books/Toronto-Theatres-and-the-Golden-Age-of-the-Silver-Screen/9781626194502 .
Theatres Included in the Book:
Chapter One – The Early Years—Nickelodeons and the First Theatres in Toronto
Theatorium (Red Mill) Theatre—Toronto's First Movie Experience and First Permanent Movie Theatre, Auditorium (Avenue, PIckford), Colonial Theatre (the Bay), thePhotodome, Revue Theatre, Picture Palace (Royal George), Big Nickel (National, Rio), Madison Theatre (Midtown, Capri, Eden, Bloor Cinema, Bloor Street Hot Docs), Theatre Without a Name (Pastime, Prince Edward, Fox)
Chapter Two – The Great Movie Palaces – The End of the Nickelodeons
Loew's Yonge Street (Elgin/Winter Garden), Shea's Hippodrome, The Allen (Tivoli), Pantages (Imperial, Imperial Six, Ed Mirvish), Loew's Uptown
Chapter Three – Smaller Theatres in the pre-1920s and 1920s
Oakwood, Broadway, Carlton on Parliament Street, Victory on Yonge Street (Embassy, Astor, Showcase, Federal, New Yorker, Panasonic), Allan's Danforth (Century, Titania, Music Hall), Parkdale, Alhambra (Baronet, Eve), St. Clair, Standard (Strand, Victory, Golden Harvest), Palace, Bedford (Park), Hudson (Mount Pleasant), Belsize (Crest, Regent), Runnymede
Chapter Four – Theatres During the 1930s, the Great Depression
Grant ,Hollywood, Oriole (Cinema, International Cinema), Eglinton, Casino, Radio City, Paramount, Scarboro, Paradise (Eve's Paradise), State (Bloordale), Colony, Bellevue (Lux, Elektra, Lido), Kingsway, Pylon (Royal, Golden Princess), Metro
Chapter Five – Theatres in the 1940s – The Second World War and the Post-War Years
University, Odeon Fairlawn, Vaughan, Odeon Danforth, Glendale, Odeon Hyland, Nortown, Willow, Downtown, Odeon Carlton, Donlands, Biltmore, Odeon Humber, Town Cinema
Chapter Six – The 1950s Theatres
Savoy (Coronet), Westwood
Chapter Seven – Cineplex and Multi-screen Complexes
Cineplex Eaton Centre, Cineplex Odeon Varsity, Scotiabank Cineplex, Dundas Square Cineplex, The Bell Lightbox (TIFF)