Five of my all-time favourite places for viewing Toronto's Christmas lights are contained in this post. Most of us know locations where we enjoy viewing the seasonal displays. For many, they are within shopping malls or in commercial districts like the Kingsway and Bloor West Village. Others are on busy downtown streets or on quiet residential avenues. On a mild December night in 2015, I photographed the festive lights in Toronto, an activity that I have done for many years.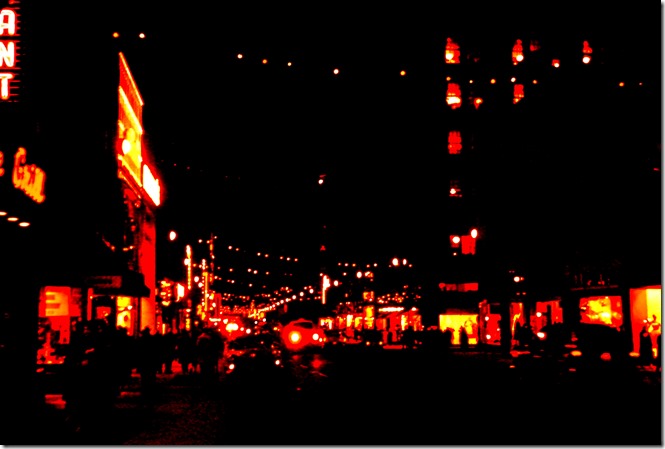 Christmas lights on Yonge Street in 1958. Photo taken with a 35mm Kodak Pony camera.
Below are a few images of my favourite locations in downtown Toronto in December 2015.
Site #1—Nathan Phillips Square Square at City Hall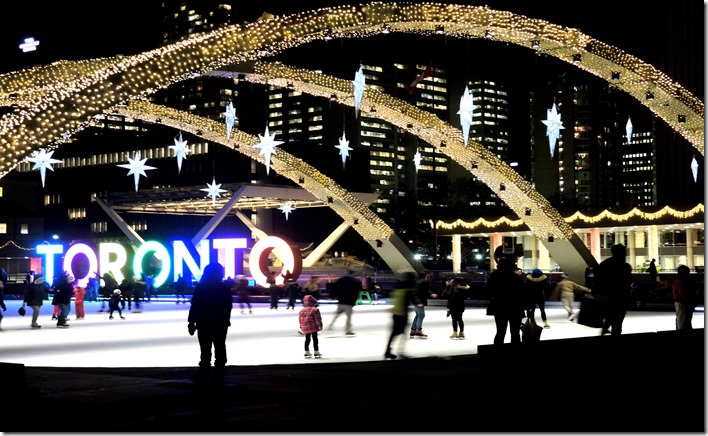 Site #2—The Eaton Centre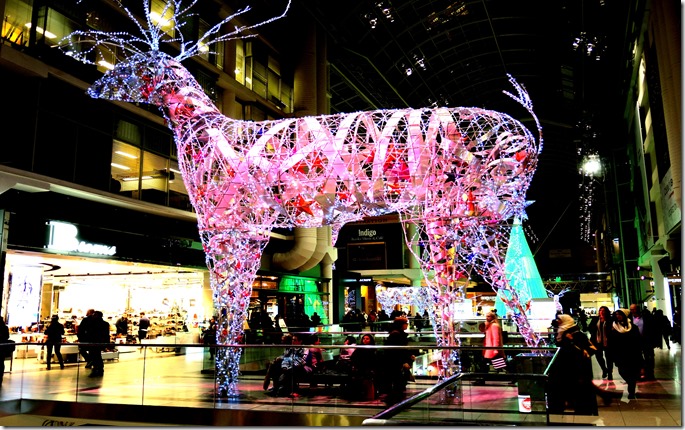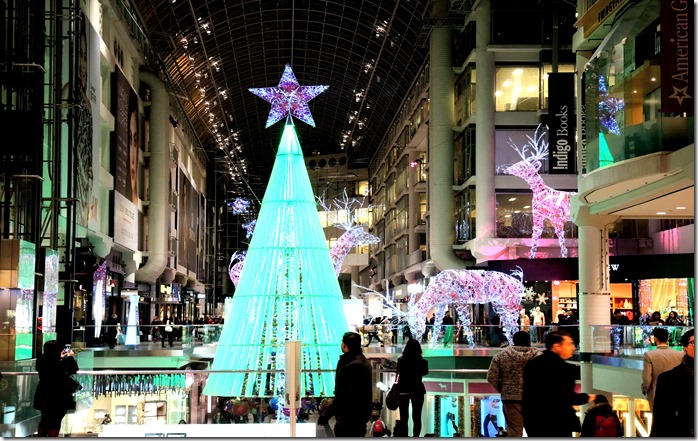 Site #3—The windows at the Hudson's Bay Store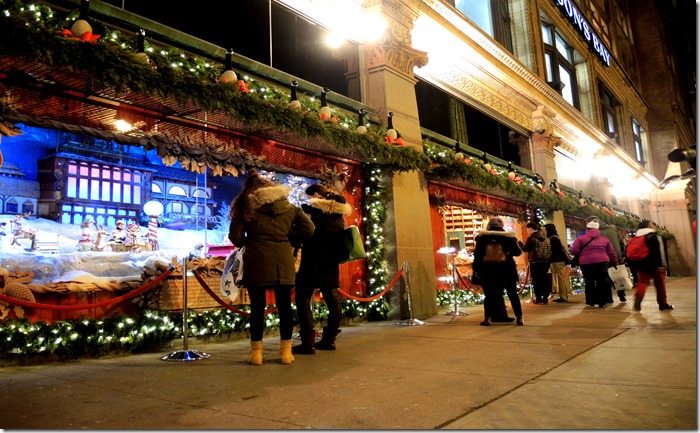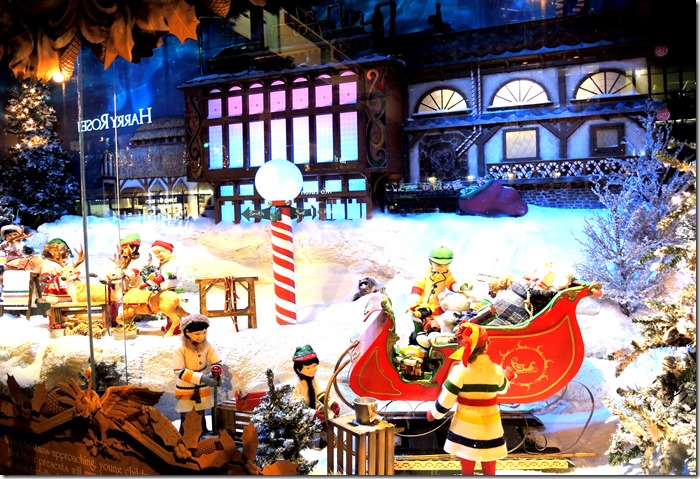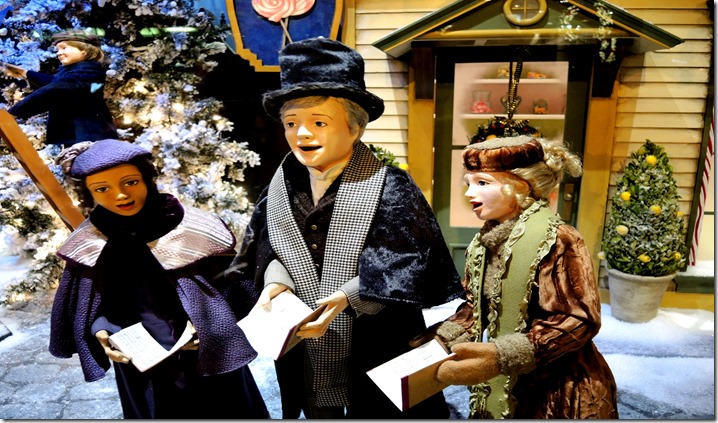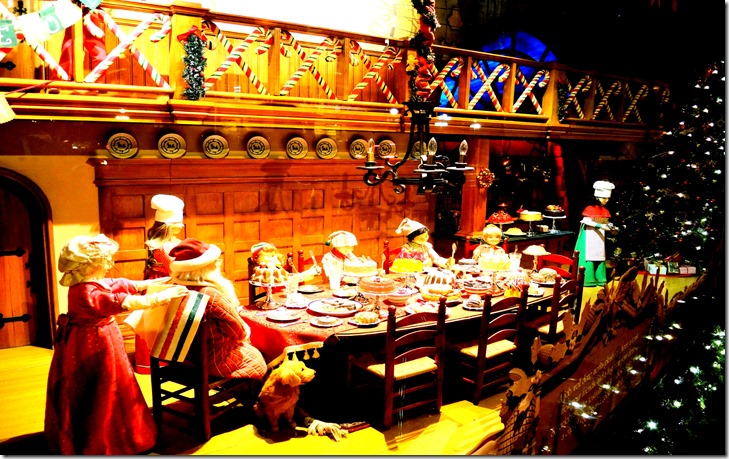 Site # 4—Dundas Square at Yonge and Dundas Streets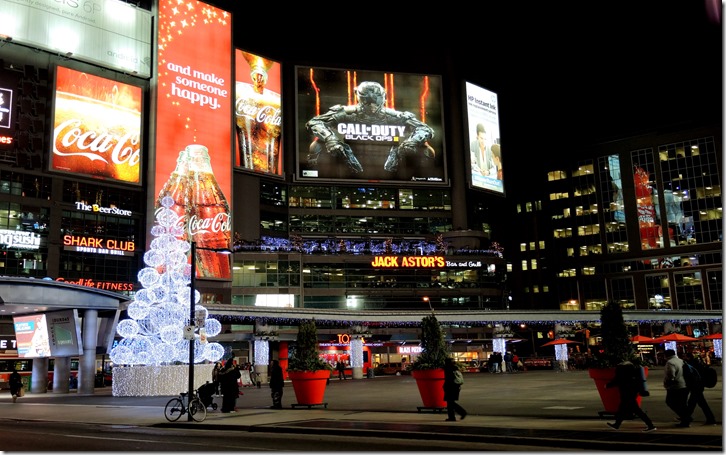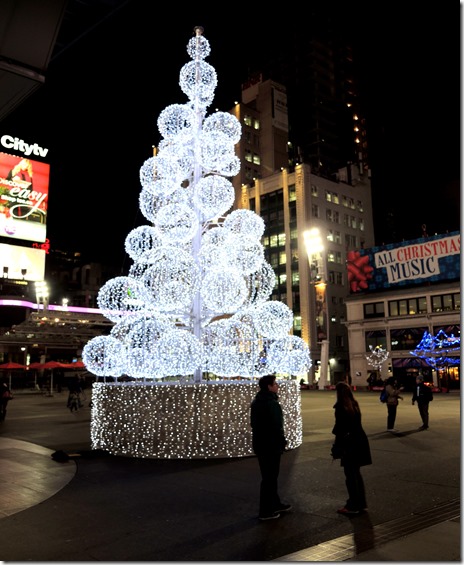 Site #5—The Christmas Market at the Distillery District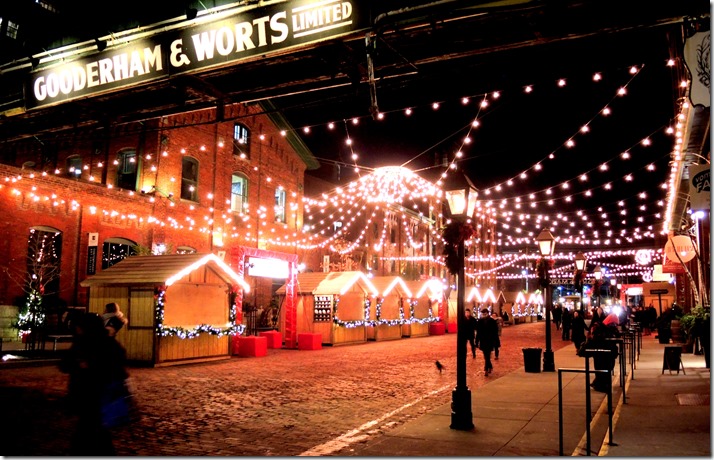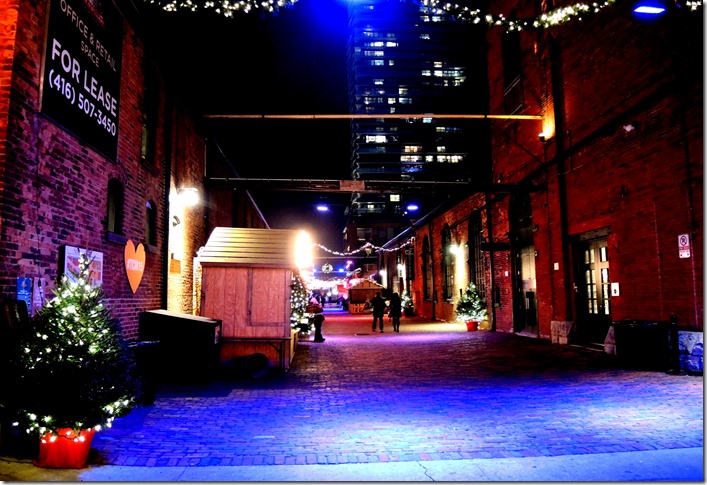 And . . . a few extra scenes that invoke memories of childhood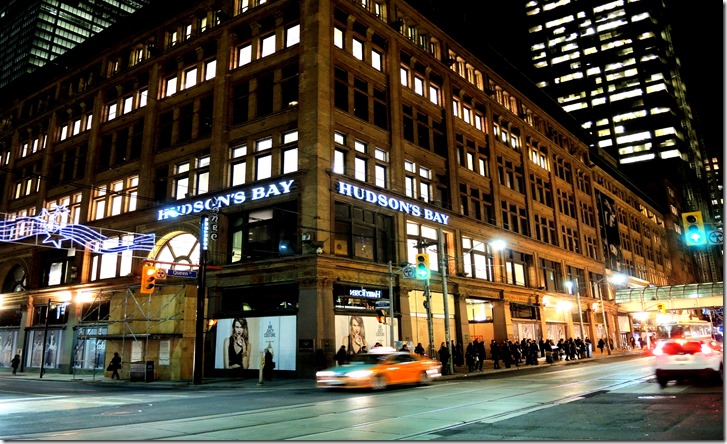 The old Simpson's Store, now the Hudson's Bay, on the southwest corner of Yonge and Queen Street in 2015.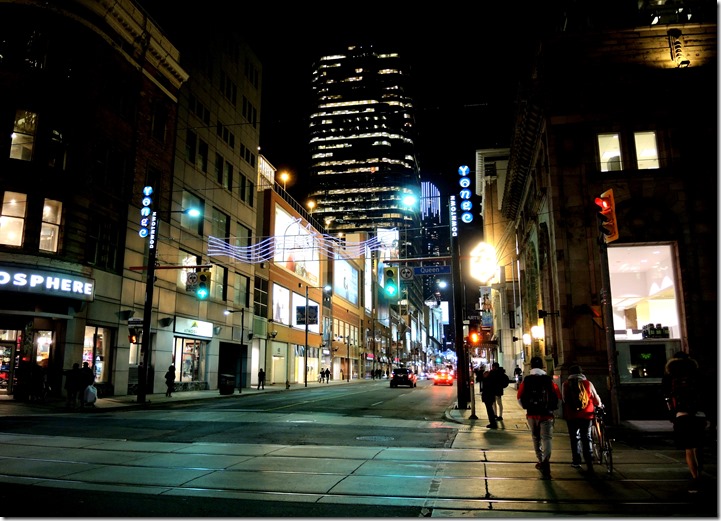 Gazing north on Yonge Street from Queen Street in 2015
A link to the history of the Santa Claus Parade (1905-2015)
https://tayloronhistory.com/2015/12/03/torontos-santa-claus-parade-through-the-decades/
To view the Home Page for this blog: https://tayloronhistory.com/
A link to view previous posts about the movie houses of Toronto—historic and modern.
http://tayloronhistory.wordpress.com/2013/10/09/links-to-toronto-old-movie-housestayloronhistory-com/
A link to view posts that explore Toronto's Heritage Buildings:
https://tayloronhistory.com/2014/01/02/canadas-cultural-scenetorontos-architectural-heritage/
The publication entitled, "Toronto's Theatres and the Golden Age of the Silver Screen," was written by the author of this blog. It explores 50 of Toronto's old theatres and contains over 80 archival photographs of the facades, marquees and interiors of the theatres. It relates anecdotes and stories by the author and others who experienced these the movie houses of the past. The book is a trip down memory lane for those who remember these grand old theatres and a voyage of discovery for those who never experienced them.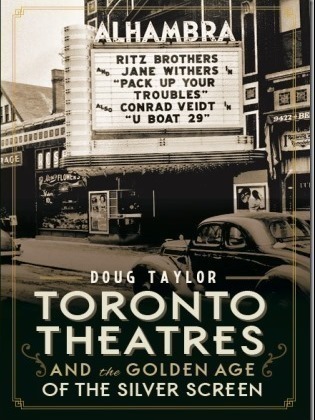 To place an order for this book:
https://www.historypress.net/catalogue/bookstore/books/Toronto-Theatres-and-the-Golden-Age-of-the-Silver-Screen/9781626194502 .
Book also available in Chapter/Indigo, the Bell Lightbox Book Shop, and by phoning University of Toronto Press, Distribution: 416-667-7791 (ISBN 978.1.62619.450.2)
Another book, published by Dundurn Press, containing 80 more of Toronto's old movie theatres will be released in the spring of 2016. It is entitled, "Toronto's Movie Theatres of Yesteryear—Brought Back to Thrill You Again." It contains over 130 archival photographs.
A second publication, "Toronto Then and Now," published by Pavilion Press (London, England) explores 70 of the city's heritage sites with images of how the city once looked and how it appears today. This book will also be released in the spring of 2016.