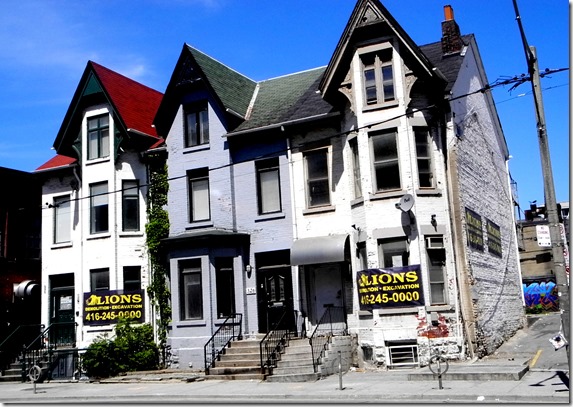 Bay and Gable houses comprise two of the three houses in the above photo. Located at 324-328 Richmond Street West, they were built between 1873 and 1875. Demolished in 2012, a condo tower was erected on the site.
As high-rise condo towers are constructed throughout Toronto's downtown core, the pressure to redevelop sites that contain low-rise structures has greatly increased. Many of these sites contain heritage houses have survived for almost a century and a half, but are now at risk of being demolished. This is a great pity, as the city's unique style of domestic architecture is disappearing from our urban scene. I am referring to the Bay and Gable (Bay n' Gable or Bay-n-Gable) houses, which in the 19th century were highly popular in Toronto's residential neighbourhoods.
When they were built, Bay and Gable houses were a practical response to the housing needs of Torontonians. Taxes on homes were determined according to the width of the building lot (the property's frontage on the street). As a result, builders subdivided lots, creating ones that were only 13-20 feet wide, but often 150 feet deep. Architects responded by designing homes to accommodate these narrow lots—Bay and Gables. The earliest such house that I have discovered in Toronto was built in 1870. If anyone has knowledge of one that was constructed pre-1870, whether it is in Toronto or elsewhere, I would appreciate it if they would inform me.
As stated, Bay and Gables were tall and narrow, extending a considerable distance back from the street. I was unable to verify who actually designed the first of these houses, but Patricia McHugh in her book "Toronto Architecture—A City Guide," suggests that it was likely David B. Dick. The style spread from Toronto to many cities and towns throughout Ontario. Some were also built in western Canada.
These homes were not only practical, but caught the imagination of the public, which viewed them as resembling upper-class homes of earlier decades, even though they were on a much smaller scale. It was not long before they were common in many neighbourhoods, especially in Cabbagetown, Cork Town, along College Street, in Trinity Bellwoods, Parkdale, St. Andrew's Ward, Roncesvalles, the Annex, and Don Vale.
Prior to the Bay and Gables, houses with bay windows on the first floor were already common throughout the New England States and Canada's maritime provinces. These homes were usually built of wood, but in Toronto they were of brick. Today, they are sometimes referred to as "half Bay and Gable." Those that have Mansard roofs are in the Second Empire style. There is a row of them on Draper Street, in the Spadina/King area.
Unlike houses with bay windows in other cities, Toronto's Bay and Gable houses contained bay windows that soared from the ground-floor level to the second and often the third storeys. The bay windows occupied half of their facades, and were not only attractive, but like the style itself, very practical. They increased the amount of daylight entering the houses in an era without electric lighting, and facilitated a better flow of air inside the rooms. This was important when smoky fireplaces were employed for heating, iron stoves for cooking, and chamber pots for nightly necessities. Odours from the rear of the home, created by backhouses and stables, often entered the houses. The large bay windows and the 11' or 12' ceilings allowed air within the rooms to circulate more freely.
Bay and Gable houses were affordable for middle-class families. They were rarely built as detached homes, but rather in pairs or as row housing. The height of popularity for the style was mainly between 1875 and 1890. Although they closely resembled each other, their trim and architectural detailing on their gables varied greatly. They possessed elements of the Italianate and Gothic in the bargeboard trim on the peaked roofs. Stained glass windows were sometimes inserted in the transom windows above the doors. Most Bay and Gables were built of bricks that were red, yellow or white from Toronto brickyards, although a few were constructed of wood. In the grander homes, terracotta tiles were often inserted into the facades for decorative detailing. Such homes possessed larger lots and possessed considerably more street frontage.
On the ground-floor levels of the homes, parlours usually occupied the front space facing the street. Dining rooms were in the centre position, and kitchens at the rear. The parlours often had medallions on the ceilings and ornate crown plaster mouldings. The bedrooms were on the second storey, with an extra bedroom on the third floor.
Today, Bay and Gable homes are very popular with people who wish to live in heritage houses. Their interiors are often gutted and refurbished to suit the modern era. Interior walls are sometimes removed to create large open spaces. However, the facades are usually not altered, but when they are adapted for offices and restaurants, the lower portions of the facades are often obscured. The style has also been replicated by modern builders and appear as row houses on such streets as Weston Road, north of St. Clair.
It is a pity that more effort is not being extended to preserve Toronto's original and truly unique style of domestic architecture—19th-century Bay and Gable houses.
Souces :mirvishgehrytoronto.com – www.blogto.com – "Toronto Architecture, A City Guide" by Patricia McHugh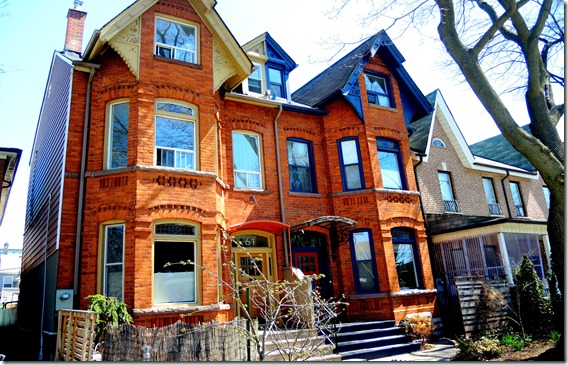 A pair of Bay and Gable homes at 59-61 Denison Avenue in the Kensington Market area, likely constructed in the 1880s .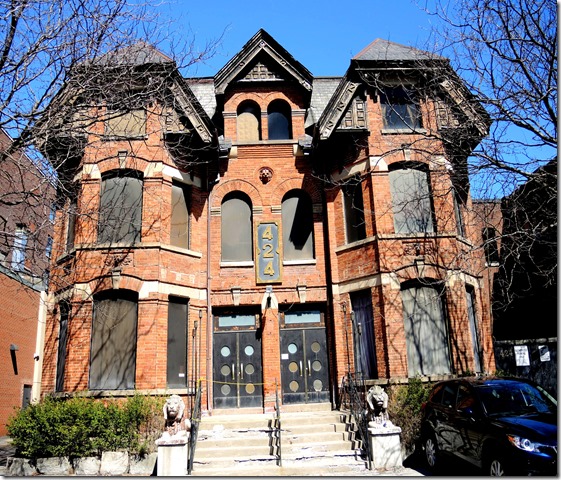 Two Bay and Gables that today have the postal address 424 Wellington Street West. They were built in 1889 by James Hewett, and are much larger than most homes in this style.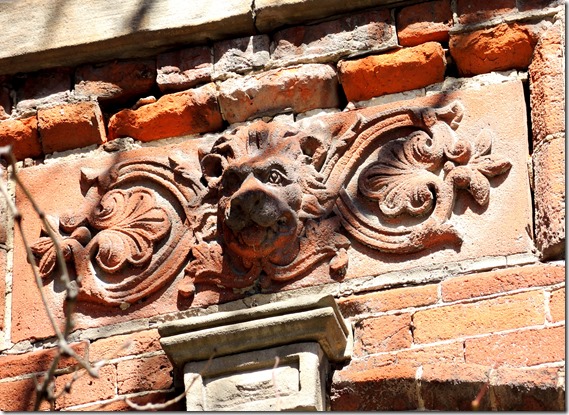 Decorative terracotta tiles on the south facade of the houses at 424 Wellington Street West.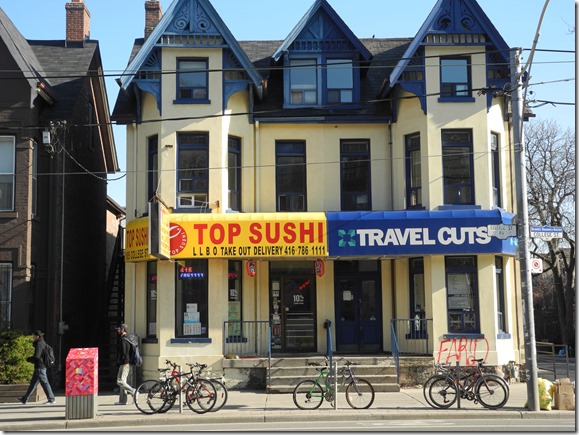 Bay and Gables on College Street, between St. George and Henry Streets. They have been renovated for commercial purposes, but fortunately, the ground-floor bay windows have not been altered. Photo taken in April, 2015.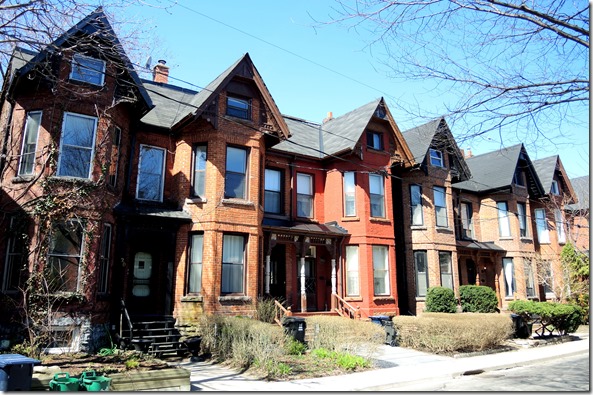 Bay and Gable row houses on the west side of Draper Street, in the Spadina/King area, built in the mid-1880s. Photo taken in May, 2016.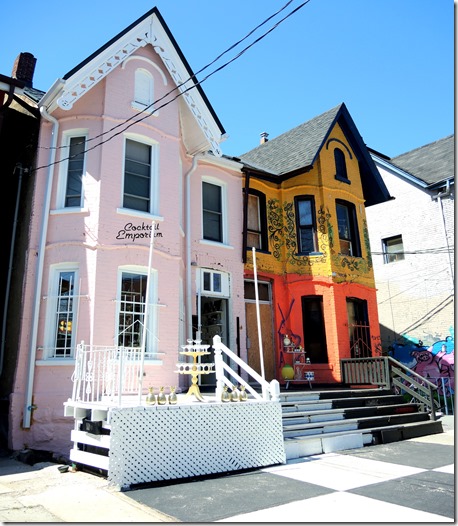 20-22 Kensington Avenue, north of Dundas Street in the Kensington Market.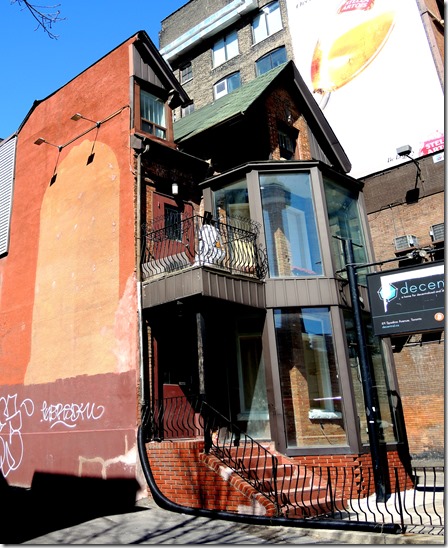 Only the northern half of a pair of Bay and Gable homes survives at 64 Spadina Avenue, a short distance south of King Street West.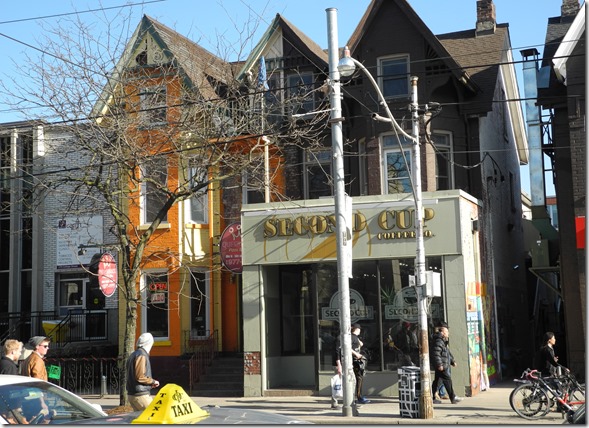 The house on the west (right-hand) side of this pair of Bay and Gable houses on College Street has been renovated for a coffee shop. The ground-floor bay windows have been removed.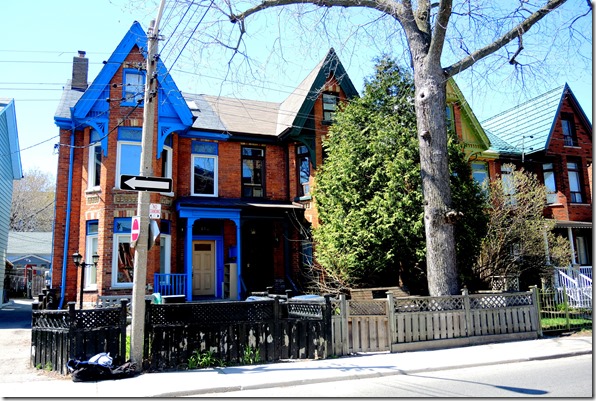 Houses at 18-20 Bellevue Avenue in the Kensington Market, built in 1874. The house with the blue trim is a particular favourite of mine.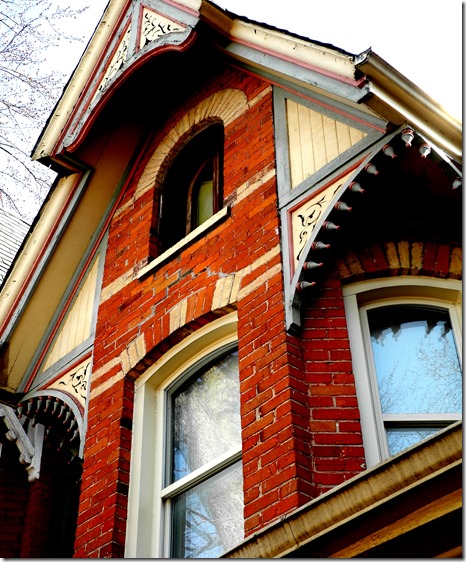 The second and third storeys of a Bay and Gable, with its bargeboard trim.
To view the Home Page for this blog: https://tayloronhistory.com/
For more information about the topics explored on this blog:
https://tayloronhistory.com/2016/03/02/tayloronhistory-comcheck-it-out/
The publication entitled, "Toronto's Theatres and the Golden Age of the Silver Screen," was written by the author of this blog. It explores 50 of Toronto's old theatres and contains over 80 archival photographs of the facades, marquees and interiors of the theatres. It relates anecdotes and stories by the author and others who experienced these grand old movie houses.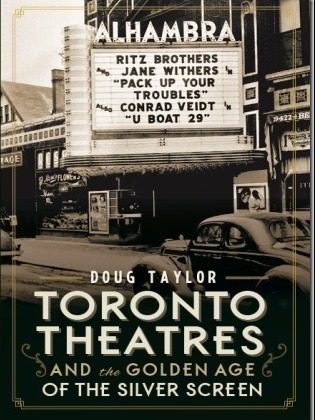 To place an order for this book:
https://www.historypress.net/catalogue/bookstore/books/Toronto-Theatres-and-the-Golden-Age-of-the-Silver-Screen/9781626194502 .
Book also available in Chapter/Indigo, the Bell Lightbox Book Shop, and by phoning University of Toronto Press, Distribution: 416-667-7791 (ISBN 978.1.62619.450.2)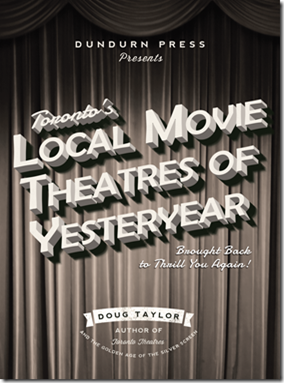 Another book, published by Dundurn Press, containing 80 of Toronto's former movie theatres will be released in June, 2016. It is entitled, "Toronto's Movie Theatres of Yesteryear—Brought Back to Thrill You Again." It contains over 125 archival photographs and relates interesting anecdotes about these grand old theatres and their fascinating histories.
The book is available at local book stores throughout Toronto or a link to order this book: https://www.dundurn.com/books/Torontos-Local-Movie-Theatres-Yesteryear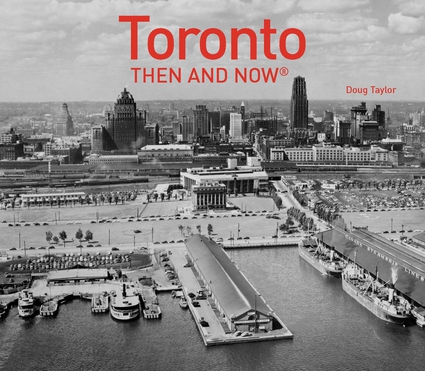 Another publication, "Toronto Then and Now," published by Pavilion Press (London, England) explores 75 of the city's heritage sites. This book will be released in June 2016. For further information follow the link to Amazon.com here or contact the publisher directly by the link shown below:
http://www.ipgbook.com/toronto–then-and-now—products-9781910904077.php?page_id=21.