Toronto Life magazine has published online many photographs of Toronto's old movie theatres. They were derived from the book shown below.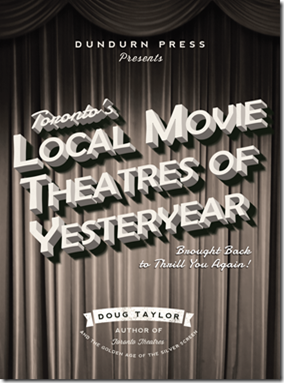 Published by Dundurn Press, the book contains information on 80 of Toronto's former movie theatres. It is entitled, "Toronto's Movie Theatres of Yesteryear—Brought Back to Thrill You Again." It contains over 125 archival photographs and relates interesting anecdotes about these grand old theatres and their fascinating histories.
For a link to the Toronto Life photographic essay.
http://torontolife.com/culture/movies-and-tv/photos-old-cinemas-doug-taylor-toronto-local-movie-theatres-of-yesteryear/.
The book is available at local book stores throughout Toronto, or a Link to order this book: https://www.dundurn.com/books/Torontos-Local-Movie-Theatres-Yesteryear