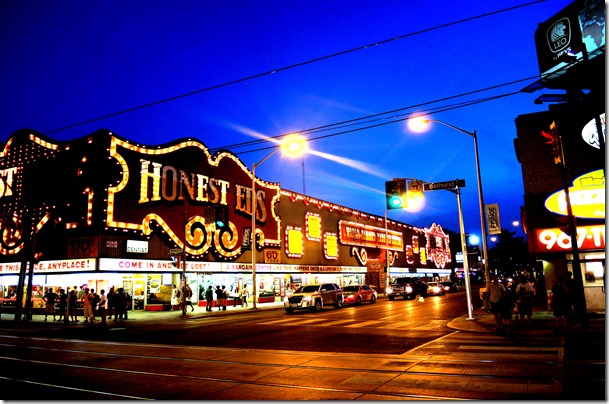 The first time I visited Honest Ed's at 581 Bloor Street West was in 1950, two years after it opened. I was 12 years old that year, and was a delivery boy for the Star newspaper, in which I had seen had seen the store's ads advertising its low prices. Located at the corner of Markham and Bathurst Streets, the bargain emporium derived its name from its owner, Ed Mirvish, and the store was attracting considerable attention.
I will always remember the occasion. I had a few dollars extra that I had earned on my paper route, and as I had heard that prices on puzzles and games were cheap, I accompanied my mom and grandmother to the store. We departed on a Saturday morning and arrived shortly after it opened, at 9 am. The first thing that caught my attention was the wacky signs, painted in huge letters on the walls: "We open weekdays at noon, as our staff likes to sleep in." "If you gotta glow, you gotta glow!" "Customers glow with happiness at Ed's amazing bargains." "Honest Ed's, where only the floors are crooked." "Our service is rotten, so serve yourself." "Honest Ed's no beauty. Whaddya expect at these prices, a movie star?"
Entering the store, I was amazed by the crowded interior. The store was comprised of several old houses, which had been gutted and connected. It was filled with display counters that overflowed with merchandise. The floors actually did sag, but prices were indeed reasonable. I saw Ed Mirvish at one of the noisy cash registers as he rang up sales. I recognized him from a newspaper picture I had seen. My mom and grandmother departed with several bags of goods, mostly clothing, grocery items and cleaning supplies that my mom said were great bargains. I purchased a jigsaw puzzle.
Several weeks later, while delivering my newspapers, I noticed an article about Honest Ed. I read it. This was when I learned a little about Ed Mirvish. He had been born in Virginia in 1914, the son of Jewish immigrants from Lithuania. In 1923, the family moved to Toronto and opened a store on Dundas Street, where they lived above it. Ed's father died when he was fifteen, and he took over the business.
He opened Honest Ed's on Bloor Street in 1948, selling merchandise from bankrupt companies and fire sales. Employing humorous slogans, he was highly successful in promoting his wares. Little did I realize that during the years ahead, his store would become an institution in Toronto, and that I would eventually be a subscriber at the wonderful Royal Alexandra Theatre, which he purchased and restored.
In the 1950s, when I was in high school, I worked for one summer at the Dominion Bank on the southeast corner of Bloor Street and Dovercourt Road. In this decades, the Dominion Bank had not yet amalgamated with the Bank of Toronto to form the Toronto Dominion Bank (TD Bank). At the bank branch where I worked, Ed Mirvish's was the most important customer. He maintained a large amount of cash in his account to be able to purchase goods from bankrupt companies. He bought the merchandise at low prices and sold them in his store at prices that undercut his competitors.
During the late 1950s, Ed's continued to expand, eventually occupying the entire block on the south side of Bloor Street, between Bathurst and Markham Streets.
Ed Mirvish was to enter my life again in the late-1960s. This story illustrates the type of man that he was. My family took me out to dinner for my birthday, but they kept their choice of restaurant a surprise. I inquired if I should wear a tie and jacket and my brother told me that they were unnecessary. When we arrived at the restaurant, we discovered that a tie and jacket were mandatory as it was Ed's Warehouse on King Street. The waiter offered to provide the proper attire from the jackets and ties that they kept for such situations. He explained that they required the dress code to prevent vagrants from the opposite side of King Street, where there were railroad tracks, from entering the restaurant. We were offended, as the clothes they offered were grubby looking, and we were certainly not hobos. We were wearing freshly starched sport shirts and neat trousers.
Then, Ed Mirvish appeared and inquired, "What's the problem?"
We explained.
He smiled, apologized, and told the waiter, "Escort them to the table that has been reserved."
We enjoyed the meal of roast beef, green peas, and mashed potatoes. The dill pickles, bread rolls, and spumoni ice cream for dessert added to our pleasure. I think the roast beef was the finest ever served in Toronto.
When the cheque arrived, Honest Ed had reduced the bill by 50 per cent.
Ed Mirvish was a very smart businessman as well as a big-hearted individual. My family never forgot his generosity.
I was very sad when I heard that Ed's son, David Mirvish, had decided to close the store on December 31st, 2016. The bargain store was an important part of the Toronto scene for over six decades. However, with competition from online shopping and stores such as Walmart, Honest Ed's was no longer the attraction that it once was. As well, many of those who had shopped there regularly, had relocated to suburban homes where there were shopping in malls nearby. Times change, and those who own commercial properties must change as well.
Though I had not shopped at Honest Ed's for many years, I will miss the bright lights and flashing signs that dominated the corner of Bathurst and Bloor.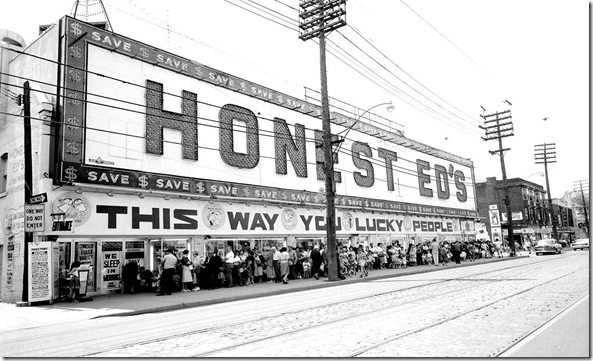 Honest Ed's on Bloor Street in the 1960s, when the store occupied the entire city block from Markham to Bathurst Streets. Toronto Archives, Fonds 1257, S 1057, Item 0465.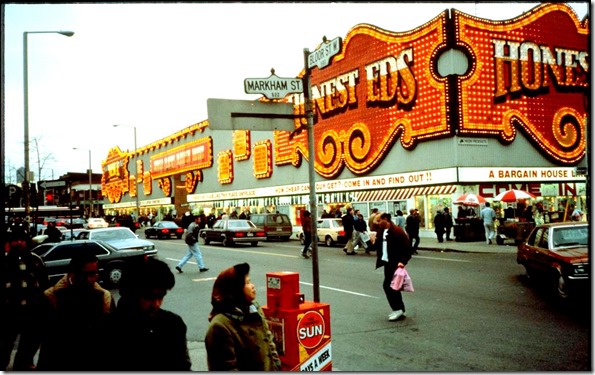 View of Ed's, looking east on Bloor Street from Markham Street in the 1980s. Toronto Archives, Fonds 1465, fl 0622, Item 0018.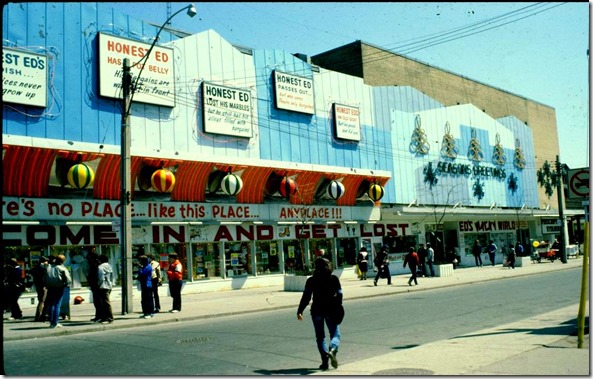 The west facade of the store on Markham Street in the 1980s. Toronto Archives, Fonds 1465, fl 0514, Item 0020.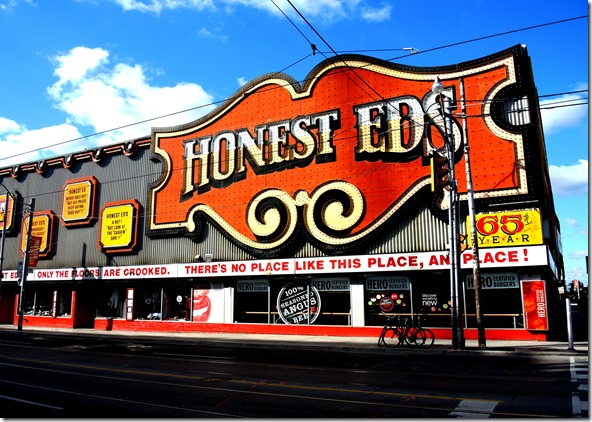 The east facade of Honest Ed's on Bathurst Street on September 13, 2013.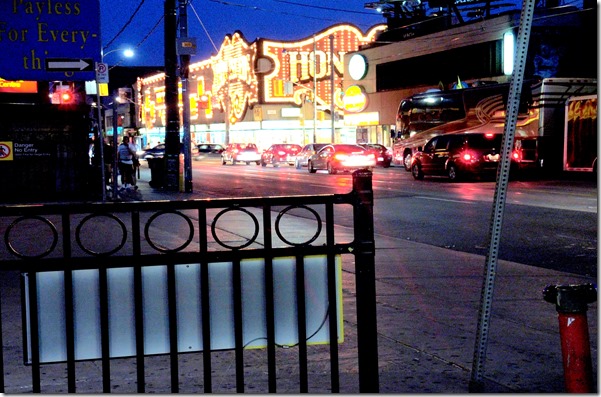 Night view of the store, looking east on Bloor Street from west of Bathurst Street.
Some of Ed's signs posted on the front of the store.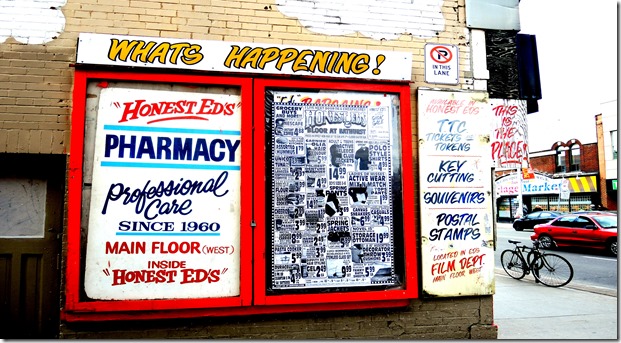 The northeast corner of the store at Bathurst and Bloor Streets in September 2015.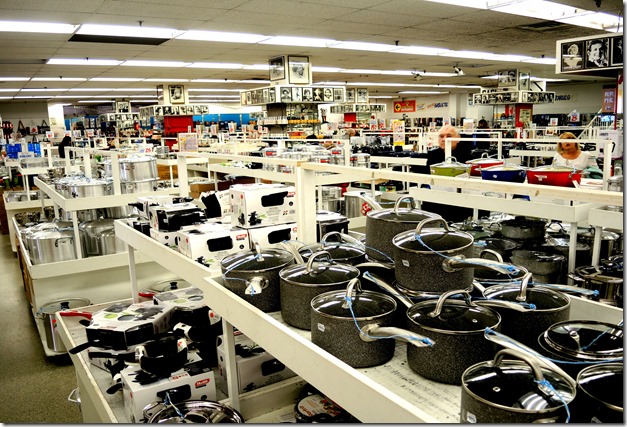 Inside the store in 2015.
A collection of items that were once in Ed's Warehouse Restaurant on King St. West. The display was in a window that faced Bloor St. Photo taken in 2015.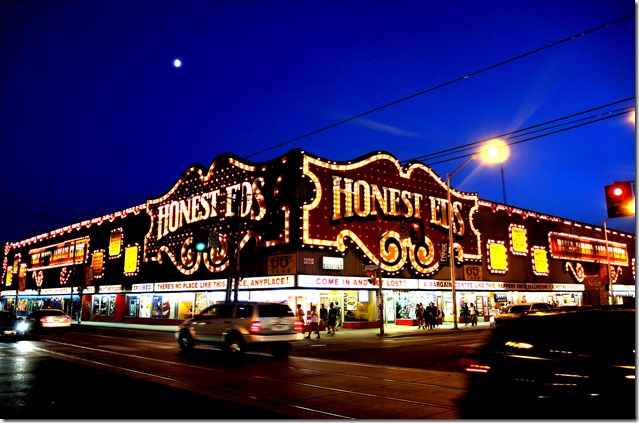 View of the northwest corner of the store in 2015, at the corner of Markham and Bathurst Streets.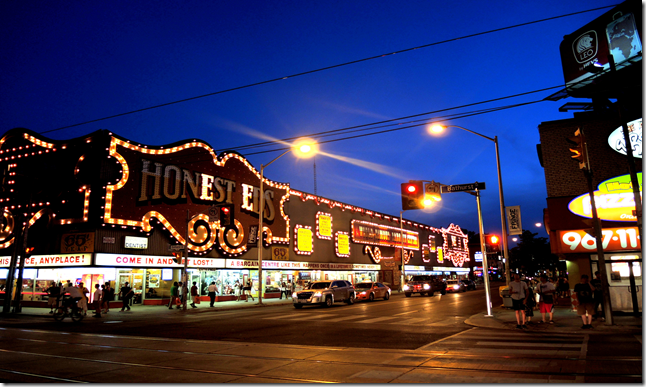 Another view of the northwest corner of the store in 2015, at the corner of Markham and Bathurst Streets.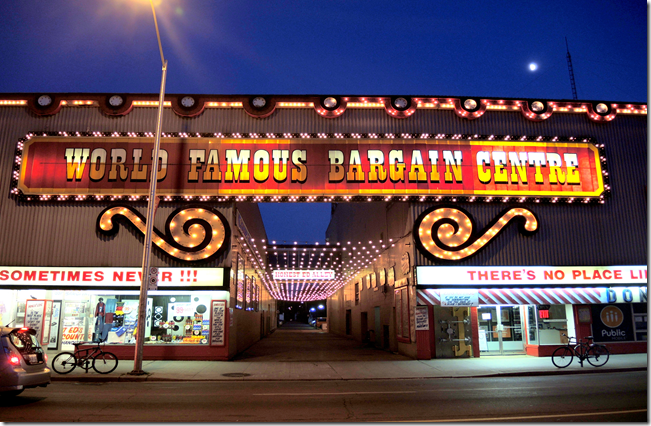 The alley on Bloor St., located between two of the sections of the store, which were connected by a passageway on the second floor level.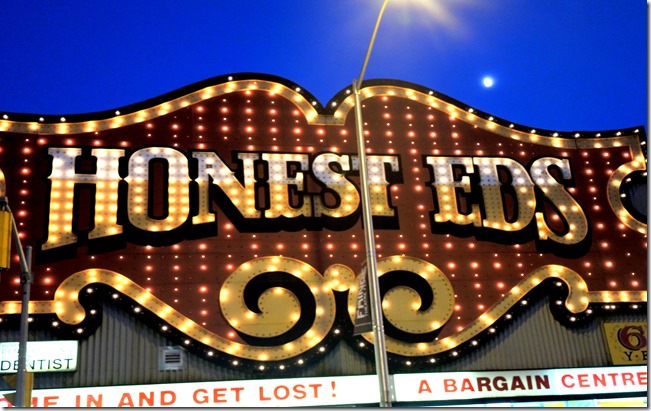 Signage of the store on the Bloor Street, which created fame for Honest Ed's.
Below is further information on Honest Ed's that was provided by Gerry Tsuji. I am very grateful for his input as insight such as he possesses can be so easily forgotten.
When Ed was just starting out, my dad was a cook at a restaurant on the SE corner of Bloor-Bathurst a few doors in from Bathurst. He remembered Ed coming in for breakfast every morning, newspaper in hand. A small pleasant man.
I don't think he received enough credit for supplying working class folks with many of their daily necessities at prices they could afford. My family and the families of my buddies would fall into that category. Clothes, school supplies, toys/games, household products, even food… Ed carried it all. His loud, garish store made a lot of people's lives, a little bit easier.
His store continued to evolve over the years too. From his original store located in a house to his eventual store on Bloor, I can recall a sporting goods section where he carried ice skates and hockey sticks to baseballs and mitts. This gave way to a shoe department where he sold what we laughingly called cardboard shoes because they fell apart when wet. He had a whole floor devoted to toys and games at one time. For awhile, he had a little snack bar on the third floor too. More recently, he even added a pharmacy. He certainly wasn't afraid to try new things.
He left behind, an incredible legacy.
Ed's had a shoe department at one time. I mentioned his cardboard shoes in my previous email but we also bought our running shoes there. They were very inexpensive and they lasted an unusually long time. Two important considerations for us at the time. They were a strange green colour instead of the usual black-white combination and they were so heavy, it was like wearing anchors on our feet. They were actually called running boots. We laughed at them even then.
He also had a large toy/game department. At one time, it occupied pretty much his entire third floor. He sold plastic model kits which included high end Lindberg models of iconic ships like the Bismarck. They were 36″ long, motorized so that they could be 'programmed' to sail in figure eights or circles and the guns would go up and down. As kids, we'd go to Ed's to drool over these kits. Eventually, one of us came up with the money to buy one. We built it, took it to High Park on our bikes and promptly managed to sink it. Since, it was in a small pond (not Grenadier), one of my buddies bravely volunteered to wade in for it, cut his foot open and thus ended the saga of the Bismarck.
Ed's had a decent sporting goods section too. I remember buying CCM Comet hockey sticks there for $1.25 when the latest curved, fibreglass models sold elsewhere for $10 and more. As plain a hockey stick as there could possibly be but they served their purpose.
To view the Home Page for this blog: https://tayloronhistory.com/
For more information about the topics explored on this blog:
https://tayloronhistory.com/2016/03/02/tayloronhistory-comcheck-it-out/
Books by the Blog's Author
"Toronto's Theatres and the Golden Age of the Silver Screen," explores 50 of Toronto's old theatres and contains over 80 archival photographs of the facades, marquees and interiors of the theatres. It relates anecdotes and stories by the author and others who experienced these grand old movie houses.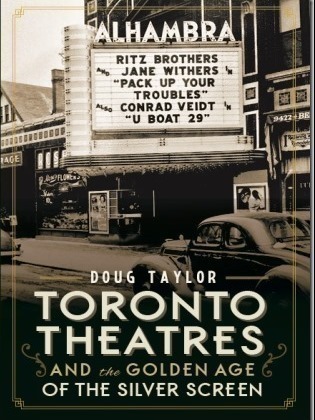 To place an order for this book, published by History Press:
https://www.historypress.net/catalogue/bookstore/books/Toronto-Theatres-and-the-Golden-Age-of-the-Silver-Screen/9781626194502 .
Book also available in most book stores such as Chapter/Indigo, the Bell Lightbox and AGO Book Shop. It can also be ordered by phoning University of Toronto Press, Distribution: 416-667-7791 (ISBN 978.1.62619.450.2)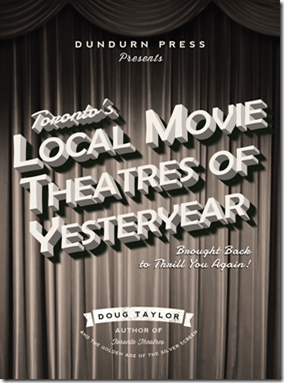 Another book on theatres, published by Dundurn Press, is entitled, "Toronto's Movie Theatres of Yesteryear—Brought Back to Thrill You Again." It explores 81 theatres and contains over 125 archival photographs, with interesting anecdotes about these grand old theatres and their fascinating histories. Note: an article on this book was published in Toronto Life Magazine, October 2016 issue.
For a link to the article published by Toronto Life Magazine: torontolife.com/…/photos-old-cinemas-doug–taylor–toronto-local-movie-theatres-of-y…
The book is available at local book stores throughout Toronto or for a link to order this book: https://www.dundurn.com/books/Torontos-Local-Movie-Theatres-Yesteryear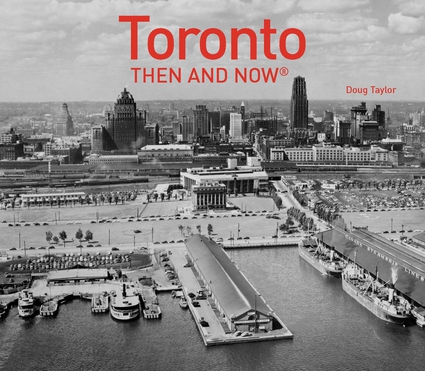 Another publication, "Toronto Then and Now," published by Pavilion Press (London, England) explores 75 of the city's heritage sites. It contains archival and modern photos that allow readers to compare scenes and discover how they have changed over the decades.
Note: a review of this book was published in Spacing Magazine, October 2016. For a link to this review:
spacing.ca/toronto/2016/09/02/reading-list-toronto-then-and-now/
For further information on ordering this book, follow the link to Amazon.com here or contact the publisher directly by the link below:
http://www.ipgbook.com/toronto–then-and-now—products-9781910904077.php?page_id=21