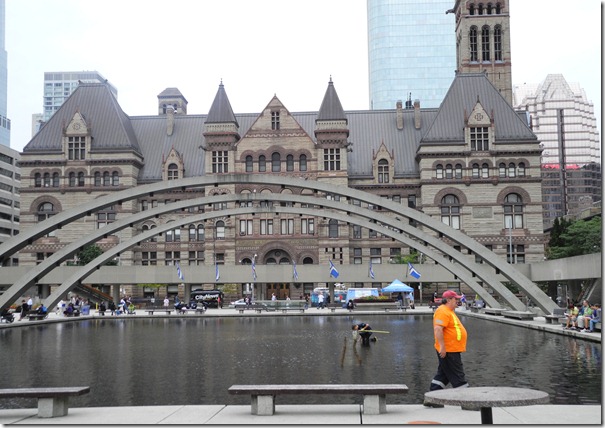 Under sullen skies, people gather on Friday August 26th to pay respects and say farewell to Jack Leyton. The colour orange, the traditional colour of the NDP, was either worn or displayed by those who wished to remember the ideals and principles that Jack brought to Canada's political scene. When a person passes away, people often offer kind remarks, sometimes simply because it is the right thing to do. However, I knew Jack Leyton and had observed him during both private and public moments, and was aware that he was the real McCoy.
Jack was always gracious and a true gentleman. He brought civility to the political scene in Ottawa, fought for "the little guy," and sought to dispel nastiness and narrow minded actions that divide Canadians into groups for partisan advantage. Jack tried to do the right thing for everyone, not just those who agreed with him politically. It is sad to watch politicians now shed crocodile tears and try to gain advantage by riding on the coattails of Jack.
The colour orange worn for Jack.
A young woman sketches the CN Tower, and colours it orange.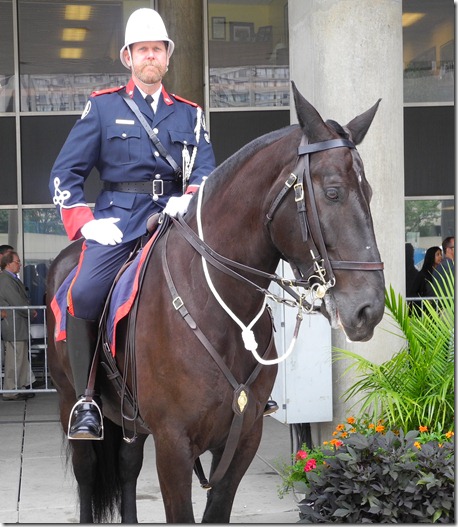 A mounted policeman stands guard as people enter the City Hall to pay respect.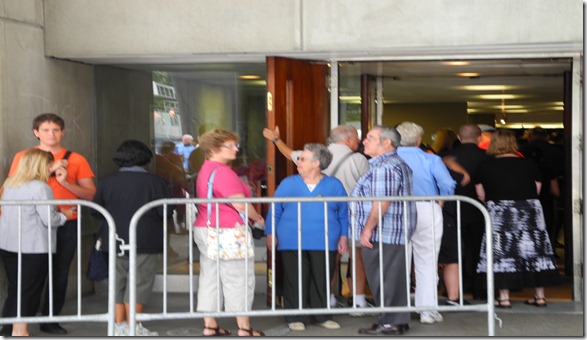 Entering Toronto's City Hall
The lines stretched from City Hall Square, down the west side of the building, and across the back as far as Bay Street. This was at 10:15 Friday morning.
Olivia Chow thanks people who are in line for their kindness and support.