Now Available – "The Reluctant Virgin," the second book of the Toronto Trilogy
Doug Taylor – author of "The Villages Within," nominated for the Toronto Heritage Awards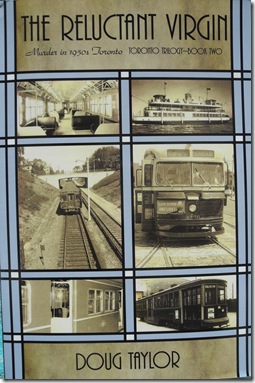 A young teacher is murdered in the secluded darkness of Toronto's Humber River Valley by a serial killer who drains the blood from the victim, completely baffling the police. As further murders occur, they do not realize that they are committed by the same ritualistic killer. The lives of the two detectives assigned to investigate the case eventually become entwined with the teenagers who attend the high school where the murdered teacher taught.
The setting for the story is 1950s Toronto, which is detailed with great accuracy. The accompanying historical photos allow readers to visualize the scenes as if they actually happened. The book also confronts social issues that in the 1950s would have been shocking and never discussed.
Those who have read the first book of the Toronto Trilogy, "Arse Over Teakettle," will discover more about the lives of Tom Hudson and his friends – the irascible Shorty and the ever-practical Harry – the main characters of "Arse Over Teakettle."
Yonge Street in the early 1950s         A 1950s residential neighbourhood
"The Reluctant Virgin" is a murder/thriller set in the city of Toronto as seen in the above photos. Although the story and characters are fictional, the book provides an in-depth glimpse into life of the decade, a time when the city was recovering from the turmoil of the Second World War, and evolving into a dynamic, multi-cultural urban centre. Some readers may recognize the names of the shops, theatres, and the restaurants that the characters frequent.
As the new decade appears on the scene, people were aware that their city was changing, but they never imagined that a brutal serial killer was prowling its forested river valleys and quiet laneways. Such things did not occur in "Toronto the Good."
The story begins on the Labour Day weekend of 1951, as thirteen-year-old Tom Hudson prepares to attend his first day of high school. Unknown to him, a female member of the school's staff is brutally murdered in the secluded darkness of the Humber River Valley, and it is not long before the police suspect that another teacher has committed the crime. After detectives Gerry Thomson and Jim Peersen are assigned to the case, another innocent victim is murdered.
While the investigation heats up, Tom and his friends attempt to go about their normal lives – developing as teenager do – but it is not long before they become unwittingly caught up with the mystery behind the strange killings.
As the killer's rage intensifies, everyone fears that another murder lies in the shadows. Now it is up to the two detectives and a group of curious teenagers to find a psychopath hell-bent on seeking revenge – before further violence occurs.