Because I live in the downtown area, I have observed the recent reconstruction of the streetcar tracks at the intersection of Spadina and Queen with great fascination. The corner has always been busy, and is perhaps one of the most interesting intersection in the city. It is invariably alive with street buskers and animated young people as they travel to the various shops and clubs in the area. China Town and the Kensington Market, both a short distance to the north, add to the eclectic mixture of people that inhabit the area. In addition, it is perhaps one of the few areas in Toronto where there are "hamburger joints" at two of its corners, and two more a few stores from the corner.
Spadina and Queen in June of 2012 Spadina and Queen in July of 2012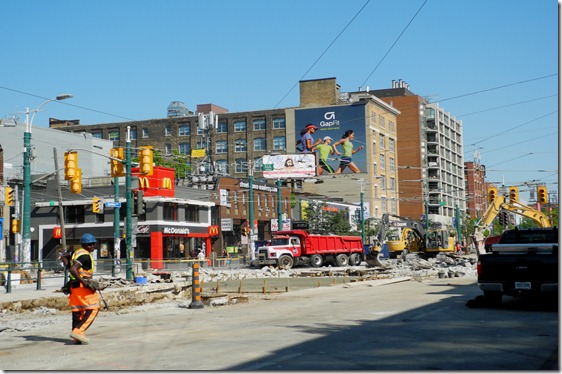 Looking north on Spadina Avenue from south of Queen Street.
Discarded railway ties (left), also known as "rail sleepers. The right-hand photo shows the new ties placed under the new tracks. I mistakenly thought that these were no longer used and was surprised to see them being installed.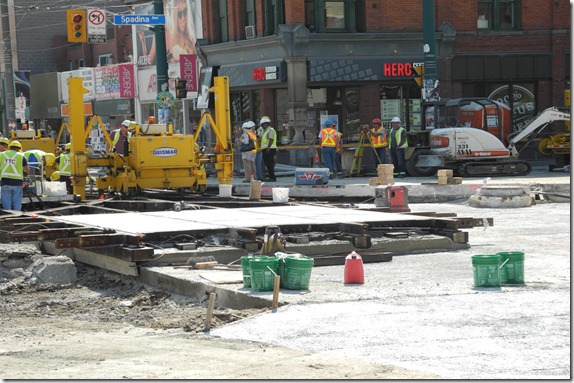 This photo shows the lower slab of cement on which the railway ties are placed. Then the rails are placed in position and another layer of cement is poured to encase them.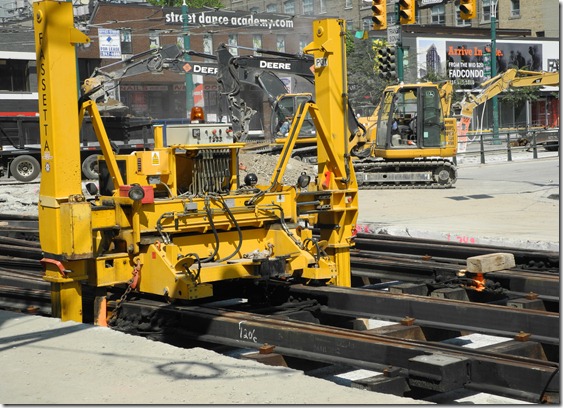 It requires two of these machine, one at either end of the track, to hold the tracks in the exact position for the pouring of the cement.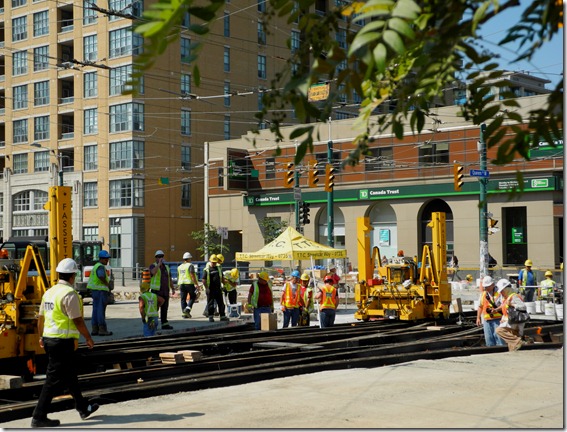 The section of track on Spadina, south of Queen, being placed by the two yellow machines.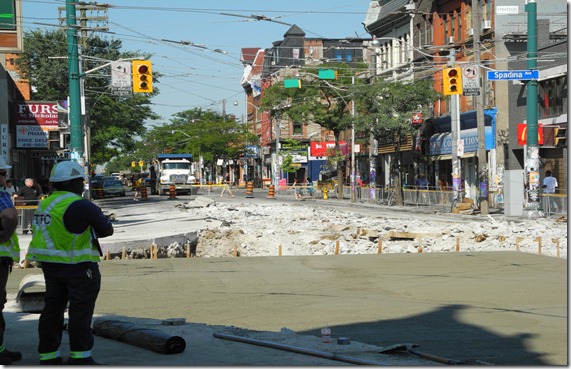 This view is looking west on Queen Street, from the east side of Spadina. The first layer of cement is mostly in place.
The congestion that the construction has created is frustrating. However, it is necessary and from what I have seen, the work is progressing quickly. It will soon be completed, although it may not seem that way if you have been caught in the traffic snarls.
I have spent much of my adult life researching Toronto. Despite the traffic jams and daily congestion, I find it exciting and vibrant. I love the city and enjoy exploring it through my writing. One of the books, "The Villages Within", was nominated for the Toronto Heritage Awards. If interested in novels with a Toronto setting, descriptions of the books are available by following the link: https://tayloronhistory.com/2012/03/22/toronto-author-publishes-seventh-novel/
They can be purchased in soft cover or electronic editions. All books are available at Chapters/Indigo and on Amazon.com. The electronic editions are less that $4 on Kobo and Kindle. Follow the links:
There Never Was a Better Time: http://bookstore.iuniverse.com/Products/SKU-000056586/THERE-NEVER-WAS-A-BETTER-TIME.aspx
Arse Over Teakettle: http://bookstore.iuniverse.com/Products/SKU-000132634/Arse-Over-Teakettle.aspx
The Reluctant Virgin; http://bookstore.iuniverse.com/Products/SKU-000188306/The-Reluctant-Virgin.aspx
The Villages Within: http://bookstore.iuniverse.com/Products/SKU-000175211/The-Villages-Within.aspx
Author's Home Page: https://tayloronhistory.com/
Authors can be contacted at: [email protected]