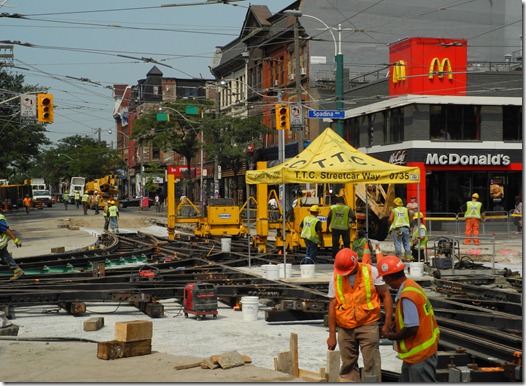 The tracks are now in place to allow streetcars to turn.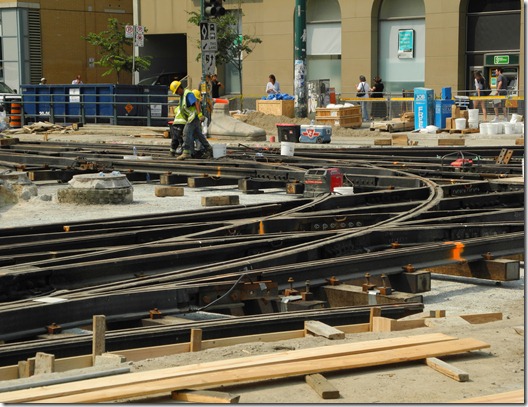 It's quite a maze of steel.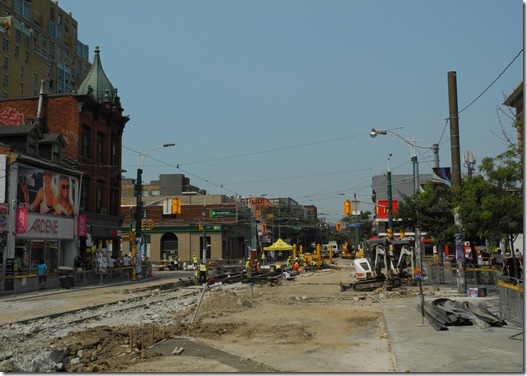 View looking west on Queen Street from east of Spadina on 13 July 2012.
The congestion that the construction has created is extremely frustrating. However, it is necessary, and from what I have seen, the work is progressing quickly. It will soon be completed, although it may not seem that way if you have been caught in the traffic snarls. Spadina is a major artery funnelling traffic onto the Gardiner Expressway, so the closing of the intersection is very disruptive.
I have spent much of my adult life researching Toronto. Despite the traffic jams and daily congestion, I find it exciting and vibrant. I love the city and enjoy exploring it through my writing. One of the books, "The Villages Within", was nominated for the Toronto Heritage Awards. If interested in novels with a Toronto setting, descriptions of the books are available by following the link: https://tayloronhistory.com/2012/03/22/toronto-author-publishes-seventh-novel/
They can be purchased in soft cover or electronic editions. All books are available at Chapters/Indigo and on Amazon.com. The electronic editions are less that $4 on Kobo and Kindle. Follow the links:
There Never Was a Better Time: http://bookstore.iuniverse.com/Products/SKU-000056586/THERE-NEVER-WAS-A-BETTER-TIME.aspx
Arse Over Teakettle: http://bookstore.iuniverse.com/Products/SKU-000132634/Arse-Over-Teakettle.aspx
The Reluctant Virgin; http://bookstore.iuniverse.com/Products/SKU-000188306/The-Reluctant-Virgin.aspx
The Villages Within: http://bookstore.iuniverse.com/Products/SKU-000175211/The-Villages-Within.aspx
Author's Home Page: https://tayloronhistory.com/
Authors can be contacted at: [email protected]