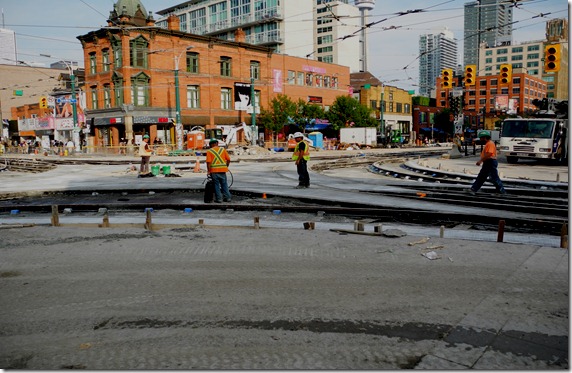 This photo was taken on Monday 16 July at 5 pm. During the day, a section of the cement was poured to cover large sections of the exposed tracks. The view is looking toward the southeast corner of Queen and Spadina.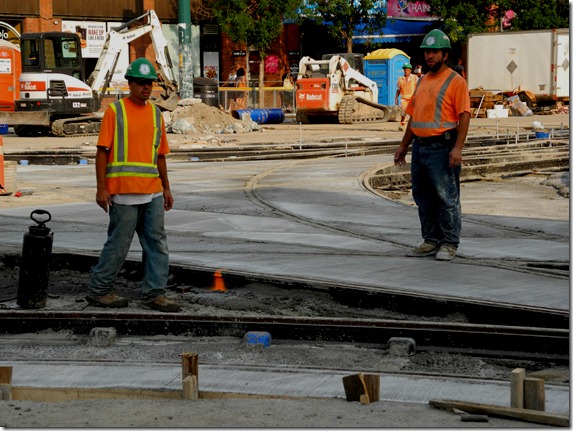 In this photo, in the foreground, only one more section of the track remains to be encased in cement.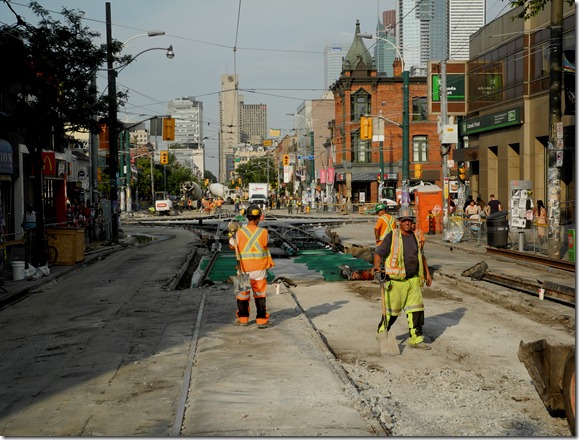 Gazing east toward Spadina from Queen St.
To view the post about the 1920s washroom buried beneath the intersection at Queen and Spadina – https://tayloronhistory.com/2012/07/15/construction-at-queen-and-spadina-in-july-of-2012-uncovers-an-old-washroom-from-the-1920s/
I have spent much of my adult life researching Toronto. Exploring the city's history is the main purpose of my blog. Despite the traffic jams and daily congestion, I find Toronto an exciting and vibrant city in which to live. I enjoy exploring its past through my writing. One of the books, "The Villages Within", was nominated for the Toronto Heritage Awards. If interested in novels with a Toronto setting, descriptions of the books are available by following the link: https://tayloronhistory.com/2012/03/22/toronto-author-publishes-seventh-novel/
They can be purchased in soft cover or electronic editions. All books are available at Chapters/Indigo and on Amazon.com. The electronic editions are less that $4 on Kobo and Kindle. Follow the links:
There Never Was a Better Time: http://bookstore.iuniverse.com/Products/SKU-000056586/THERE-NEVER-WAS-A-BETTER-TIME.aspx
Arse Over Teakettle: http://bookstore.iuniverse.com/Products/SKU-000132634/Arse-Over-Teakettle.aspx
The Reluctant Virgin; http://bookstore.iuniverse.com/Products/SKU-000188306/The-Reluctant-Virgin.aspx
The Villages Within: http://bookstore.iuniverse.com/Products/SKU-000175211/The-Villages-Within.aspx
Author's Home Page: https://tayloronhistory.com/
Authors can be contacted at: [email protected]