I thought I would share these night photos of the construction at Queen and Spadina, where they are replacing the streetcar tracks. It is necessary as the new streetcars that will arrive next year ride lower to the rails, and changes are needed to accommodate this feature. The photos will add nothing to a person's understanding of the construction, but when photographing, I realized that I would likely never again see the intersection appearing as it now does. Motorists will say – "Thanks God!"
However, the disarray of the construction attracts many people to the scene, as it is fascinating to observe how the tracks are laid. Though it may sound weird, at night the site is almost attractive.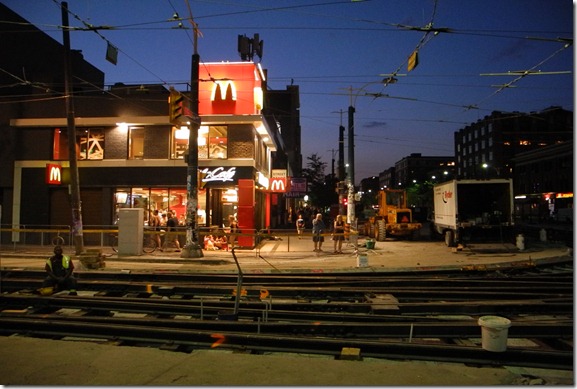 Gazing toward the northwest corner of Queen and Spadina.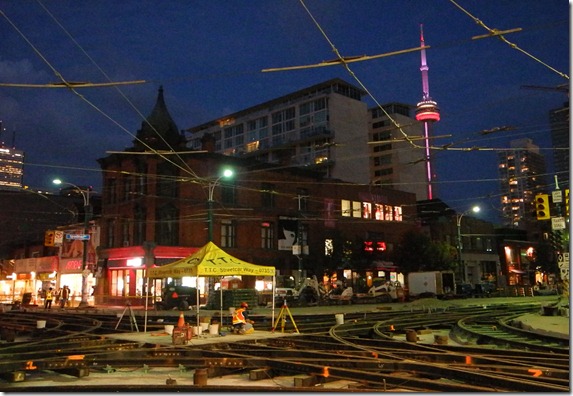 Looking toward the southeast corner of the intersection, the CN Tower to the south in the background.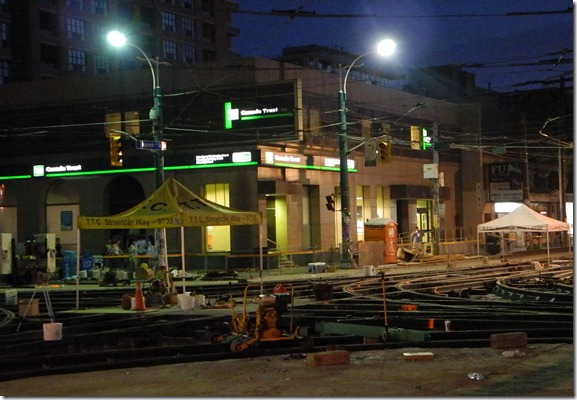 The southwest corner of the intersection.
This view looks north on Spadina toward the intersection at Queen and Spadina.
To view the post about the washroom buried beneath the intersection at Queen and Spadina: https://tayloronhistory.com/2012/07/15/construction-at-queen-and-spadina-in-july-of-2012-uncovers-an-old-washroom-from-the-1920s/
I have spent much of my adult life researching Toronto. Despite the traffic jams and daily congestion, I find Toronto an exciting and vibrant city in which to live. I enjoy exploring its past through my writing. One of the books, "The Villages Within", was nominated for the Toronto Heritage Awards. If interested in novels with a Toronto setting, descriptions of the books are available by following the link: https://tayloronhistory.com/2012/03/22/toronto-author-publishes-seventh-novel/
They can be purchased in soft cover or electronic editions. All books are available at Chapters/Indigo and on Amazon.com. The electronic editions are less that $4 on Kobo and Kindle. Follow the links:
There Never Was a Better Time: http://bookstore.iuniverse.com/Products/SKU-000056586/THERE-NEVER-WAS-A-BETTER-TIME.aspx
Arse Over Teakettle: http://bookstore.iuniverse.com/Products/SKU-000132634/Arse-Over-Teakettle.aspx
The Reluctant Virgin; http://bookstore.iuniverse.com/Products/SKU-000188306/The-Reluctant-Virgin.aspx
The Villages Within: http://bookstore.iuniverse.com/Products/SKU-000175211/The-Villages-Within.aspx
Author's Home Page: https://tayloronhistory.com/
Authors can be contacted at: [email protected]