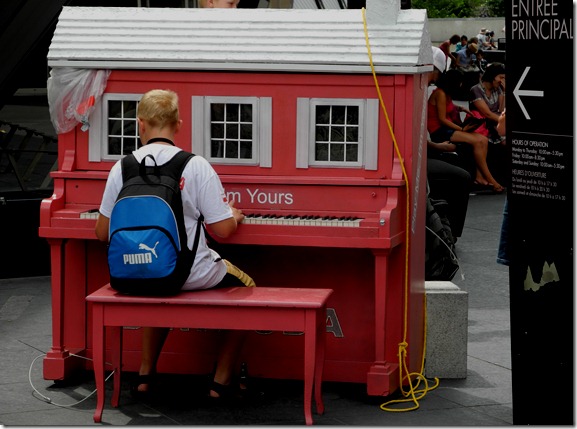 This teenager is playing the "Bermuda" piano near the Royal Ontario Museum (ROM) at the southwest corner of Bloor and Queen's Park. Each of the 41 pianos represents a country that will participate in the Pan Am Games in 2015. Since they were originally placed around the city in early July, I have noticed that people are losing their reticence to perform in public. More and more people are sitting down and playing the instruments. It has been a highly successful project.
Below are photos of other pianos.
American piano-St. Andrew's Park Barbados-Queen and Spadina
Costa Rica in TIFF Ecuador at Roy Thomson
I have spent much of my adult life researching Toronto. Despite the traffic jams and daily congestion, I find Toronto an exciting and vibrant city in which to live. The Pan Am pianos have added greatly to the summer of 2012.
I enjoy exploring the city's past through my writing. One of the books, "The Villages Within", was nominated for the Toronto Heritage Awards. If interested in novels with a Toronto setting, descriptions of the books are available by following the link: https://tayloronhistory.com/2012/03/22/toronto-author-publishes-seventh-novel/
They can be purchased in soft cover or electronic editions. All books are available at Chapters/Indigo and on Amazon.com. The electronic editions are less that $4 on Kobo and Kindle. Follow the links:
There Never Was a Better Time: http://bookstore.iuniverse.com/Products/SKU-000056586/THERE-NEVER-WAS-A-BETTER-TIME.aspx
Arse Over Teakettle: http://bookstore.iuniverse.com/Products/SKU-000132634/Arse-Over-Teakettle.aspx
The Reluctant Virgin; http://bookstore.iuniverse.com/Products/SKU-000188306/The-Reluctant-Virgin.aspx
The Villages Within: http://bookstore.iuniverse.com/Products/SKU-000175211/The-Villages-Within.aspx
Author's Home Page: https://tayloronhistory.com/
Authors can be contacted at: [email protected]