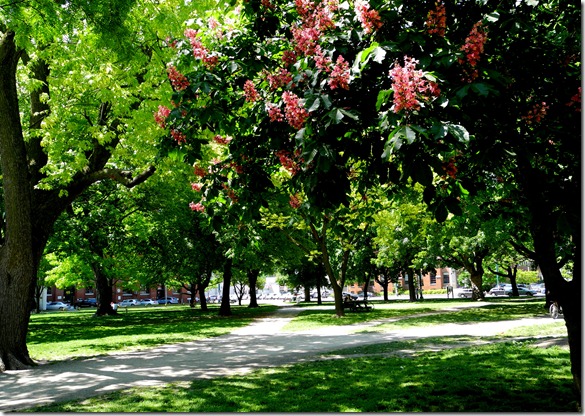 This photograph of Clarence Square was taken in May of 2012, when the chestnut spires were in bloom. Located on the east side of Spadina Avenue one block south of King Street, is one of Toronto's most historic squares.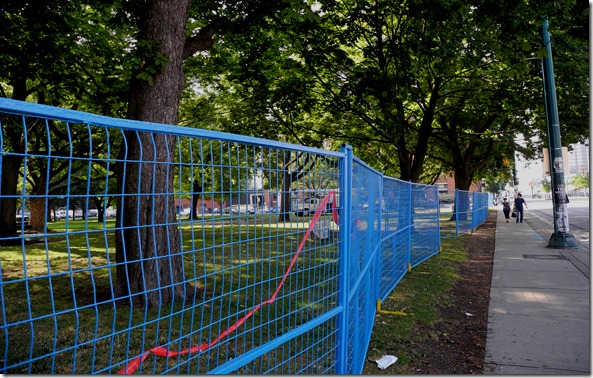 Fencing has now been placed around the square to facilitate construction to improve the square.
The following is from Councillor Adam Vaughan's newsletter, informing constituents about what is occurring in Clarence Square:
"Construction has started on improvements to Clarence Square Park, located at Wellington St W and Spadina Ave. This is a unique park that is deeply rooted in Toronto's history. The Planning Partnership, which was also involved in the revitalization of Victoria Memorial Square, developed the plans for this park revitalization.
The work that is underway includes deep root fertilization and mulching to help improve the health of the trees in the park and to improve drainage. Eight trees are being removed with the approval of the City's Urban Forestry division as part of the project, with 22 new trees of native species to be planted later in the construction process. A dog off-leash area is being created in the south portion of the park, along with a dog-accessible water fountain. The walkways will be rebuilt with pavers and lined with new benches, and a dedicated bike path will be created horizontally through the park, connecting Wellington St W and the Wellington-Spadina traffic signal. Construction is scheduled to be complete in Fall 2012. "
Removing trees in Clarence Square, July 2012. I do not know why is was necessary to remove these trees.
I have spent much of my adult life researching Toronto. Despite the traffic jams and daily congestion, I find Toronto an exciting and vibrant city in which to live. I enjoy exploring its past through my writing. One of the books, "The Villages Within", was nominated for the Toronto Heritage Awards. If interested in novels with a Toronto setting, descriptions of the books are available by following the link: https://tayloronhistory.com/2012/03/22/toronto-author-publishes-seventh-novel/
They can be purchased in soft cover or electronic editions. All books are available at Chapters/Indigo and on Amazon.com. The electronic editions are less that $4 on Kobo and Kindle. Follow the links:
There Never Was a Better Time: http://bookstore.iuniverse.com/Products/SKU-000056586/THERE-NEVER-WAS-A-BETTER-TIME.aspx
Arse Over Teakettle: http://bookstore.iuniverse.com/Products/SKU-000132634/Arse-Over-Teakettle.aspx
The Reluctant Virgin; http://bookstore.iuniverse.com/Products/SKU-000188306/The-Reluctant-Virgin.aspx
The Villages Within: http://bookstore.iuniverse.com/Products/SKU-000175211/The-Villages-Within.aspx
Author's Home Page: https://tayloronhistory.com/
Authors can be contacted at: [email protected]