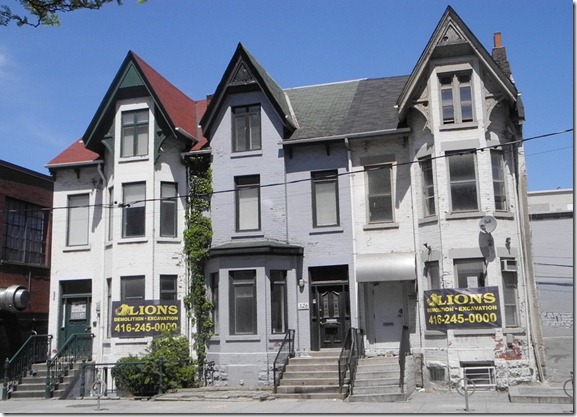 These three homes at 324-328 Richmond Street West were built in 1870s. The house of the left-hand side of the photo (#328), and the one on the right (#324), are excellent examples of Toronto's "Bay and Gable" homes, a style of domestic architecture that originated in Toronto and copied in many cities throughout Canada. The bay windows on the ground floor levels soar high into the gable, hence the term "bay and gable." It was an adaptation that allowed more daylight to enter the interior of the homes in an era without electric lighting. At one time, these homes were common throughout the city, but they are swiftly disappearing on the major arterial roadways, replaced by high-rise developments.
The house in the photo that is between the two "bay and gables" has a bay window on the first floor, but the window does not rise to the floors above. This house was built in 1875 for Nathaniel Baker, a carriage trimmer by trade.
The house on the left-hand side of the picture was constructed in 1873 for Mrs. Eliza Hoare. The home on the right-hand side of the photo was built in 1873 for Solomon Sylvester, a pattern maker.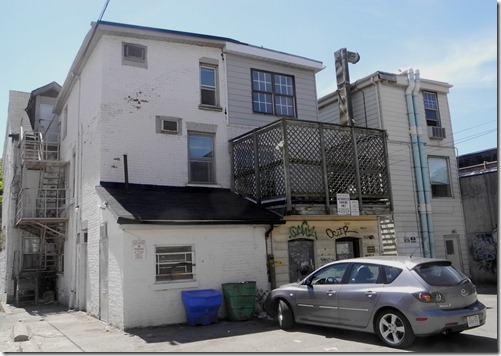 Rear view of the homes at 324-328 Richmond Street West
Doorway of #326 Richmond The houses – 324-328 Richmond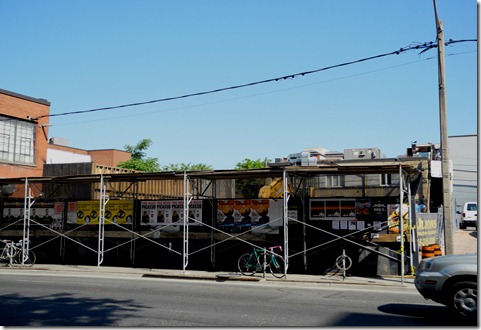 Sadly, the houses have now been demolished for a condominium.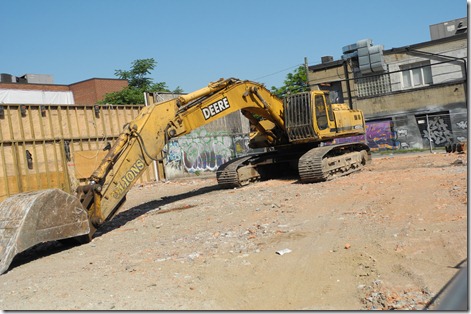 This is the site of the three old houses in July of 2012
I have spent much of my adult life researching Toronto. Despite the traffic jams and daily congestion, I find Toronto an exciting and vibrant city in which to live. However, I lament the destruction of the city's architectural heritage. We have very few remaining houses from the 1870s. Because the setting of the houses has now disappeared, I have realized for quite a while that the houses were doomed. It is a pity that they could not have been included in the new development that will be constructed on the site. Condo developers that preserve buildings find that their properties command higher prices and are eagerly sought by purchasers.
I enjoy exploring the city's past through my writing. One of the books, "The Villages Within", was nominated for the Toronto Heritage Awards. If interested in novels with a Toronto setting, descriptions of the books are available by following the link: https://tayloronhistory.com/2012/03/22/toronto-author-publishes-seventh-novel/
They can be purchased in soft cover or electronic editions. All books are available at Chapters/Indigo and on Amazon.com. The electronic editions are less than $4 on Kobo and Kindle. Follow the links:
There Never Was a Better Time: http://bookstore.iuniverse.com/Products/SKU-000056586/THERE-NEVER-WAS-A-BETTER-TIME.aspx
Arse Over Teakettle: http://bookstore.iuniverse.com/Products/SKU-000132634/Arse-Over-Teakettle.aspx
The Reluctant Virgin; http://bookstore.iuniverse.com/Products/SKU-000188306/The-Reluctant-Virgin.aspx
The Villages Within: http://bookstore.iuniverse.com/Products/SKU-000175211/The-Villages-Within.aspx
Author's Home Page: https://tayloronhistory.com/
Authors can be contacted at: [email protected]