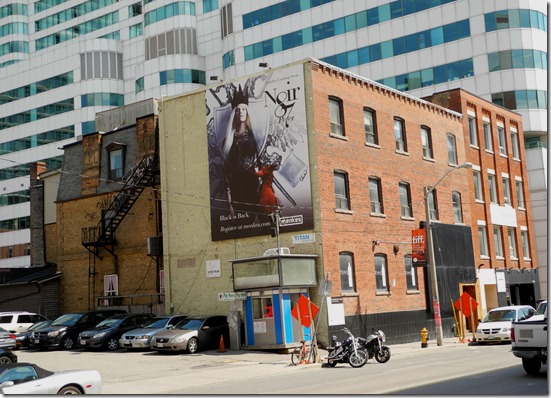 At 357 Peter St, a short distance north of King Street West, a nineteenth-century Second Empire mansion is hidden behind a large red-brick warehouse. It was at one time the home of one of the city's most prominent citizens – the Hon. Adam Crooks QC. Because all the buildings on this parcel of land are to be demolished for a condo, the house that has survived since it was built in 1873, will soon disappear forever.
In the late 1860s, on the land on the east side of Peter Street, between King and Adelaide Streets, there were no buildings except the stables of John Sheldon and Company. This changed when Adam Crooks built his home on this section of Peter Street in 1873. It was constructed in the Second Empire style, which was very popular during the 1870s and 1880s. The yellow brick home of Crooks possessed two floors, and a third floor within its Mansard roof. It can be seen today behind the large warehouse building.
Adam Crooks was born in West Flamborough Township in 1847, educated at Upper Canada College and later at the University of Toronto. He was called to the bar in 1851, and became a Queen's Council (QC) in 1863. In 1871 he successfully ran for the Liberals in the provincial riding of Toronto East, and was appointed to the cabinet in Oliver Mowat's government. Mowat was the province's third premier after Confederation, serving as premier between the years 1872 and 1896. During his tenure in office, it was Adam Crooks who was the main impetus behind the "Married Women's Real Estate Act," which allowed married women to hold property in their own name.
Crooks had a distinguished career in government. He passed away in 1885.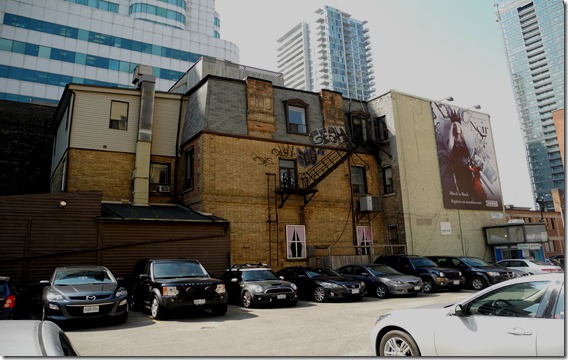 View of the north facade of the Crooks mansion. It was set back from Peter Street. The addition built across its west facade is visible in this picture.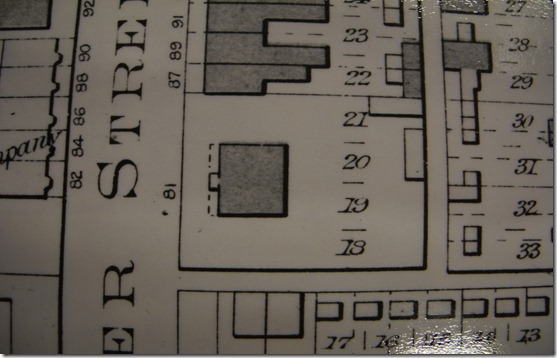 This 1899 map shows the Crooks home. In that year its address was 81 Peter Street, and it occupied four building lots, numbers 18-21. The map reveals that there was an impressive porch on the west side of the house, facing Peter Street.
North facade of the house Mansard roof of the Second Empire House
To view more posts on this blog about Toronto's architectural heritage: https://tayloronhistory.com/
Other recent posts: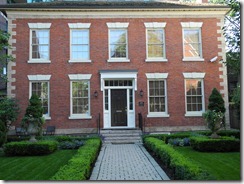 The 1847 Farr House at 905 Queen St. W. https://tayloronhistory.com/2012/08/13/exploring-torontos-architectural-gems-the-farr-house-at-905-queen-street-west/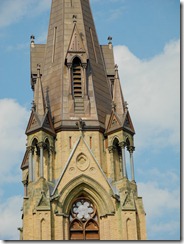 St. Mary's Church at Bathurst and Adelaide Streets .
https://tayloronhistory.com/2012/08/08/enjoying-torontos-architectural-gemsst-marys-roman-catholic-church/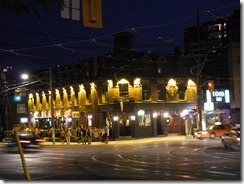 The Wheat Sheaf Tavern at Bathurst and King Streets.
https://tayloronhistory.com/2012/08/06/torontos-unique-wheat-sheaf-tavern/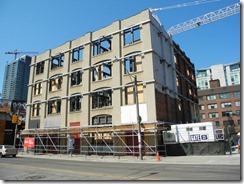 The site of the Weston Bakery at Peter and Adelaide Streets
https://tayloronhistory.com/2012/08/02/mysterious-building-hulk-at-corner-of-peter-and-richmond-streets-is-a-historical-landmark/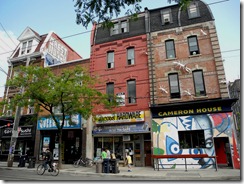 The Cameron Hose on Queen St.
https://tayloronhistory.com/2012/07/27/history-of-the-building-that-houses-the-cameron-house-on-queen-st-w/
To view more posts on this blog about Toronto's architectural heritage follow the link to the Home Page and
check the archives. : https://tayloronhistory.com/