There are so many historic architectural gems in Toronto that it is difficult to choose the most significant. Sometimes it is fun to be a tourist in your own city and visit a few of the sites that attract people visiting the city. The links below open previous posts about these buildings, which are such an important part of our architectural heritage. All are open to the public. If you visit them now, rather than during the "Open Doors Toronto" weekend, you can avoid the line-ups.
The 1822 home of Chief Justice William Campbell at the corner of University Avenue and Queen St. West. There is a small admission fee to view the interior of the home. I found the guides informative and friendly.
https://tayloronhistory.com/2012/04/16/enjoying-torontos-architectural-gems-campbell-house/
Osgoode Hall on Queen Street West, the east wing dating from 1829, the latest addition erected 1857. An excellent tour is offered during the summer months, and it is free.
https://tayloronhistory.com/2012/04/12/enjoying-torontos-architectural-gems-osgoode-hall/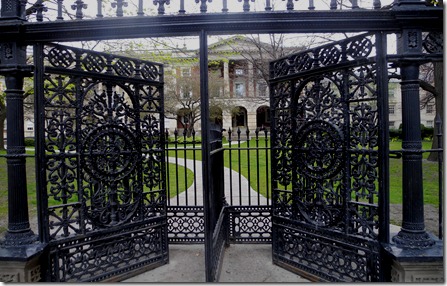 There is a separate post about the fence around Osgoode Hall, erected in 1867.
https://tayloronhistory.com/2012/04/14/enjoying-torontos-architectural-gems-the-cast-iron-fence-around-osgoode-hall/
Fort York, built in 1797 and rebuilt following the War of 1812. This is the site where Toronto began. There is an entrance fee but the tour is worth the price. You can also wander on your own. The fort has an excellent gift shop.
https://tayloronhistory.com/2011/05/24/historic-fort-york/
The grand St. Lawrence Hall at King and Jarvis Streets opened for concerts in 1850. Be sure to see the plaques and photos in the lobby. It is possible to enter the hall, and there is no fee.
https://tayloronhistory.com/2012/04/28/enjoying-torontos-architectural-gems-the-st-lawrence-hall/
Toronto's second City Hall at Queen West and Bay Streets was opened in 1899. It is now referred to as the Old City Hall. Anyone can enter but there is a security check at the door as there are now courts in the building. No photographing is permitted.
https://tayloronhistory.com/2012/04/22/enjoying-torontos-architectural-gems-old-city-hall/
Although this post about Mackenzie House at 82 Bond Street was first published at Christmas time, any time of the year a tour of the house is a great activity. There is a small admission charge and the guides are excellent. Open Tuesdays to Sunday from 12 pm.
To view other post on this blog about Toronto's historic architectural gems, follow the link to the Home Page and access the archives.
https://tayloronhistory.com/2011/12/07/torontos-mackenzie-house-on-bond-street-at-christmas/