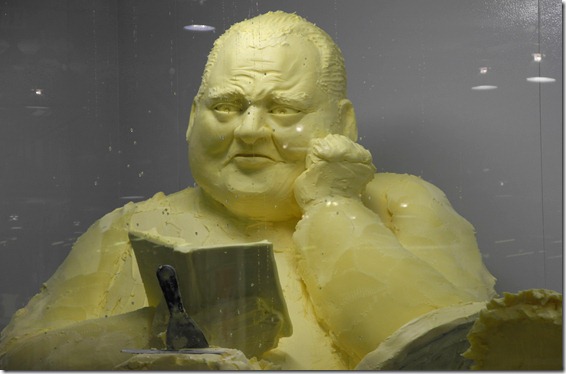 This butter-sculpture in the Better Living Centre at the 2012 CNE portrays Rob Ford reading a book. When I took the photo, the sculptor had not completed the carving of the mayor's left hand. The piece of work brought many amused smiles and knowing nods of the head from those admiring the sculptor's skills.
The life-size sculpture in butter is in a refrigerated showroom at the CNE's Better Living Centre
Although my post usually relates to Toronto's history, I felt that perhaps it was a historical moment to see our mayor in butter.
For other posts about Toronto's architectural history and happenings throughout the city: follow the links.
The closing of the two lanes on Yonge Street, August 2012.
https://tayloronhistory.com/2012/08/19/yonge-street-lane-closings-in-aug-2012-create-great-cafes-and-green-space/
Bulwer Street – a street near Queen and Spadina that has disappeared yet remains in view.
https://tayloronhistory.com/2012/08/20/a-toronto-street-that-disappeared-but-yet-remains-in-view-bulwer-street/
New meat market opens on Baldwin Street Toronto's in Kensington Market – Sanagan's Meat Locker
https://tayloronhistory.com/2012/08/15/new-meat-market-opens-in-kensingtonsanagans-meat-locker/
St. Mary's Church at Adelaide and Bathurst Streets being uncovered from scaffolding for renovations.
https://tayloronhistory.com/2012/08/08/enjoying-torontos-architectural-gemsst-marys-roman-catholic-church/
For other post about Toronto and its history and architecture. Home Page – https://tayloronhistory.com/