In recent years the tiles at the Osgoode Subway Station, based on themes that represent the collection at the Royal Ontario Museum, have garnered much attention. However, the artistry of the tiles in the Queen Street Station are equally remarkable, the vibrancy of their colours quite amazing. Their subject matter reflects the downtown environment of the station. I was fortunate to photograph them on an evening when the rush hour crowds had departed for the day.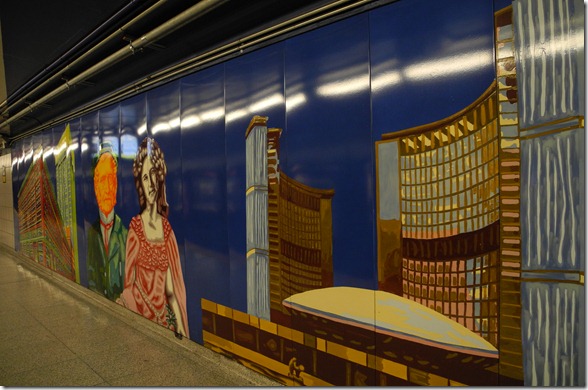 The tiles on the west wall of the subway station, which are reproduced on the east platform as well.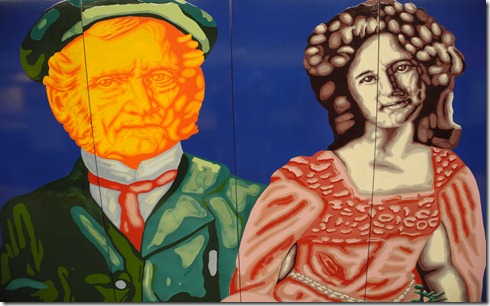 William Lyon Mackenzie, the rebel of the 1837 Rebellion and his wife Isabel. Their home at 82 Bond Street is not far from the subway station. The house is open daily for public tours. The staff are exceptionably knowledgeable and friendly. The house is reputed to be haunted. There is a small fee to tour the historic property.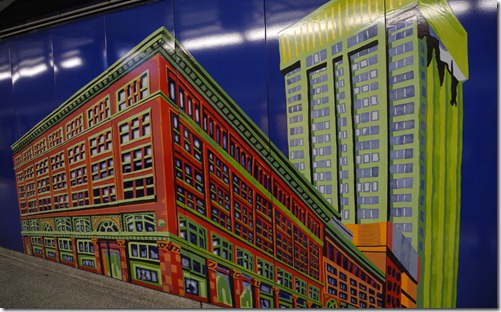 The historic 1899 Simpson's Building, which is now The Bay, and the Simpson Tower to the west of it.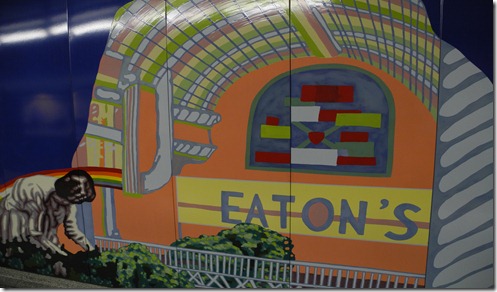 The Eaton Centre which is accessed through the subway Station.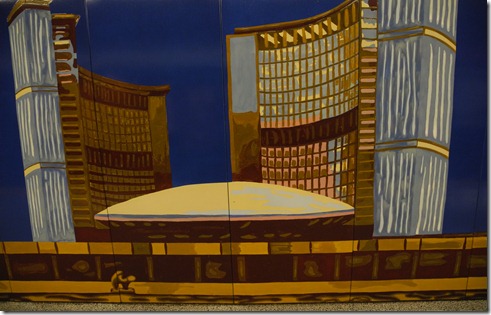 The New City Hall on Queen Street, west of Bay Street. This is only a short distance from the subway station.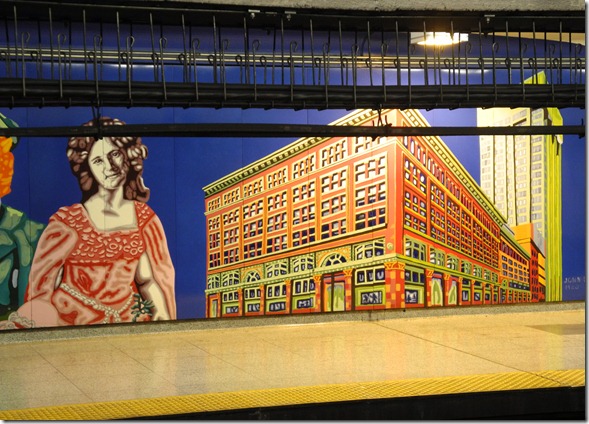 View of the tiles on the east side of the platform from the west platform.
For other posts about Toronto's architectural history and happenings throughout the city: follow the links.
Rob Ford in butter rather than the proverbial "hot water."
https://tayloronhistory.com/2012/08/23/rob-ford-in-butter-rather-than-the-proverbial-hot-water/
The closing of the two lanes on Yonge Street, August 2012.
https://tayloronhistory.com/2012/08/19/yonge-street-lane-closings-in-aug-2012-create-great-cafes-and-green-space/
Bulwer Street – a street near Queen and Spadina that has disappeared yet remains in view.
https://tayloronhistory.com/2012/08/20/a-toronto-street-that-disappeared-but-yet-remains-in-view-bulwer-street/
New up-scale meat market opens on Baldwin Street in Toronto's Kensington Market – Sanagan's Meat Locker
https://tayloronhistory.com/2012/08/15/new-meat-market-opens-in-kensingtonsanagans-meat-locker/
St. Mary's Church at Adelaide and Bathurst Streets being uncovered from scaffolding for renovations.
https://tayloronhistory.com/2012/08/08/enjoying-torontos-architectural-gemsst-marys-roman-catholic-church/
For other post about Toronto and its history and architecture. Home Page – https://tayloronhistory.com/