I recently placed a post on this blog about the new cafe/restaurant that was due to open in the Consolidated Glass Building at 241 Spadina Avenue. As I walked past the site today (25 Sept. 2012), I noticed that it was open.
The Consolidated Glass Building at 241 Spadina, built in 1910, and the sign for "Stada II.IV.I," the new cafe/restaurant.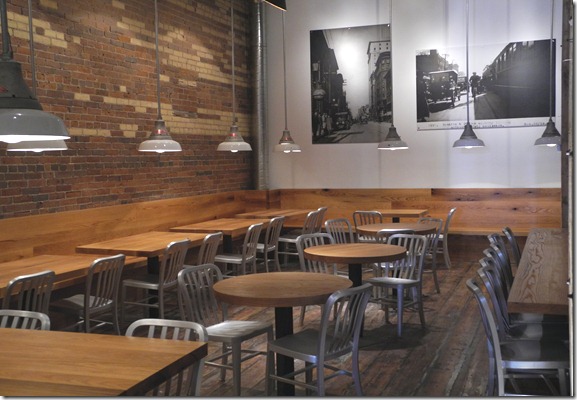 Though the space in the building is enormous, it is divided into cozy sections, the exposed brick and pine beams adding warmth to the space. The historic prints on the rear wall reinforce the fact that you are dining or enjoying a coffee in a place with an historic past.
All pastries are baked on the premises and the coffee is freshly ground and brewed.
Because I live in the area, I consider this cafe a great addition to the neighbourhood. The manager informed me that they will be serving lunches by the end of this week (the last week of September 2012) and that a full dinner menu will be offered by mid-October. I am particularly interested in this cafe as it is a good example of an old "brick and beam" warehouse being recycled for modern use. When you visit the restaurant, gaze up at the ceiling to see the quality of the wood planks. Though they are over a century old, they look as if they came from the lumber mill last week. The careful restoration work on this building is amazing.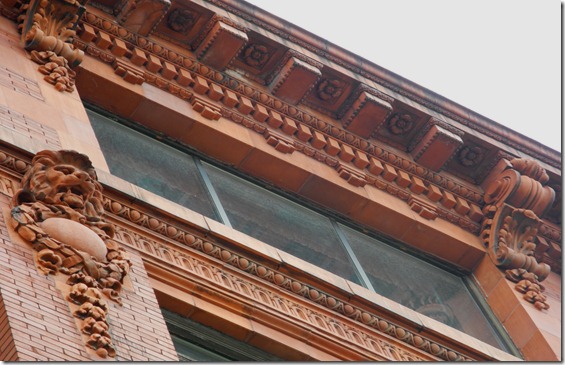 The restoration of the intricate terracotta tiles on the exterior of the building are well worth examining.
To view the original post about the history of the Consolidated Glass Building:
https://tayloronhistory.com/2012/07/06/exploring-torontos-architectural-gemsthe-building-at-235-spadina-ave/
To view other posts about the historic buildings on Spadina Avenue:
The Victory Burlesque Theatre at Dundas and Spadina
https://tayloronhistory.com/2012/09/08/the-sinful-victory-burlesque-theatre-at-dundas-and-spadina/
The Dragon City Mall on the southwest corner of Dundas and Spadina
https://tayloronhistory.com/2012/08/25/torontos-heritage-the-southwest-corner-of-queen-and-spadina/
Buildings on the west side of Spadina a short distance north of Queen Street.
https://tayloronhistory.com/2012/08/30/torontos-architectural-historyspadina-north-of-queen-kings-court/
History of the site of the Mcdonalds on northwest corner of Queen and Spadina
https://tayloronhistory.com/2012/08/27/mcdonalds-at-queen-and-spadina-on-an-historic-site/
The site of the Paul Magder shop at 202 Spadina
https://tayloronhistory.com/2012/08/07/exploring-torontos-architectural-gemsthe-paul-magder-fur-shop-at-202-spadina-avenue/
A former mansion at 235 Spadina that is now almost hidden from view.
ttps://tayloronhistory.wordpress.com/2012/07/04/torontos-architectural-gems-is-this-one-a-joke/
The Balfour Building at 119 Spadina Avenue
https://tayloronhistory.com/2012/07/20/enjoying-torontos-architectural-gemsthe-balfour-building-at-spadina-and-adelaide/
To View the Home page for this blog: https://tayloronhistory.com/