A recent post about "Strada 241," that opened last week on the east side of Spadina, has garnered much interest. The cafe caught my eye because of my research into the historic "brick and beam" buildings on Spadina that date from the last century. All summer I watched as they restored the Consolidated Glass building, constructed in 1910. Then, when a cafe opened on the fist floor, it was great to see life return to the structure. The restoration is impressive, including the space where the cafe is located. It holds the promise of becoming one of the finest dining places in Toronto suck-in a little caffeine, if the cappuccino I drank this morning is any indication.
Since my previous post, I have gained new information. The cafe eventually will be open seven days a week, from 7 am to midnight. Free wifi is available.
This cafe is a welcomed addition to the neighbourhood, as after late-evening dining in the area, few places of any worth remain open late for coffee and dessert. However, it gets better. On Friday, 5 October, Strada 241 will be offering a full menu. The chef is Guy Rubino, who has partnered with his brother Michael to open the restaurant. Any restaurant that has the owners on the premises is usually superior as it is better able to maintain quality control.
I examined their lunch menu today, and though not extensive, it looked promising. I was informed that they would soon be expanding the mid-day menu to include more salads and entree selections. I wish this restaurant the very best luck, as it is good to see Toronto's historic buildings recycled for modern use, rather than being demolished.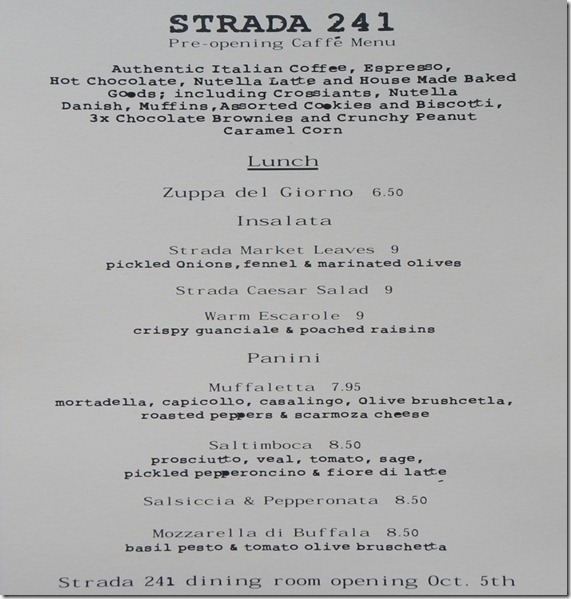 The pre-opening lunch menu at Strada 214, on 2 October, 2012. This menu is temporary and will shortly be augmented.
241 Spadina where Strada 241 is located (left) and the restored interior (right-hand photo)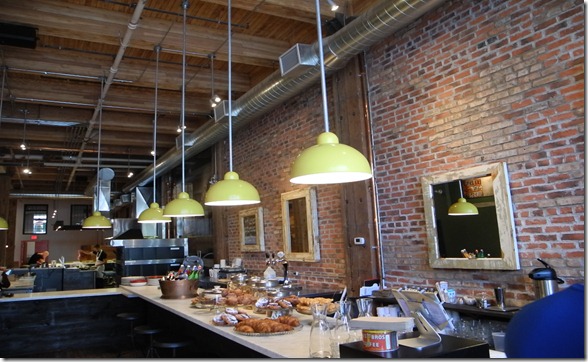 Though the interior space is enormous, it is divided into areas that create cozy dining places. Coffee is served with a glass of ice water and a complementary chocolate, similar to the chic coffee houses in Buenos Aires.
The kitchen at Strada is visible as diners walk to the rear of the restaurant
To view previous posts about Strada 241
https://tayloronhistory.com/2012/09/23/chic-caferestaurant-to-open-on-spadina-avenue-in-old-1910-consolidated-glass-building/
:https://tayloronhistory.com/2012/09/25/chic-new-spadina-avenue-cafe-strada-ii-iv-i-is-open/
To view the post about the history of the Consolidated Glass Building:
https://tayloronhistory.com/2012/07/06/exploring-torontos-architectural-gemsthe-building-at-235-spadina-ave/
To view other posts about the historic buildings on Spadina Avenue:
The Victory Burlesque Theatre at Dundas and Spadina
https://tayloronhistory.com/2012/09/08/the-sinful-victory-burlesque-theatre-at-dundas-and-spadina/
The Dragon City Mall on the southwest corner of Dundas and Spadina
https://tayloronhistory.com/2012/08/25/torontos-heritage-the-southwest-corner-of-queen-and-spadina/
Buildings on the west side of Spadina a short distance north of Queen Street.
https://tayloronhistory.com/2012/08/30/torontos-architectural-historyspadina-north-of-queen-kings-court/
History of the site of the Mcdonalds on northwest corner of Queen and Spadina
https://tayloronhistory.com/2012/08/27/mcdonalds-at-queen-and-spadina-on-an-historic-site/
The site of the Paul Magder shop at 202 Spadina
https://tayloronhistory.com/2012/08/07/exploring-torontos-architectural-gemsthe-paul-magder-fur-shop-at-202-spadina-avenue/
A former mansion at 235 Spadina that is now almost hidden from view.
ttps://tayloronhistory.wordpress.com/2012/07/04/torontos-architectural-gems-is-this-one-a-joke/
The Balfour Building at 119 Spadina Avenue
https://tayloronhistory.com/2012/07/20/enjoying-torontos-architectural-gemsthe-balfour-building-at-spadina-and-adelaide/
To View the Home page for this blog: https://tayloronhistory.com/