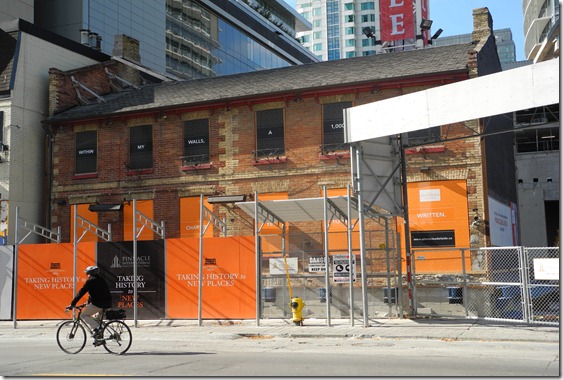 The historic red-brick houses have now been relocated to their final location on John Street, between the new condo and the Bell Lightbox (TIFF).
Last year, the historic semi-detached houses that once housed the popular "Fox and Fiddle Pub" were removed from their original location. They were temporarily placed in a parking lot on the east side of John Street. They have been relocated again, and are finally on their permanent site. To the north of them there will be a new condominium. During the coming months, the houses will be restored. Relocating structures of this size is an amazing feat and is expensive. Toronto is enriched by the preservation of these structures.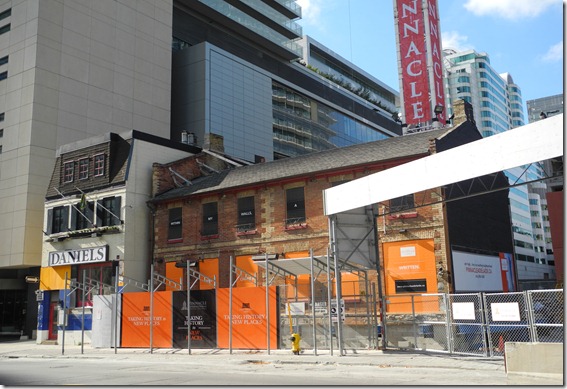 The historic houses that were relocated, along with the other historic house to the south.
(Left picture) reveals the houses being over-shadowed by the Bell Lightbox (TIFF) and (right) the houses viewed from the construction site of the new condo being constructed on the southwest corner of John and Adelaide Streets.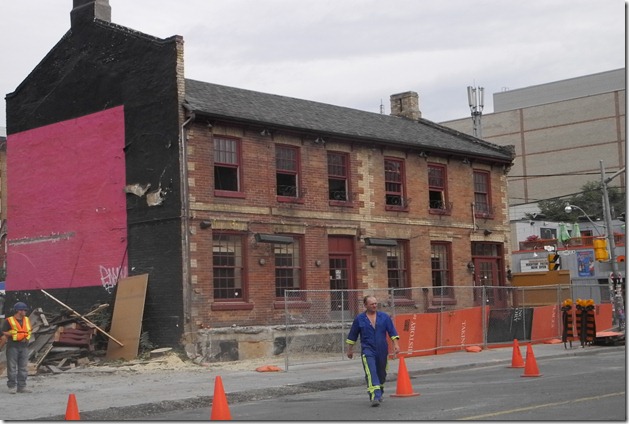 This photo shows the structures last year, when they were on their original location at John and Adelaide Streets.
Now that the houses are on their permanent location, a sign on the hoarding states that the structure was the home of Richard West and that it was constructed in 1869. I have been unable to confirm this information. My research at the Toronto Reference Library, from the map collection and the Toronto Directories, appears to indicate that the structure was two semi-detached homes, the northern one occupied by Richard West. I would welcome any clarification of the facts. A link below gives access to my research.
https://tayloronhistory.com/2011/07/30/relocating-the-building-at-adelaide-and-john-streets-that-was-the-fox-and-fiddle-pub/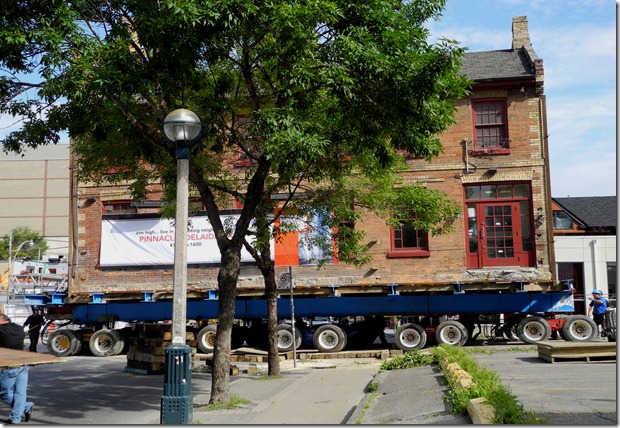 Houses being moved eastward across John Street toward theirs temporary location. To view post about the relocation follow the link below.
https://tayloronhistory.com/2011/08/13/the-houses-at-john-and-adelaide-streets-post-7/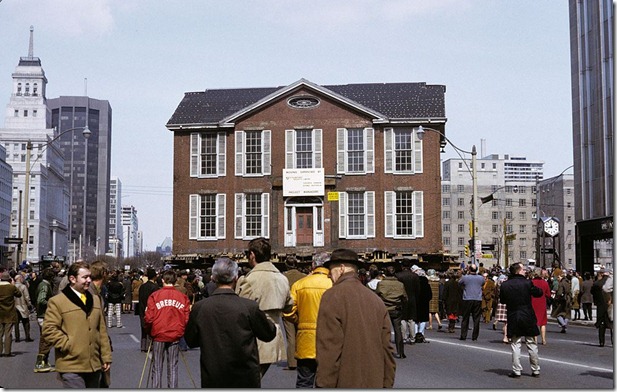 The above photo from the Toronto Archives shows Campbell House during its relocation to its present site at University and Queen Street West. To view a post about this house and its relocation:
https://tayloronhistory.com/2012/04/16/enjoying-torontos-architectural-gems-campbell-house/
To view the Home Page for this blog: