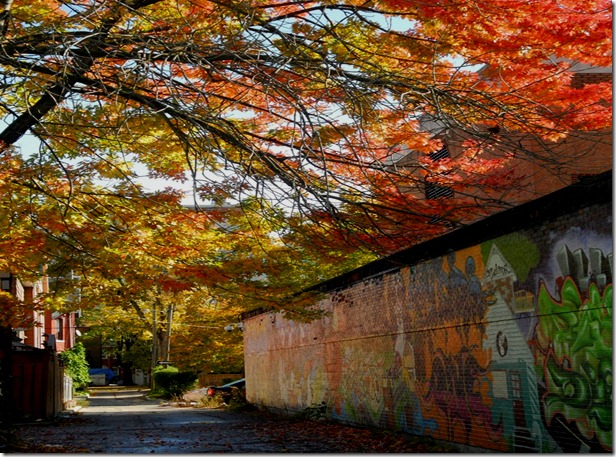 While exploring the downtown streets of Toronto, I discovered a laneway on the east side of Huron Street, a short distance south of College Street. I never noticed it on my previous excursions. The reason it captured my attention on this occasion was the soft autumn colours. The trees draping over the backyard fences displayed burnished red and gold, the sunlight casting ribbons of light and shade cross the alley. Entering the laneway, I then noticed the mural on the north wall of a building. Several years ago I began photographing the graffiti art work of Toronto. Although some of it is unsightly tagging, many of the murals are truly worthy of admiration. I believe that this laneway mural is one of them.
The famous Mexican muralist, Diego Rivera, whose work is presently being displayed at the AGO (Oct.-Jan. 2012), along with that of his wife Frida Kahlo, asserted that mural art is the work of the common people. As I gaze at the murals on Toronto's buildings, I know what Diego meant. The graffiti art of our city reflects the ideas of the city's unsung artists, who have a desire to communicate their ideas to people who may never enter an art gallery. Fortunately, a few of these artists are now gaining recognition.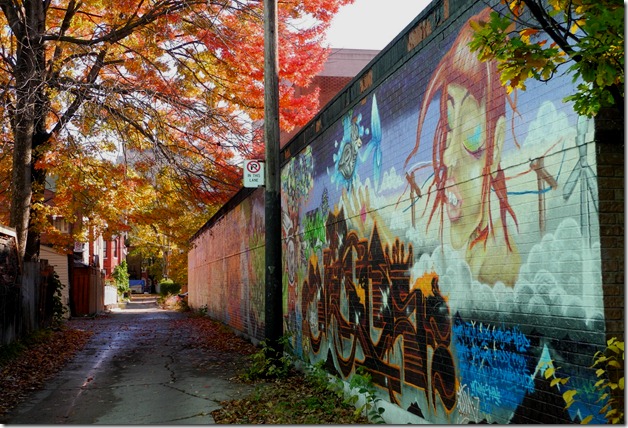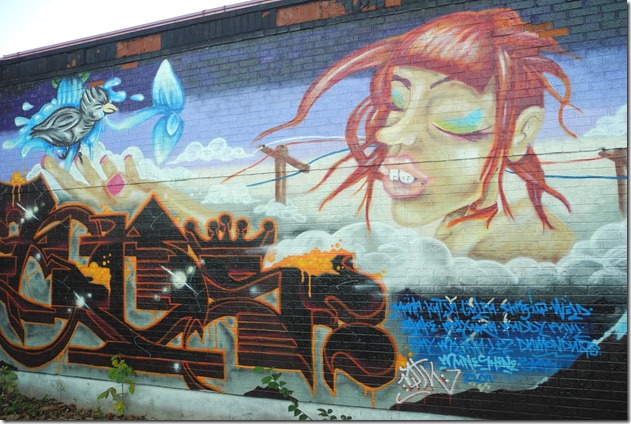 A few months ago I met a young graffiti artist who was born in Nova Scotia, and is presently residing in Toronto. He often receives commissions to paint mural on buildings. One of his latest is an office building in a laneway in the Queen and Portland area of the city. He signs his work Uber5000.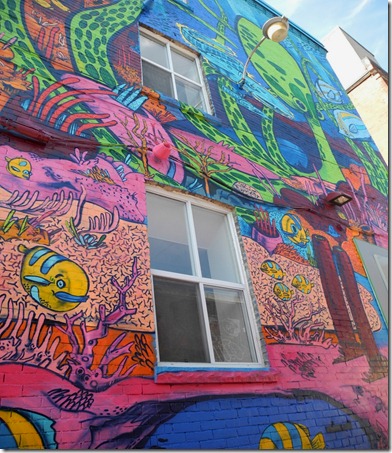 The above photo is the work of Uber5000 in the laneway near Queen West and Portland.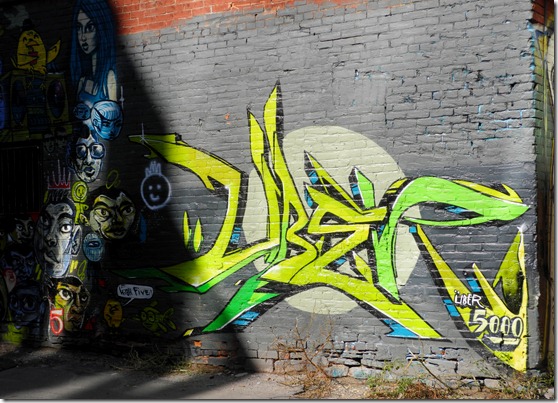 I discovered this recent mural by Uber5000 on 22 October 2012, in McDougall's Laneway, near Spadina Avenue and Richmond Street
To view a mural in the Kensington Market, with tongue-in-cheek humour:
https://tayloronhistory.com/2012/10/17/clever-humorous-graffiti-in-the-kensington-market/
In July of 2011, I placed a post on this blog about the abstract expressionists. At that time, there was an exhibition of their work at the AGO. I received comments from readers who strongly disagreed with the post. Their opinions were indeed valid, but the ideas expressed in the post may also have validity. To view this post:
https://tayloronhistory.com/2011/08/06/abstract-expressionist-masters-at-the-ago-waste-of-time-or-meaningful/
Then in August of 2012 I placed another post in which I compared the work of the graffiti artists Uber5000 to the abstract expressionists. This too became a controversial post.
https://tayloronhistory.com/2012/09/17/in-graffiti-alley-torontos-artists-put-to-shame-new-york-abstract-expressionists/
To view the Home Page for this blog: https://tayloronhistory.com/