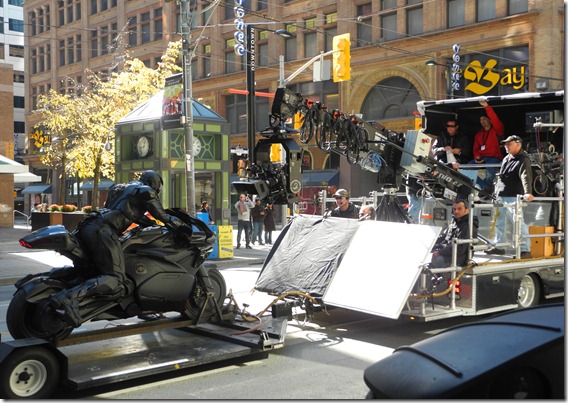 This photo was taken on Sunday 21 October 2012 at the intersection of Queen and Yonge. The downtown Bay Store on the southwest corner is visible in the background. A motorcycle is being towed by a trunk with a camera mounted on it for the movie "Robo Cop." In the film, the scene will be advanced at high speed to create a chase scene. I wonder if the actor who actually plays the role of Robo Cop is the person on the motorcycle.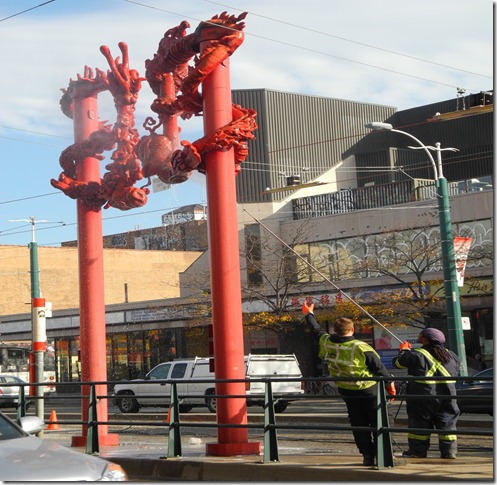 Art on Spadina Avenue in Chinatown receives it autumn hosing with soapy water.
Condom Shack on Queen Street West is decked out for Halloween
This is the scene at the intersection of Brant and Adelaide Streets (Oct. 2012), where the roadway has been dug up to repair the sewage system. The digging has exposed the mass of wires below the roadway. I never imagined that so many cables and wires were buried beneath the streets of the city. I would hate to be the repair person who had to make sense of these wires.
To view posts about Toronto's history:
Photos of the surroundings of the CN Tower and and the St. Lawrence Market in 1977
https://tayloronhistory.com/2012/10/18/photos-of-the-surroundings-of-the-st-lawrence-market-and-cn-tower-in-1977/
The old Dominion Bank Building at King and Yonge Street
https://tayloronhistory.com/2012/06/08/the-old-dominion-bank-buildingnow-a-condo-hotel-at-one-king-st-west/
The Canada Life Building on University and Queen Street West.
https://tayloronhistory.com/2012/06/13/exploring-torontos-architectural-gemsthe-canada-life-building/
Campbell House at the corner of Queen Street West and University Avenue
https://tayloronhistory.com/2011/08/18/a-glimpse-at-the-interior-of-campbell-house-at-university-avenue-and-queen-street/
A study of Osgoode Hall
https://tayloronhistory.com/2012/04/12/enjoying-torontos-architectural-gems-osgoode-hall/
Toronto's first City Hall, now a part of the St. Lawrence Market
https://tayloronhistory.com/2012/04/21/torontos-first-city-hall-now-a-part-of-the-st-lawrence-market/
The St. Lawrence Hall on King Street
https://tayloronhistory.com/2012/04/28/enjoying-torontos-architectural-gems-the-st-lawrence-hall/
Toronto's streetcars through the past decades
https://tayloronhistory.com/2012/03/26/memories-of-torontos-streetcars-of-yesteryear/
History of Trinity Bellwoods Park
https://tayloronhistory.com/2012/04/09/the-history-and-beauty-of-trinity-bellwood-park/
A history of Toronto's famous ferry boats to the Toronto Islands
https://tayloronhistory.com/2012/02/24/remember-the-toronto-island-ferries-the-bluebell-primroseand-trillium/
Toronto's Old City Hall at Bay and Queen Streets
https://tayloronhistory.com/2012/04/22/enjoying-torontos-architectural-gems-old-city-hall/
To view the Home Page for this blog: https://tayloronhistory.com/