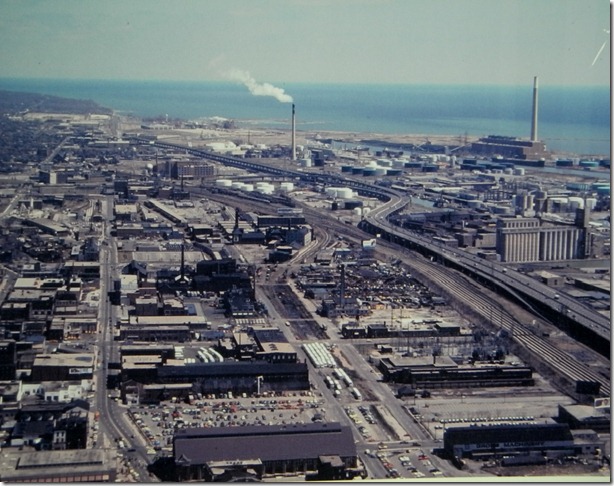 This photo of Toronto, taken by a neighbour of mine in 1977, looks eastward. In the centre, at the very bottom of the picture, is the south building of the St. Lawrence Market. To the east of it is the large parking lot that many Saturday-morning shoppers may fondly recall. The roof of the north building of the Market is visible in the extreme left-hand corner of the picture (it is now due for demolition). Condos have since been constructed on much of the land surrounding the Market. Lake Ontario can be seen at the top of the picture. The Gardiner Expressway snakes its way eastward on the right-hand side of the picture. The far eastern part of the Gardiner was demolished in the years after this photo was taken. In 1977, the area was mainly industrial and the St. Lawrence Market lacked a suitable context.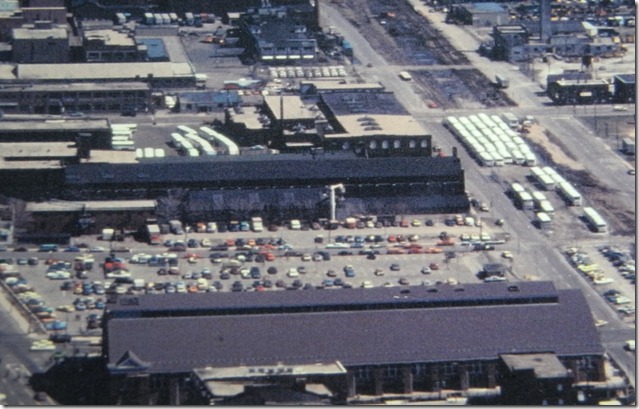 The south building of the St. Lawrence Market in 1977, and the parking lot to the east of it. To the south of the Market was a large parking lot for Greyhound buses.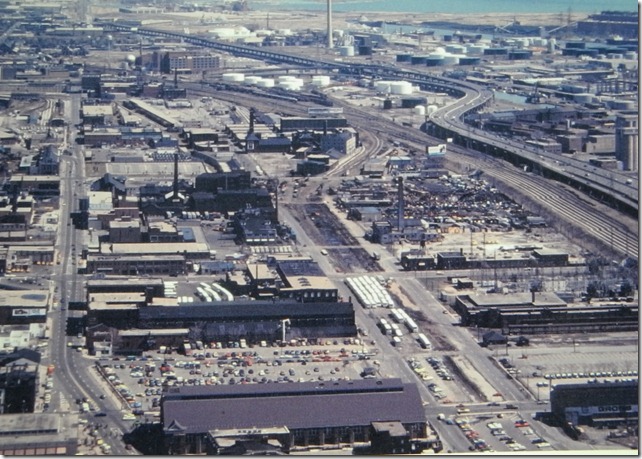 The St. Lawrence Market and surrounding area in 1977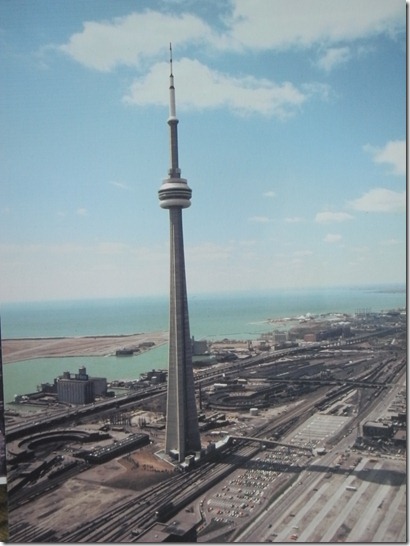 The land surrounding the CN Tower in 1977. The number of buildings that now dot the landscape around the tower is amazing. In this photo, the the Island Airport and the western Gap are visible behind the tower.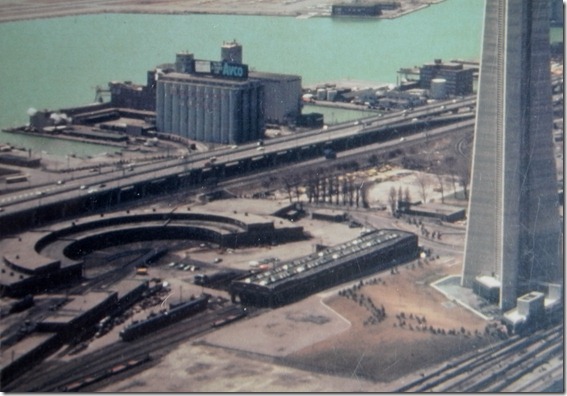 The Roundhouse in 1977, on the left-hand side of the CN Tower. The Rail Museum and a brewery are located in the area today. To the north of the Roundhouse, at the base of the tower, Ripley's Aquarium is now under construction. To view a post about the aquarium, follow the link:
https://tayloronhistory.com/2012/09/07/view-construction-of-torontos-new-aquarium-it-opens-in-summer-of-2013/
To view post about Toronto's historic buildings:
The old Dominion Bank Building at King and Yonge Street
https://tayloronhistory.com/2012/06/08/the-old-dominion-bank-buildingnow-a-condo-hotel-at-one-king-st-west/
The Canada Life Building on University and Queen Street West.
https://tayloronhistory.com/2012/06/13/exploring-torontos-architectural-gemsthe-canada-life-building/
Campbell House at the corner of Queen Street West and University Avenue
https://tayloronhistory.com/2011/08/18/a-glimpse-at-the-interior-of-campbell-house-at-university-avenue-and-queen-street/
A study of Osgoode Hall
https://tayloronhistory.com/2012/04/12/enjoying-torontos-architectural-gems-osgoode-hall/
Toronto's first City Hall, now a part of the St. Lawrence Market
https://tayloronhistory.com/2012/04/21/torontos-first-city-hall-now-a-part-of-the-st-lawrence-market/
The St. Lawrence Hall on King Street
https://tayloronhistory.com/2012/04/28/enjoying-torontos-architectural-gems-the-st-lawrence-hall/
Toronto's streetcars through the past decades
https://tayloronhistory.com/2012/03/26/memories-of-torontos-streetcars-of-yesteryear/
History of Trinity Bellwoods Park
https://tayloronhistory.com/2012/04/09/the-history-and-beauty-of-trinity-bellwood-park/
A history of Toronto's famous ferry boats to the Toronto Islands
https://tayloronhistory.com/2012/02/24/remember-the-toronto-island-ferries-the-bluebell-primroseand-trillium/
Toronto's Old City Hall at Bay and Queen Streets
https://tayloronhistory.com/2012/04/22/enjoying-torontos-architectural-gems-old-city-hall/
To view the Home Page for this blog: https://tayloronhistory.com/