When I was a child, I feared that that when I became too old to go "Shelling Out," as "Trick or Treating" was called in those days, a part of my world of enjoyment would sadly disappear. I was not wrong. Each year when the 31st of October arrives, I think of the joyous days of running from house to house collecting treats. My brother and I knew that a pillow case was the largest and the best receptacle to contain the goodies. We also knew that throwing away the numerous apples we received was necessary if we were to limit the weight of the pillowcases. Sometimes, we pillaged one side of the street, and then, emptied our loot at our house before visiting the neighbours on the opposite side. My favourite treat was the kiss candies sold by Loblaw's. They were orange flavour, rather than the traditional molasses, and contained a licorice centre.
Today, as I watch the decorations appear in store windows and on houses in the residential streets, fond memories of Halloween flood back. Dressing up and going to parties are great activities, but nothing replaces the anticipation and thrill of going "shelling out."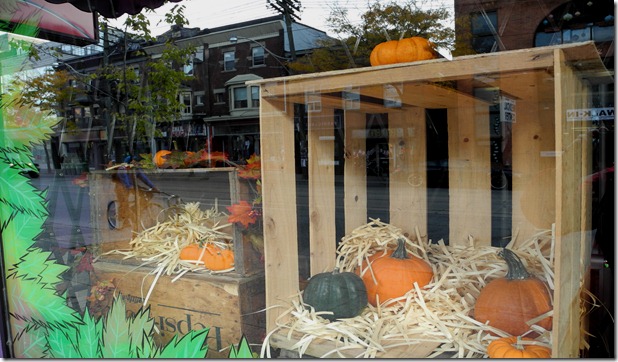 Decoration in the window at 402 Queen St. West, the street buildings reflected in the glass.
Display of pumpkins on Dundas Street, west of Bathurst Street.
Faces from the Kensington Market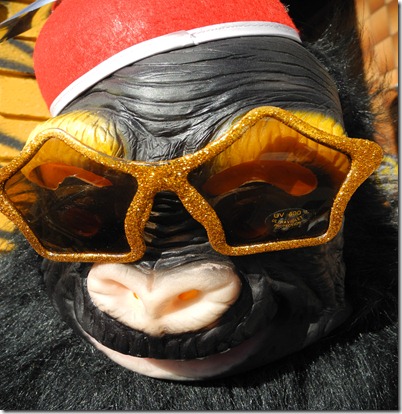 Another Kensington Market beauty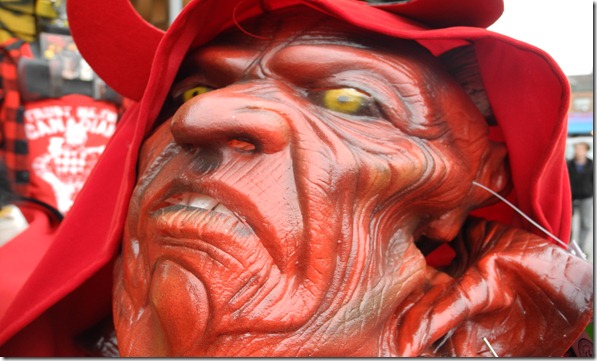 This beauty was also in the Kensington Market
Decorations in the windows of the Condom Shack on Queen Street West
To view previous posts about Halloween.
Halloween traditions in Canada
https://tayloronhistory.com/2011/10/24/halloween-traditions-in-canada/
"Shelling Out," now called "Trick or Treating" in decades past
https://tayloronhistory.com/2011/10/24/shelling-out-for-treats-on-halloween-in-toronto-in-1945/
A short story about trick or treating on Halloween
https://tayloronhistory.com/2011/10/25/a-short-story-about-halloween-of-yesteryear/
Celebrating Halloween in Portugal
https://tayloronhistory.com/2011/10/28/a-canadian-in-portugal-on-halloween/
To view the Home Page for this blog: s://tayloronhistory.wordpress.com/