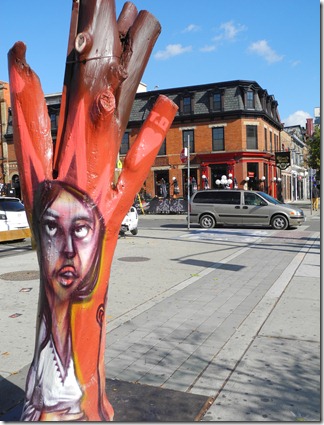 There is a proliferation of unsightly graffiti, as well as fantastic graffiti art on the buildings and alleys of my neighbourhood. Ignoring the boring tagging and those I consider not interesting, several years ago I began photographing the art that I enjoyed and have now acquired a considerable collection. Although some people consider graffiti art unworthy of attention, some of it is truly excellent. The owners of many buildings in the area, realizing its aesthetic value, are now commissioning artists to paint murals on the walls of their premises.
However, it is not often that we find graffiti art painted on trees, or in the case of the "Hug Me Tree," on a tree stump. This favourite piece of art is located on the north side of Queen Street West, near the corner of Peter Street. It appeared for the first time in 1999, painted in all its glory by Elicer Elliott, a graduate of Sheridan College. He has since become one of Toronto's best known graffiti artists. I highly recommend that you Google his name to see further examples of his work.
After completing the "Hug Me Tree,"" Elicer Elliott placed a tag on the tree – "H.U.G."- the name of his graffiti crew. As an afterthought, he added the "Me" to the tag, and Queen Street's famous "Hug Me Tree" was born.
In 2008, the tree toppled over onto the pavement. It may have been hit by a car, or pushed over by an overly exuberant patron of the nearby Black Bull Pub. Whatever occurred, the city decided to dispose of it. However, a group of concerned citizens prevented the tree from being carted away. On 15 June 2009, after the tree was restored, it was returned to its original location. It is now weather-proofed and has a metal base to make it more secure.
The next time you stroll along Queen Street West, on the section of the street east of Spadina, take a few moments to appreciate this example of graffiti art. Give it a hug. Who knows, it may bring you good luck.
To view a post about a tongue-in-cheek graffiti mural in the Kensington Market":
https://tayloronhistory.com/2012/10/17/clever-humorous-graffiti-in-the-kensington-market/
Other examples of Toronto's graffiti art.
This art is in a laneway between Portland Avenue and Augusta Avenue. It is the work of Uber5000, an artist from Nova Scotia who now resides in Toronto. Google Uber5000 to see more of his art.
The work is on a house on Richmond Street West, a short distance east of Bathurst Street.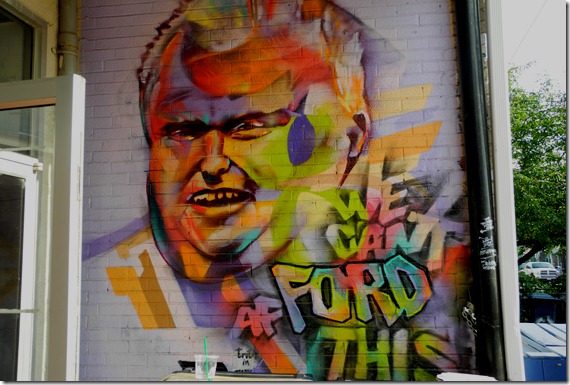 This is at 183 Augusta Avenue in the Kensington Market. Art or graffiti? Perhaps it depends on how you voted. However, regardless of how you voted, the mural is as colourful as the person it portrays. It was created by Moses Kofi. To view a post about this graffiti mural, follow the link:
https://tayloronhistory.com/2012/09/06/rob-ford-hits-a-brick-wall-in-kensington-market/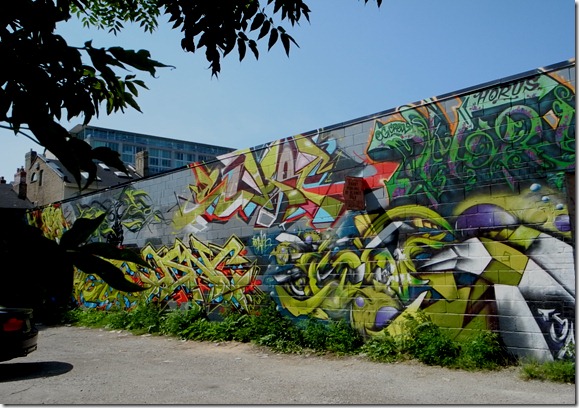 This painted wall is one block north of Queen Street West, between Portland and Augusta Avenues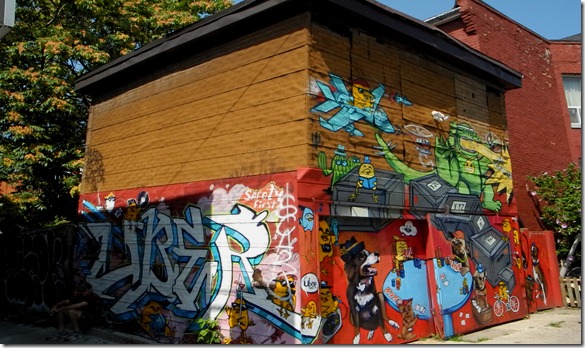 A garage in the Kensington Market, on the west side of Augusta Street, north of Dundas Street West.
To view posts about historic buildings in Toronto.
The old Dominion Bank Building at King and Yonge Street
https://tayloronhistory.com/2012/06/08/the-old-dominion-bank-buildingnow-a-condo-hotel-at-one-king-st-west/
The Canada Life Building on University and Queen Street West.
https://tayloronhistory.com/2012/06/13/exploring-torontos-architectural-gemsthe-canada-life-building/
Campbell House at the corner of Queen Street West and University Avenue
https://tayloronhistory.com/2011/08/18/a-glimpse-at-the-interior-of-campbell-house-at-university-avenue-and-queen-street/
A study of Osgoode Hall
https://tayloronhistory.com/2012/04/12/enjoying-torontos-architectural-gems-osgoode-hall/
Toronto's first City Hall, now a part of the St. Lawrence Market
https://tayloronhistory.com/2012/04/21/torontos-first-city-hall-now-a-part-of-the-st-lawrence-market/
The St. Lawrence Hall on King Street
https://tayloronhistory.com/2012/04/28/enjoying-torontos-architectural-gems-the-st-lawrence-hall/
Toronto's streetcars through the past decades
https://tayloronhistory.com/2012/03/26/memories-of-torontos-streetcars-of-yesteryear/
History of Trinity Bellwoods Park
https://tayloronhistory.com/2012/04/09/the-history-and-beauty-of-trinity-bellwood-park/
A history of Toronto's famous ferry boats to the Toronto Islands
https://tayloronhistory.com/2012/02/24/remember-the-toronto-island-ferries-the-bluebell-primroseand-trillium/
Toronto's Old City Hall at Bay and Queen Streets
https://tayloronhistory.com/2012/04/22/enjoying-torontos-architectural-gems-old-city-hall/
To view the Home Page for this blog: https://tayloronhistory.com/