Anyone who has seen any of my previous posts on graffiti art in Toronto, are aware that I am a great fan of these artists. They decorate our city with murals that enliven and enrich the downtown scene. However, there is a negative aspect to graffiti as well. Some individuals deface other artists' work by tagging over top of them. Others place their designs where they are clearly not wanted. Is is sometimes difficult to distinguish the artists from the despoilers.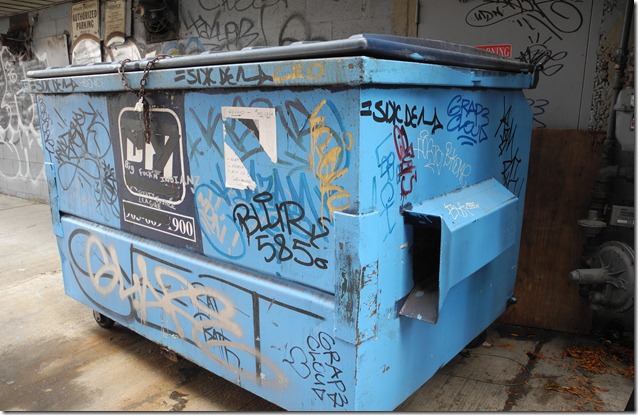 This garbage bin and the wall behind it are in a laneway west off Spadina Avenue. The place is dismal anyway, so perhaps the graffiti adds to scene – or not!
What are your thought about the graffiti surrounding these doorways on Dundas Street West ?
These store fronts on Spadina are already colourful, so do they need the graffiti inserted into the scene ?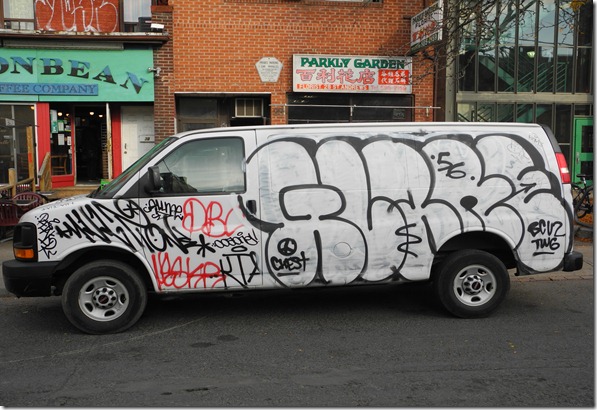 Attractive or a mess ?
Any preference here ?
Do these add to the Toronto art scene ? I must admit that the green vines create an artistic touch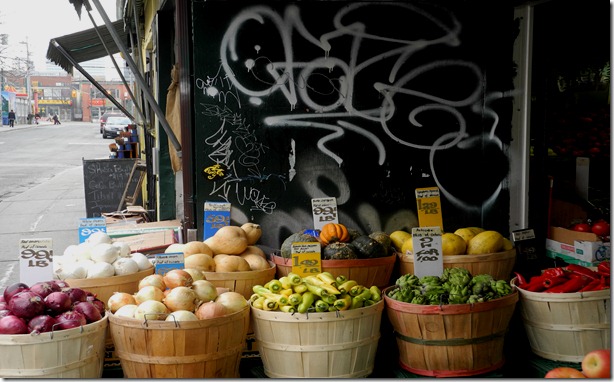 The graffiti provides a background for a colourful Kensington Market scene. But does it add anything ?
Do these masterpieces belong in a gallery ?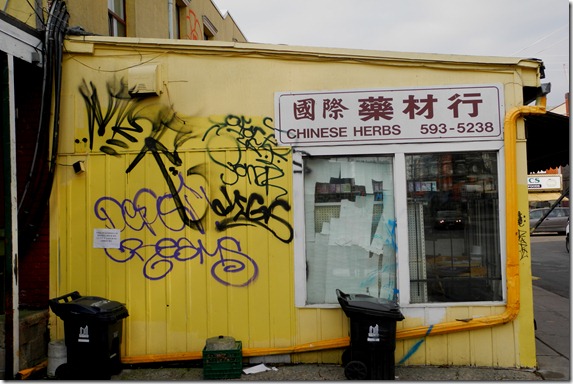 This scene is at least colourful and the recycling bins have been artistically placed to enhance this mural on St. Andrew's Street in the Kensington Market.
"Meals on Wheels" now has competition from "Art on Wheels"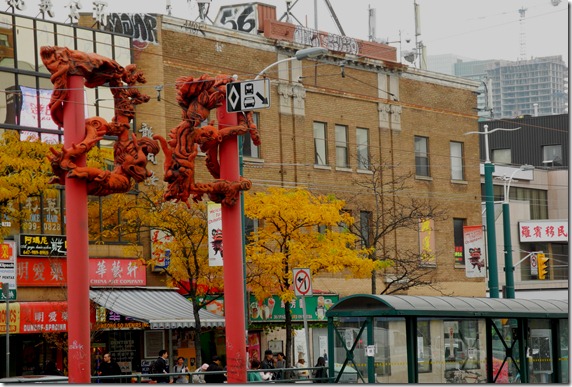 Graffiti has even reached the top of the building that was once the Victory Theatre, at Dundas and Spadina.
To view others posts about the Toronto graffiti scene:
The graffiti-decorated "hug-me-tree" on Queen Street West.
https://tayloronhistory.com/2012/10/25/queen-street-wests-graffiti-adorned-hug-me-tree/
Graffiti in a laneway amid the colours of autumn
https://tayloronhistory.com/2012/10/23/graffiti-amid-autumn-in-the-city/
A mural in the Kensington Market, with tongue-in-cheek humour:
https://tayloronhistory.com/2012/10/17/clever-humorous-graffiti-in-the-kensington-market/
In July of 2011, I placed a post on this blog about the abstract expressionists. At that time, there was an exhibition of their work at the AGO. I received comments from readers who strongly disagreed with the post. Their opinions were indeed valid, but the ideas expressed in the post may also have validity. To view this post:
https://tayloronhistory.com/2011/08/06/abstract-expressionist-masters-at-the-ago-waste-of-time-or-meaningful/
In August of 2012 I placed another post in which I compared the work of the graffiti artist Uber5000 to the abstract expressionists. This too became a controversial post.
https://tayloronhistory.com/2012/09/17/in-graffiti-alley-torontos-artists-put-to-shame-new-york-abstract-expressionists/
To view the Home Page for this blog: https://tayloronhistory.com/