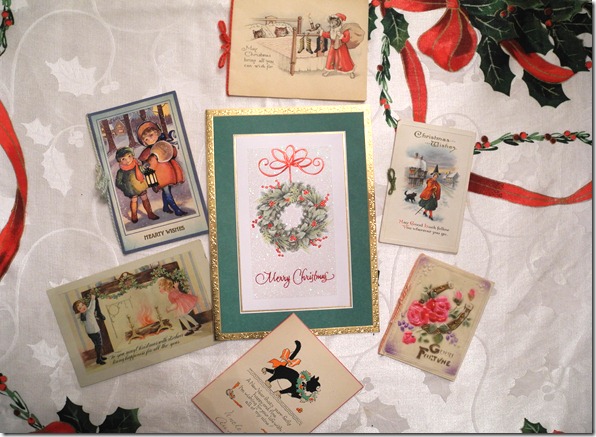 The Christmas card in the centre of the above picture is a modern card (2012), but the cards surrounding it were sent in Toronto during the 1920s. The 1920s cards were much smaller than the cards of today.
Front and back views of a Christmas card mailed in 1927. It was in the form of a traditional post card.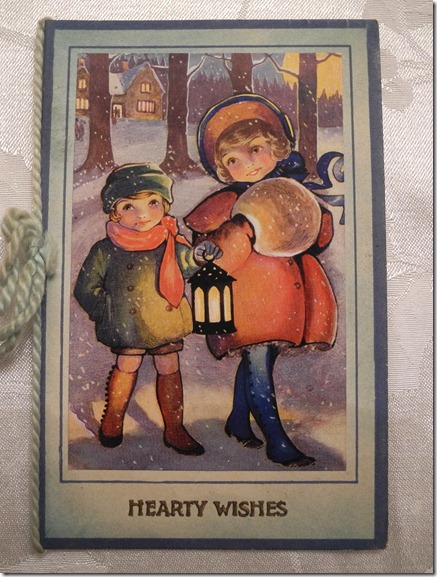 This card was mailed in 1926, and is 5 " by 3"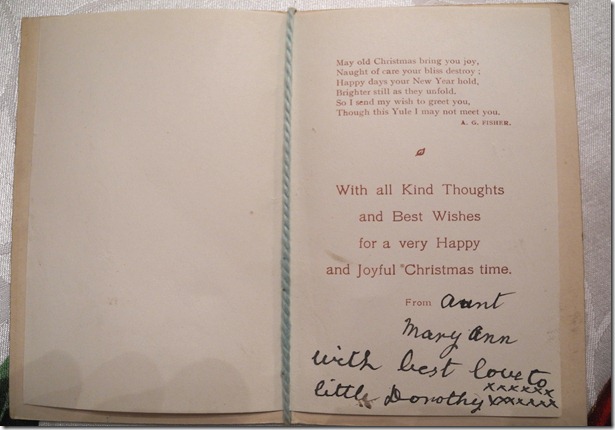 The interior of the card viewed above that was mailed in 1926.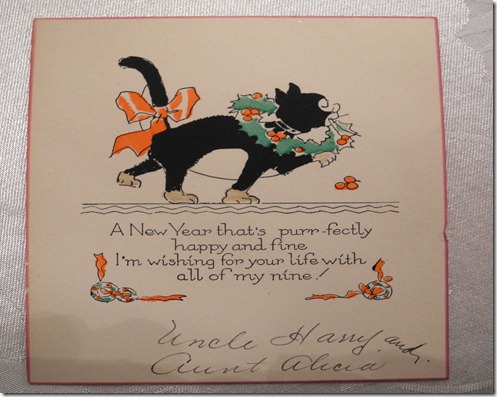 This 3 1/2" by 4 1/2 " card was mailed in 1927. The reverse side of the card is blank.
This children's card was mailed in 1924, and is 4 1/2" by 3 1/2 ".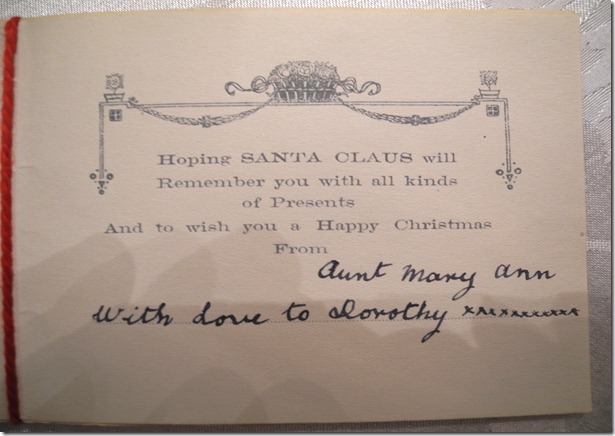 The interior of the children's card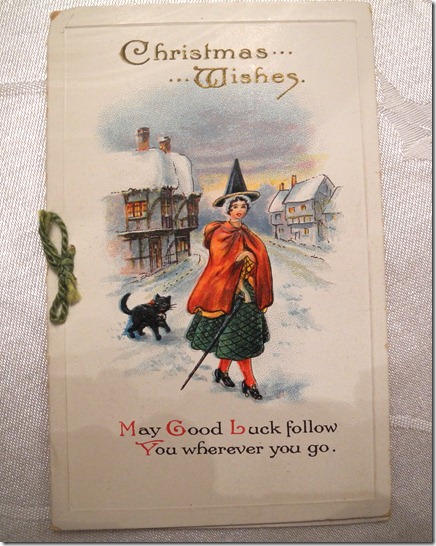 This small card is a mere 2 3/4″ by 4 ".
To view other posts about Christmas in Toronto
Christmas at Mackenzie house on Bond Street.
https://tayloronhistory.com/2011/12/07/torontos-mackenzie-house-on-bond-street-at-christmas/
Christmas at Toronto's St. Lawrence Market
https://tayloronhistory.com/2011/12/09/christmas-at-the-st-lawrence-market-in-torontos-yesteryear/
The Christmas Market at the Distillery District
https://tayloronhistory.com/2011/12/10/my-recent-visit-to-torontos-christmas-market-at-the-distillery-district/
Memories of the Christmas windows of the Simpson's store on Queen Street
https://tayloronhistory.com/2011/12/03/memories-of-the-christmas-windows-of-the-simpsons-store-at-queen-and-bay-streets/
Christmas at the Kensington Market
https://tayloronhistory.com/2011/12/01/enjoying-the-kensington-market-at-christmas/
Memories of Toyland on the fifth floor of the old Eaton's Store at Queen and Yonge Street
https://tayloronhistory.com/2011/11/29/memories-of-eatons-toyland-in-the-1940s/
The Christmas lights on Yonge Street in the 1950s
https://tayloronhistory.com/2011/11/24/memories-of-the-lights-at-xmas-on-torontos-yonge-street-in-the-1950s/
The history of Toronto's Santa Claus Parade
https://tayloronhistory.com/2011/11/15/history-of-torontos-santa-claus-parade/
The 1940s Christmas radio broadcasts featuring Santa Claus
https://tayloronhistory.com/2011/11/15/memories-of-trimming-the-tree-and-the-eatons-christmas-radio-broadcasts-in-1944/
Christmas at Toronto's historic St. Andrew's Market
https://tayloronhistory.com/2011/11/23/christmas-during-the-19th-century-at-torontos-historic-st-andrews-market/
Christmas trees and seasonal decorations in Toronto
https://tayloronhistory.com/2011/12/20/favourite-christmas-trees-and-decorations-in-toronto-this-year/
Link to the Home Page for this blog: https://tayloronhistory.com/