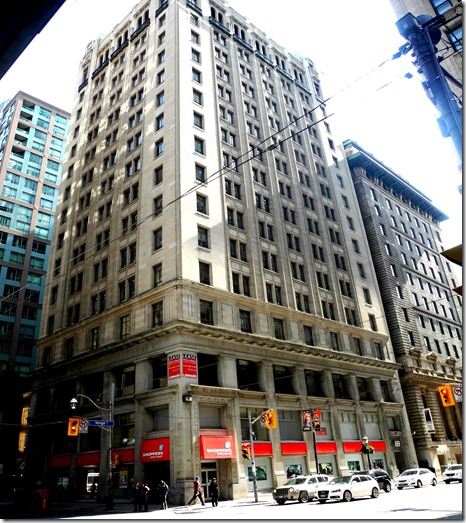 The Canadian Pacific Building at 1 King Street East, on the southeast corner of Yonge and King Streets, also possesses the postal address of 69 Yonge Street. Located immediately to the north of the Traders Bank, for a few years the fifteen-storey CPR Building was the tallest skyscraper in Canada and the entire British Empire. Previous to its completion, its neighbour beside it, the Traders Bank, was the tallest structure. The CPR Building, built between the years 1911 and 1913, was the corporate headquarters of the Canadian Pacific Railway. Its magnificent ticket office was on the ground floor. The company also rented any space that was in excess of their needs to other companies.
Designed by Darling and Pearson, the CPR Building was one of the firm's crowning accomplishments. The architectural firm designed buildings across Canada between the years 1897 and 1923. In Toronto, they were the architects for the West Wing of the Royal Ontario Museum, the Bank of Commerce (now Commerce Court North), and the Summerhill CPR Train Station.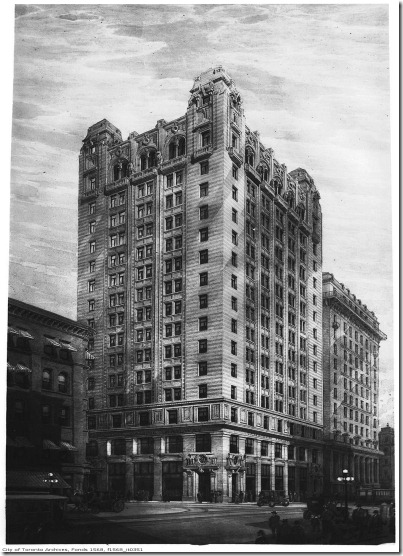 This photo from the collection of the Toronto Reference Library, shows the CPR Building in 1910. The ticket office occupied the equivalent of two storeys. It was an impressive hall that contained marble floors and decorative columns. In this photo, the buildings first three floors were clad with granite, but the remainder of the floors (4th to 15th) with terracotta tiles. Unfortunately, the tiles weathered poorly and were replaced in 1929 with Indiana limestone.
After the building ceased to be owned by CPR, the signs on it were removed, but traces of them remain visible on the north and west facades.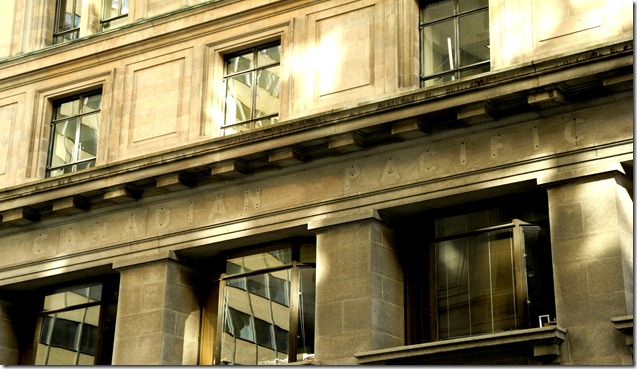 The words "Canadian Pacific" are visible today on the north facade.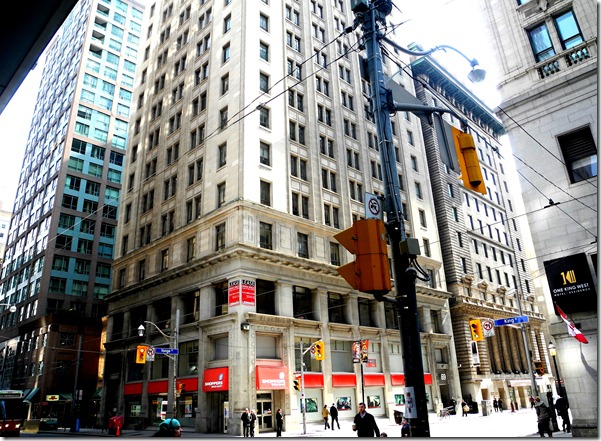 The base of the CPR Building that housed the grand ticket hall. The old Traders Bank can be seen to the right (south) of the CPR Building.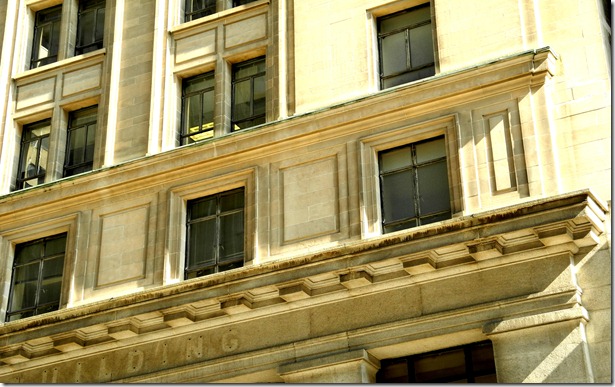 Decorative trim above the second floor and the lettering (in the lower left-hand corner of the photo) from the days when it was the CPR Building.
To view the Home Page for this blog: https://tayloronhistory.com/
Links to other posts about the history of Toronto and its buildings:
https://tayloronhistory.com/2013/10/08/links-to-historic-architecture-of-torontotayloronhistory-com/
Links to posts about Toronto's movie houses—past and present.
https://tayloronhistory.com/2013/10/09/links-to-toronto-old-movie-housestayloronhistory-com/
Recent publication entitled "Toronto's Theatres and the Golden Age of the Silver Screen," by the author of this blog. The publication explores 50 of Toronto's old theatres and contains over 80 archival photographs of the facades, marquees and interiors of the theatres. It also relates anecdotes and stories from those who experienced these grand old movie houses.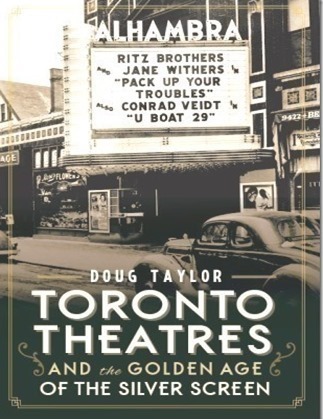 To place an order for this book:
https://www.historypress.net/catalogue/bookstore/books/Toronto-Theatres-and-the-Golden-Age-of-the-Silver-Screen/9781626194502 .
Theatres Included in the Book
Chapter One – The Early Years—Nickelodeons and the First Theatres in Toronto
Theatorium (Red Mill) Theatre—Toronto's First Movie Experience and First Permanent Movie Theatre, Auditorium (Avenue, PIckford), Colonial Theatre (the Bay), thePhotodome, Revue Theatre, Picture Palace (Royal George), Big Nickel (National, Rio), Madison Theatre (Midtown, Capri, Eden, Bloor Cinema, Bloor Street Hot Docs), Theatre Without a Name (Pastime, Prince Edward, Fox)
Chapter Two – The Great Movie Palaces – The End of the Nickelodeons
Loew's Yonge Street (Elgin/Winter Garden), Shea's Hippodrome, The Allen (Tivoli), Pantages (Imperial, Imperial Six, Ed Mirvish), Loew's Uptown
Chapter Three – Smaller Theatres in the pre-1920s and 1920s
Oakwood, Broadway, Carlton on Parliament Street, Victory on Yonge Street (Embassy, Astor, Showcase, Federal, New Yorker, Panasonic), Allan's Danforth (Century, Titania, Music Hall), Parkdale, Alhambra (Baronet, Eve), St. Clair, Standard (Strand, Victory, Golden Harvest), Palace, Bedford (Park), Hudson (Mount Pleasant), Belsize (Crest, Regent), Runnymede
Chapter Four – Theatres During the 1930s, the Great Depression
Grant ,Hollywood, Oriole (Cinema, International Cinema), Eglinton, Casino, Radio City, Paramount, Scarboro, Paradise (Eve's Paradise), State (Bloordale), Colony, Bellevue (Lux, Elektra, Lido), Kingsway, Pylon (Royal, Golden Princess), Metro
Chapter Five – Theatres in the 1940s – The Second World War and the Post-War Years
University, Odeon Fairlawn, Vaughan, Odeon Danforth, Glendale, Odeon Hyland, Nortown, Willow, Downtown, Odeon Carlton, Donlands, Biltmore, Odeon Humber, Town Cinema
Chapter Six – The 1950s Theatres
Savoy (Coronet), Westwood
Chapter Seven – Cineplex and Multi-screen Complexes
Cineplex Eaton Centre, Cineplex Odeon Varsity, Scotiabank Cineplex, Dundas Square Cineplex, The Bell Lightbox (TIFF)