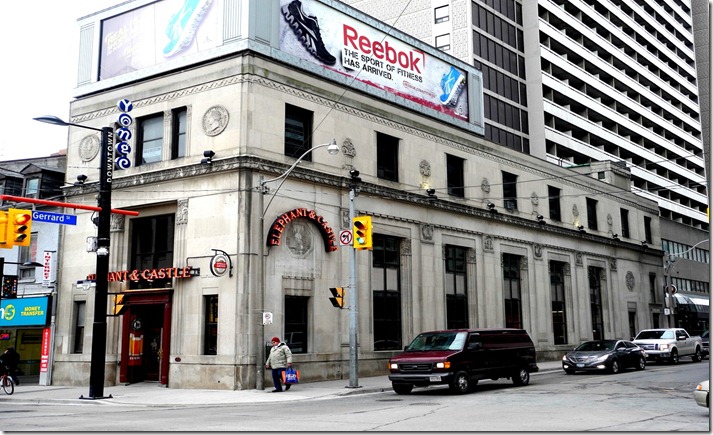 The old Dominion Bank Building at 380 Yonge Street, on the southwest corner of Yonge and Gerrard Streets is one of the most elegant banks ever built in Toronto. It was designed in 1930 by John M. Lyle, who championed the beaux arts style. During past decades, his work enhanced many a street corner in Toronto. The Dominion Bank at Yonge and Gerrard survives today as an attractive location for the "Elephant and Castle Pub." Judging by their staff, whom I talked with during "Doors Open Toronto," they enjoy working in a heritage property.
Lyle was born in Ireland and immigrated to the United States, but relocated to Toronto in 1905 after learning of the competition for the design of Union Station. He eventually was one of the contributing architects for this grand building. The year prior to Lyle's arrival in Toronto, much of the city's downtown had been destroyed by a disastrous fire. Thus, there was a great demand for architects to facilitate the rebuilding. Lyle's reputation was greatly enhanced when he received the commission to design the Royal Alexandra Theatre on King Street. It remains today and is an outstanding example of the city's early 20th-century architecture.
The stone ornamentation on the 1930s Dominion Bank includes Greek acanthus leaves and Roman ox skulls, as well as numerous other symbols. The pilasters (decorative columns) attached to the walls on either side of the doorway, are topped with stylized carvings. Other carvings represent Canadian agriculture and industry. There is also a large medallion that has the profile of Queen Victoria. Lyle promoted Canadian designs and symbols that represented our nation's past.
East facade and doorway of the 1930 Dominion Bank
Decorative details on the building portraying Canadian industry and agriculture.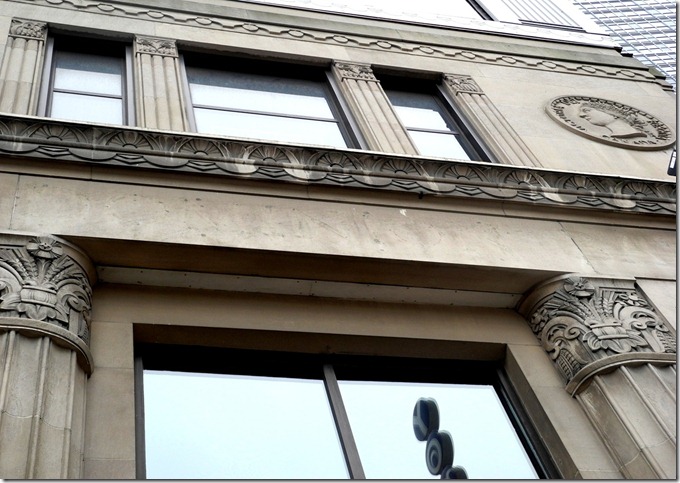 Details on the north facade on Gerrard Street, and the carvings atop the pilasters.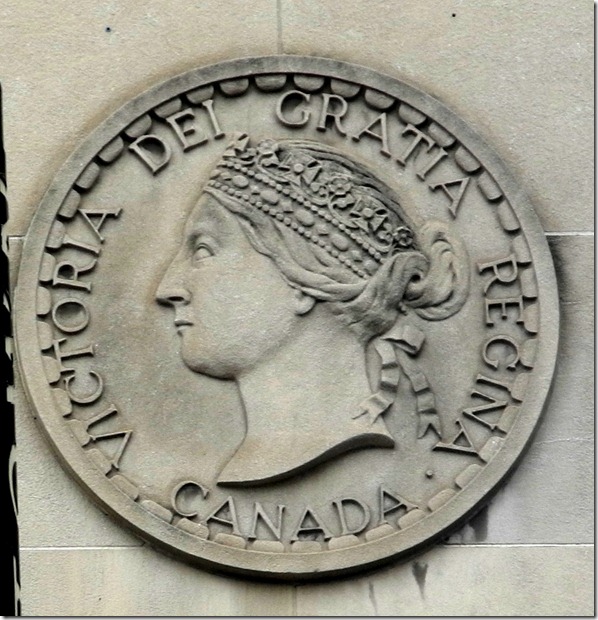 Medallion showing a profile of Queen Victoria, on the east facade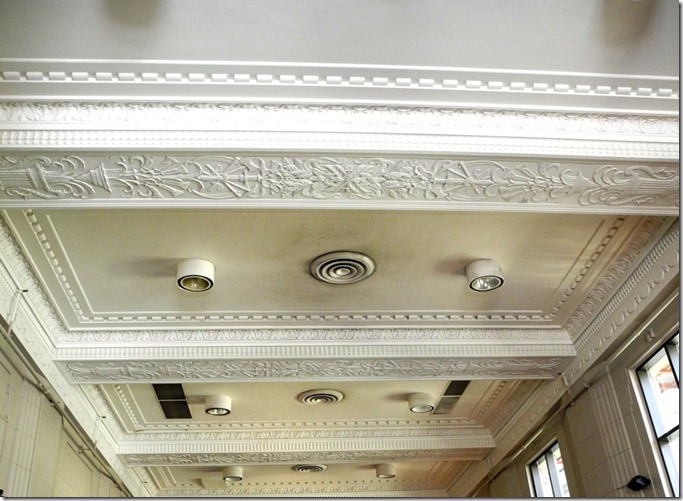 Ceiling of the banking hall, now the Elephant and Castle Pub.
Details of the ceiling of the banking hall.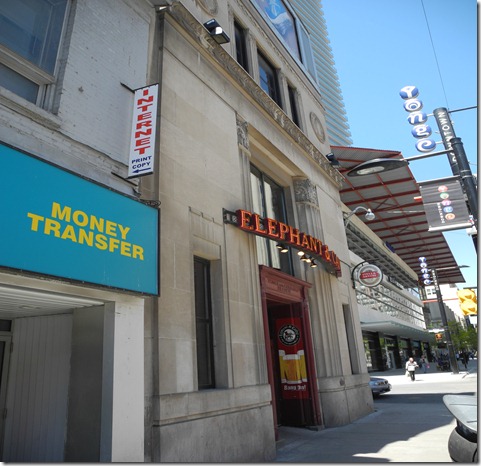 The east facade of the bank, facing Yonge Street.
To view the Home Page for this blog: https://tayloronhistory.com/
Links to other posts about the history of Toronto and its buildings:
https://tayloronhistory.com/2013/10/08/links-to-historic-architecture-of-torontotayloronhistory-com/
Links to posts about Toronto's movie houses—past and present.
https://tayloronhistory.com/2013/10/09/links-to-toronto-old-movie-housestayloronhistory-com/
Recent publication entitled "Toronto's Theatres and the Golden Age of the Silver Screen," by the author of this blog. The publication explores 50 of Toronto's old theatres and contains over 80 archival photographs of the facades, marquees and interiors of the theatres. It also relates anecdotes and stories from those who experienced these grand old movie houses.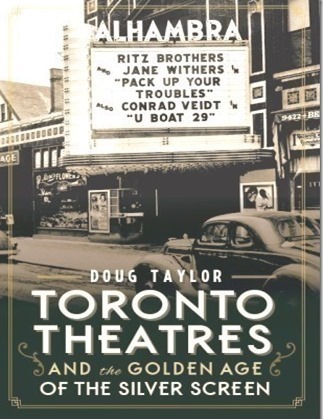 To place an order for this book:
https://www.historypress.net/catalogue/bookstore/books/Toronto-Theatres-and-the-Golden-Age-of-the-Silver-Screen/9781626194502 .
Theatres Included in the Book
Chapter One – The Early Years—Nickelodeons and the First Theatres in Toronto
Theatorium (Red Mill) Theatre—Toronto's First Movie Experience and First Permanent Movie Theatre, Auditorium (Avenue, PIckford), Colonial Theatre (the Bay), thePhotodome, Revue Theatre, Picture Palace (Royal George), Big Nickel (National, Rio), Madison Theatre (Midtown, Capri, Eden, Bloor Cinema, Bloor Street Hot Docs), Theatre Without a Name (Pastime, Prince Edward, Fox)
Chapter Two – The Great Movie Palaces – The End of the Nickelodeons
Loew's Yonge Street (Elgin/Winter Garden), Shea's Hippodrome, The Allen (Tivoli), Pantages (Imperial, Imperial Six, Ed Mirvish), Loew's Uptown
Chapter Three – Smaller Theatres in the pre-1920s and 1920s
Oakwood, Broadway, Carlton on Parliament Street, Victory on Yonge Street (Embassy, Astor, Showcase, Federal, New Yorker, Panasonic), Allan's Danforth (Century, Titania, Music Hall), Parkdale, Alhambra (Baronet, Eve), St. Clair, Standard (Strand, Victory, Golden Harvest), Palace, Bedford (Park), Hudson (Mount Pleasant), Belsize (Crest, Regent), Runnymede
Chapter Four – Theatres During the 1930s, the Great Depression
Grant ,Hollywood, Oriole (Cinema, International Cinema), Eglinton, Casino, Radio City, Paramount, Scarboro, Paradise (Eve's Paradise), State (Bloordale), Colony, Bellevue (Lux, Elektra, Lido), Kingsway, Pylon (Royal, Golden Princess), Metro
Chapter Five – Theatres in the 1940s – The Second World War and the Post-War Years
University, Odeon Fairlawn, Vaughan, Odeon Danforth, Glendale, Odeon Hyland, Nortown, Willow, Downtown, Odeon Carlton, Donlands, Biltmore, Odeon Humber, Town Cinema
Chapter Six – The 1950s Theatres
Savoy (Coronet), Westwood
Chapter Seven – Cineplex and Multi-screen Complexes
Cineplex Eaton Centre, Cineplex Odeon Varsity, Scotiabank Cineplex, Dundas Square Cineplex, The Bell Lightbox (TIFF)