La Chaumiere Restaurant at 77 Charles Street East, near Church Street, opened in 1950, and was the city's first truly French dining establishment. Its intimate atmosphere and excellent food were a culinary delight. I was greatly saddened when it closed its doors in 1988. The historic house where the restaurant was located was demolished, and was likely a parking lot for a few years. A housing co-operative opened on the site in 1995. Today, I cherish fond memories of dining in this fine restaurant.
When I wrote the book, "The Reluctant Virgin," a murder mystery whose setting is 1950s Toronto, memories of this famous restaurant formed the basis for the section in the book when one of the police detectives, who is trying to capture a perverted serial killer, takes his girlfriend to La Chaumiere. The detective was a handsome young man, rather prudish in his outlook on life, but his girlfriend earned her living in the sex trade. The difference in their characters provides many amusing situations in this provocative novel.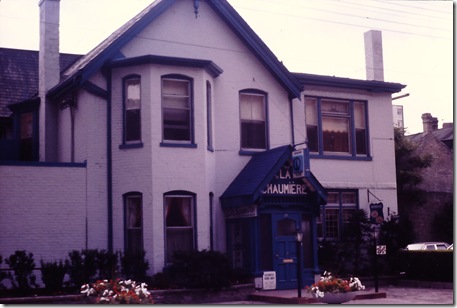 La Chaumiere Restaurant, picture from the author's slide collection
From crime novel – The Reluctant Virgin
Jim Peersen drove to downtown Toronto with Samantha, to Church and Charles Street East, for an intimate dinner at the French restaurant, La Chaumiere. Samantha was particularly fond of the hors-d'oeuvres cart, which contained at least twenty appetizers, including escargot heavy with garlic, trays of stuffed olives, stuffed mushrooms, wine-marinated anchovies, pureed cottage cheese with cognac and scallions, and quenelles of shrimp.
Samantha had allowed her hair to grow, and it now almost touched her shoulders. It made her lose her pixie-look, but added a degree of sophistication and elegance. Her pale blue skirt and white satin blouse were chic, causing many an eye to admire her, both openly and surreptitiously. Jim did not realize that some of the glances were a result of his own appearance.
Samantha ordered the coq au vin and Jim the scallops Normandie. Over dinner, he told her about the teasing that the chief of detective was receiving at the station. This was because the newspapers had reported that the Vancouver chief of police had been involved in a scandal over gifts he had given to a young female companion. They had included diamonds, liquor, and money, and they had been quietly slipped to her while the man was still the chief of police.
The men at the Toronto precinct teased their own boss, Chief of Detectives Peckerman, wanting to know to whom he was "slipping" the goodies. Peckerman was not amused, Jim told Samantha. She laughed as Jim told her about the raunchy remarks.
"You had best be careful," Samantha warned. "When the guys see your new Buick, they may wonder if you have been slipping your goodies somewhere in exchange for cash."