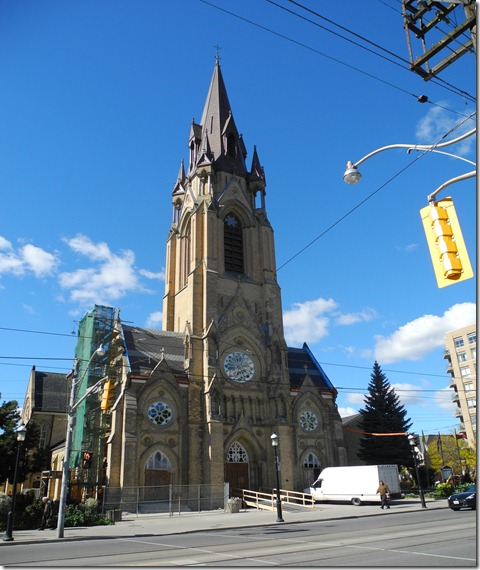 St. Mary's – October 2012
The restoration work on the east facade and the spire of St. Mary's Catholic Church at Adelaide and Bathurst Streets has finally been completed, although scaffolding remains on the south side of the church. The restoration has been ongoing for several years, and it is wonderful to view the Bathurst Street-facade of the historic church without the scaffolding surrounding it. I personally believe that the tower is the most attractive in the city, and it is good to view it in all its glory from Adelaide Street, gazing west toward Bathurst, as it dominates the intersection.
The tower of St. Mary's Church, with and without scaffolding
This church has a long and distinguished history. Although the parish was established to serve the needs of an Irish community, the congregation is now mostly Portuguese. To view a post about the history of the church and view archival photographs, follow the link:
https://tayloronhistory.com/2012/08/08/enjoying-torontos-architectural-gemsst-marys-roman-catholic-church/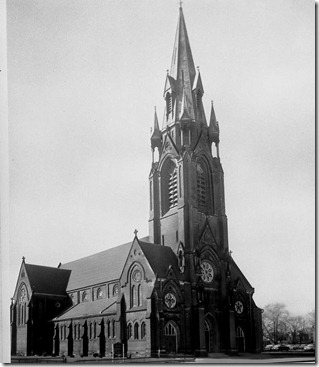 Photo of St. Mary's from the City of Toronto Archives, taken in the 1960s.
To view a post about the archaeological dig across the street from St. Mary's Church:
https://tayloronhistory.com/2012/10/12/an-archaeological-site-revealed-at-bathurst-and-adelaide-streets/
For other posts about Toronto's architectural history and happenings throughout the city: follow the links" :
The historic Farr House on Queen Street West, opposite Trinity Bellwoods Park
https://tayloronhistory.com/2012/08/13/exploring-torontos-architectural-gems-the-farr-house-at-905-queen-street-west/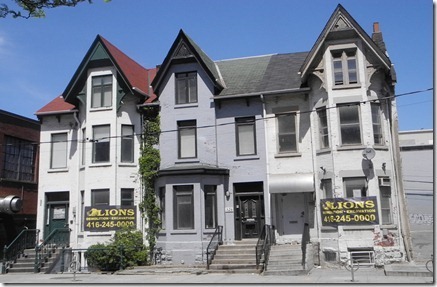 Houses on Richmond Street, west of John Street, which have since been demolished.
https://tayloronhistory.com/2012/08/01/homes-from-1870s-on-richmond-street-disappear-forever-in-july-of-2012/
The historic importance of the site of the McDonald's at the northwest corner of Queen and Spadina
https://tayloronhistory.com/2012/08/27/mcdonalds-at-queen-and-spadina-on-an-historic-site/
The history of the southwest corner of Spadina and Dundas Street where the China Mall is located.
https://tayloronhistory.com/2012/08/25/torontos-heritage-the-southwest-corner-of-queen-and-spadina/
For other post about Toronto and its history and architecture.
Home Page – https://tayloronhistory.com/