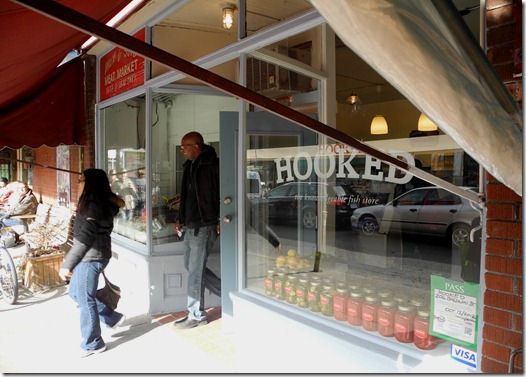 Hooked Fish Market at 206 Baldwin Street. It is interesting that the old red sign from "Max and Son Meat Market" remain in the upper left-hand corner of the photo.
A new fish market has opened on the north side of Baldwin Street in Toronto's Kensington Market. The owners, a husband and wife team, are chefs and are dedicated to providing fish that is truly fresh. They arrange their own shipping of the fish to ensure that it arrives in their coolers in as short a time as possible – usually within 24 hours. They only stock product from sustainable fisheries, and have a good selection of freshwater fish from Canada's rivers and lakes.
As lover of seafood, I have anxiously awaited the opening of this store and look forward to shopping there. I must admit that I also enjoy entering premises that I have frequented regularly since I moved into the area twelve years ago. In those days, the premises where "Hooked" is now located was "Max and Son Meat Market." When the owner of this shop retired, "Sanagan's Meat Market" occupied the space. They have since relocated further east on Baldwin Street, and "Hooked" has taken over the shop. "Hooked" has another fish store in Leslieville, at 888 Queen Street East. For more information on "Hooked": [email protected] Their stores are closed on Mondays.
Interior of "Hooked" and its window display of fresh fish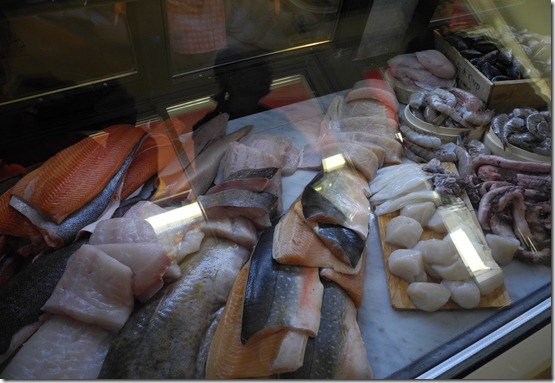 The display of fish in the cooler at "Hooked"
The building where "Hooked" is located was constructed in 1930. Today, the shop still retains its old storefront, with thin wood frames that support large glass windows. The present occupants have respected the heritage of this wonderful old shop. In 1930, the premises was occupied by the poultry shop of A. Prussky. In 1932, Sam Chalkin operated a similar business from this location.
"Max and Son Meat Market" took over the site in 1955. When Max opened his shop, Kensington was predominantly Jewish. In the decades ahead, the stores changed greatly. However, even in the first decade of the 21st. century, many aspects of this shop reminded customers of the butcher shops of former years—the sawdust on the floor, two large wood butcher blocks, meat scales against the east wall, and large meat hooks hanging in the right-hand (east) window. The white refrigerator formed a counter and displayed the meats. It was a store like our grandmothers visited and knew so well.
After Max retired, his son, Solly, operated the store for many years, having worked in his father's store since 16 years of age. He retired in September of 2009. Solly was one of the last Jewish shopkeepers remaining in the market. When he departed, it was the end of an era. One of the city's news stations sent a TV crew, and newspapers featured articles about the event.
The premises were next occupied by "Sanagan Meat Locker," and now "Hooked has moved into the location.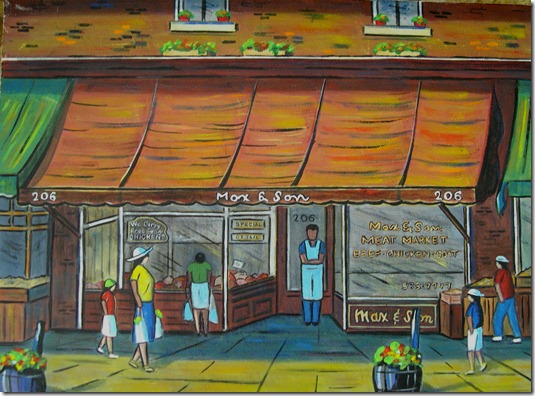 To view paintings of shops in the Kensington Market, such as "Max and Son" at 206 Baldwin Street, follow the link:
https://tayloronhistory.com/2011/12/02/a-lament-for-the-loss-of-the-colourful-store-fronts-in-the-historic-kensington-market/
To view other posts about the Kensington Market:
A new meat market opens on Baldwin Street in the Kensington Market
https://tayloronhistory.com/2012/08/15/new-meat-market-opens-in-kensingtonsanagans-meat-locker/
Automobile-free Sundays in the Kensington Market
https://tayloronhistory.com/2012/06/08/automobile-free-sundays-in-the-kensington-market/
The Moon Bean Coffee Company on St. Andrew's Street
https://tayloronhistory.com/2011/05/21/moon-bean-coffee-company-cafe-kensington-market/
Enjoying the Kensington Market at Christmas Christmas
market/https://tayloronhistory.com/2011/12/01/enjoying-the-kensington-market-at-
Early morning in the Kensington Market
https://tayloronhistory.com/2011/06/07/early-morning-kensington-
Kensington Market in the winter
https://tayloronhistory.com/2011/12/01/kensington-market-blanketed-in-winters-white/
Kensington Market – an ever-changing scene
https://tayloronhistory.com/2011/12/21/the-ever-changing-kensington-market-in-downtown-toronto/
The row houses on Wales Avenue on Bellevue Square
https://tayloronhistory.com/2011/03/26/discovering-the-kensington-market/
Discovering the Kensington Market
https://tayloronhistory.com/2011/03/29/kensington-market-part-2-doug-taylor-the-peterkin-home/
Link to the Home Page for this blog: