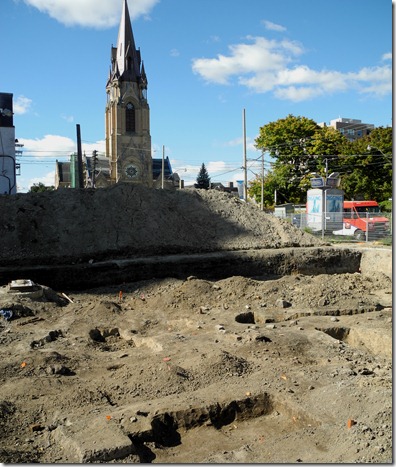 The site, near Bathurst and Adelaide Streets, Mary's Church in the background.
Near the southeast corner of Adelaide and Bathurst Streets, a parking lot has been excavated to reveal an archaeological site. It is a short distance from the corner, on the south side of Adelaide Street, across the road from The Factory Lab Theatre. The foundation walls and bricks from whatever was on the location, have been revealed. I assume that there were Victorian houses there, likely dating from the 1870s or 1880s. I also assume that the dig is temporary, and is likely standard procedure in the historic areas of the city, prior to the land being employed for modern construction. I have not yet researched who lived in these houses or discovered if there was something here prior to the houses being constructed. A condo is to be erected on the site.
I would appreciate any information about the dig. Below is a link to the Home Page for this blog, which gives my e-mail address.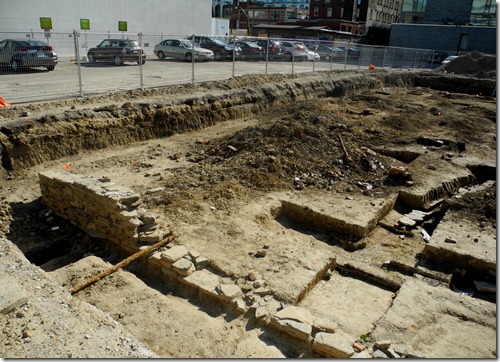 Foundation walls at the site.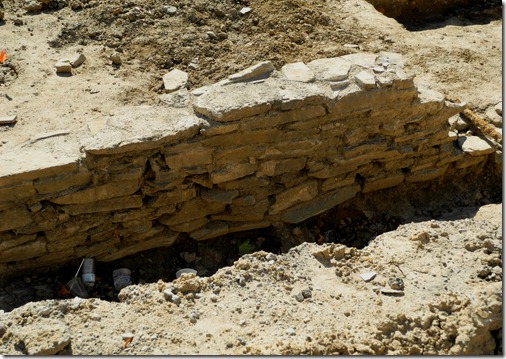 To view post about Toronto's historic buildings:
Photos of the surroundings of the CN Tower and and the St. Lawrence Market in 1977
https://tayloronhistory.com/2012/10/18/photos-of-the-surroundings-of-the-st-lawrence-market-and-cn-tower-in-1977/
The old Dominion Bank Building at King and Yonge Street
https://tayloronhistory.com/2012/06/08/the-old-dominion-bank-buildingnow-a-condo-hotel-at-one-king-st-west/
The Canada Life Building on University and Queen Street West.
https://tayloronhistory.com/2012/06/13/exploring-torontos-architectural-gemsthe-canada-life-building/
Campbell House at the corner of Queen Street West and University Avenue
https://tayloronhistory.com/2011/08/18/a-glimpse-at-the-interior-of-campbell-house-at-university-avenue-and-queen-street/
A study of Osgoode Hall
https://tayloronhistory.com/2012/04/12/enjoying-torontos-architectural-gems-osgoode-hall/
Toronto's first City Hall, now a part of the St. Lawrence Market
https://tayloronhistory.com/2012/04/21/torontos-first-city-hall-now-a-part-of-the-st-lawrence-market/
The St. Lawrence Hall on King Street
https://tayloronhistory.com/2012/04/28/enjoying-torontos-architectural-gems-the-st-lawrence-hall/
Toronto's streetcars through the past decades
https://tayloronhistory.com/2012/03/26/memories-of-torontos-streetcars-of-yesteryear/
History of Trinity Bellwoods Park
https://tayloronhistory.com/2012/04/09/the-history-and-beauty-of-trinity-bellwood-park/
A history of Toronto's famous ferry boats to the Toronto Islands
https://tayloronhistory.com/2012/02/24/remember-the-toronto-island-ferries-the-bluebell-primroseand-trillium/
Toronto's Old City Hall at Bay and Queen Streets
https://tayloronhistory.com/2012/04/22/enjoying-torontos-architectural-gems-old-city-hall/
To view the Home Page for this blog: https://tayloronhistory.com/