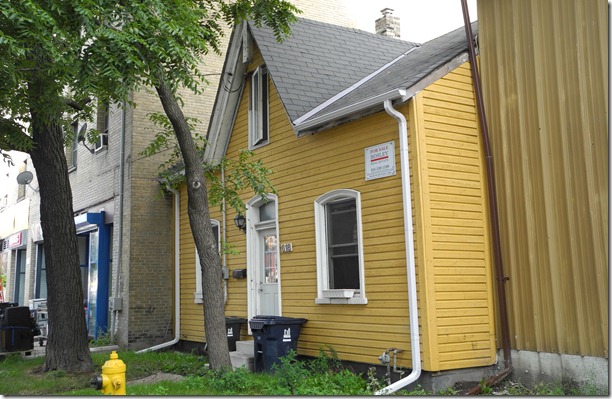 I have lived in the Spadina/Richmond area for over a decade. On my daily walks, I have often passed the small yellow house at 618 Richmond Street West, a few doors east of Bathurst Street. The reason it attracted my attention is that the architectural style of the house is that of the 1850s or 1860s. Scattered throughout rural Ontario are many brick farm houses that were constructed in this style. On Huron Street, there remains about a dozen houses of a similar style, and date from the middle of the nineteenth century.
I recently researched the origins of a house built in this style on Oxford Street, in the Kensington Market, and was surprised to discover that the house was built in the 1890. I was surprised that this style of domestic architecture was employed in this decade.The house has since been demolished. To view this post :https://tayloronhistory.com/2012/10/15/demolished-house-on-oxford-st-in-the-kensington-market/
I encountered considerable difficulty researching the yellow-painted house on Richmond Street. The street has changed names several times, and this added to my difficulty. The section of Richmond Street between Brock (Spadina Avenue) and Bathurst Street was a originally named Little Richmond, and later was changed to Farley Avenue. In 1870, the houses on Richmond between Portland and Bathurst had no postal numbers. However, the most westerly house on the north side of the street, before Bathurst Street, was the home of James Irwin, a fitter with the Grand Trunk Railway. This was likely the small yellow house that remains on the site today. In 1872 and 1873, the Toronto Directories of those years do not list any houses on the street.
In 1875, the most westerly house on the north side of Richmond, before Bathurst Street, was the the house of Solomon Phillips, a labourer. In 1876, it was the home of Miss Mary Franklin, a teacher.
I find it amazing that this house has survived for over a century, and remains on its original location. I must admit that I fear for its future, as the property has a "For Sale" sign on it. .
Another house that I consider amazing is the Farr House, opposite Trinity Bellwoods Park.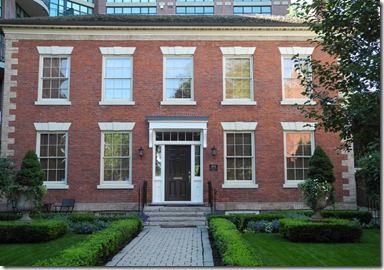 To view the post about this house.
https://tayloronhistory.com/2012/08/13/exploring-torontos-architectural-gems-the-farr-house-at-905-queen-street-west/
To view the Home Page for this blog: https://tayloronhistory.com/
To view other posts about Toronto's historic buildings:
Photos of the surroundings of the CN Tower and and the St. Lawrence Market in 1977
https://tayloronhistory.com/2012/10/18/photos-of-the-surroundings-of-the-st-lawrence-market-and-cn-tower-in-1977/
The old Dominion Bank Building at King and Yonge Street
https://tayloronhistory.com/2012/06/08/the-old-dominion-bank-buildingnow-a-condo-hotel-at-one-king-st-west/
The Canada Life Building on University and Queen Street West.
https://tayloronhistory.com/2012/06/13/exploring-torontos-architectural-gemsthe-canada-life-building/
Campbell House at the corner of Queen Street West and University Avenue
https://tayloronhistory.com/2011/08/18/a-glimpse-at-the-interior-of-campbell-house-at-university-avenue-and-queen-street/
A study of Osgoode Hall
https://tayloronhistory.com/2012/04/12/enjoying-torontos-architectural-gems-osgoode-hall/
Toronto's first City Hall, now a part of the St. Lawrence Market
https://tayloronhistory.com/2012/04/21/torontos-first-city-hall-now-a-part-of-the-st-lawrence-market/
The St. Lawrence Hall on King Street
https://tayloronhistory.com/2012/04/28/enjoying-torontos-architectural-gems-the-st-lawrence-hall/
Toronto's streetcars through the past decades
https://tayloronhistory.com/2012/03/26/memories-of-torontos-streetcars-of-yesteryear/
History of Trinity Bellwoods Park
https://tayloronhistory.com/2012/04/09/the-history-and-beauty-of-trinity-bellwood-park/
A history of Toronto's famous ferry boats to the Toronto Islands
https://tayloronhistory.com/2012/02/24/remember-the-toronto-island-ferries-the-bluebell-primroseand-trillium/
Toronto's Old City Hall at Bay and Queen Streets
https://tayloronhistory.com/2012/04/22/enjoying-torontos-architectural-gems-old-city-hall/
To view the Home Page for this blog: https://tayloronhistory.com/