For several years now the decorations at the Eaton Centre have included huge metallic reindeer. Watching children this year as they viewed the reindeer, it dawned on me that they were creating Christmas memories. Forty years from now, I can imagine some of then saying, "Remember those gigantic reindeer in the Eaton Centre? They don't make decorations like that any more !"
A few years ago I was in San Francisco at Christmas time and saw the decorations in the Macy's Store on Union Square. They reminded me of the decorations in the old Eaton Store on Queen Street, Toronto, when I was a child. The Eaton's store has since been demolished, the site now a part of the modern Eaton Centre. Timothy Eaton was a pioneer in retail merchandising, and his methods were emulated by many stores across the continent. The Eaton's Santa Claus Parade was legendary, and it created great loyalty toward the store. The Macy's department store turned to Eaton's to learn the techniques for their annual Thanksgiving Day Parade.
Today, I still visit the Eaton's Centre to view the decorations. They are invariably creative and wonderful to behold. Despite the overly commercial aspects of the decorations, I enjoy visiting the plaza each December to see them. And yes, it is a pleasure to watch today's children creating their own memories of Christmas in Toronto.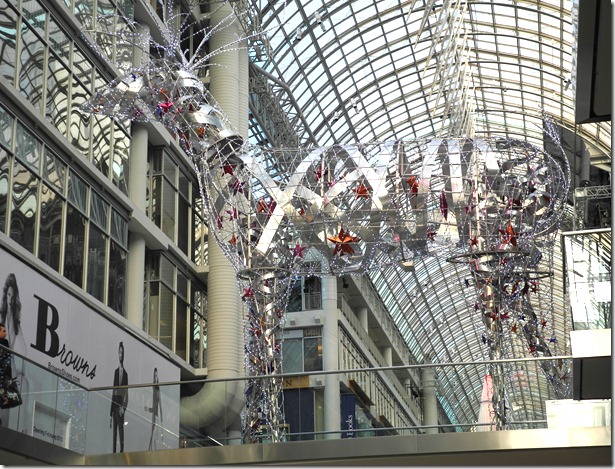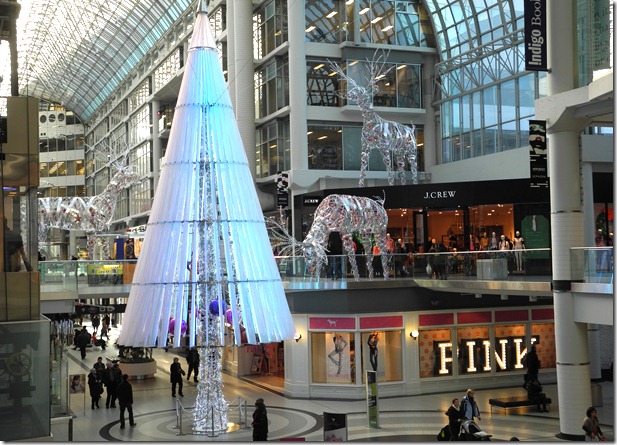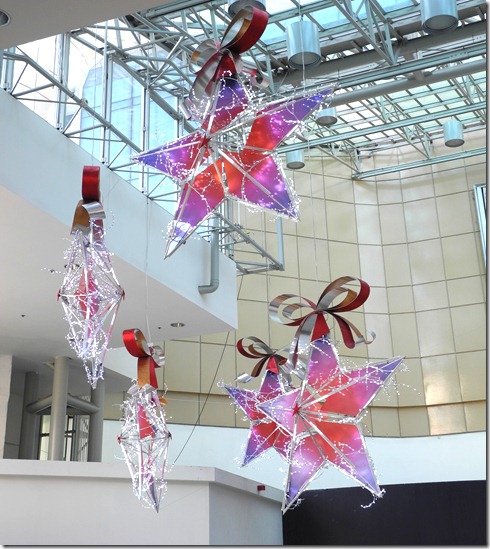 The south entrance (Queen Street) of the Eaton Centre, and the Bay Store on the opposite side of the street.
To view posts about Christmas in Toronto throughout the years
The 2012 Christmas windows of the Bay Store on Queen Street
https://tayloronhistory.com/2012/12/12/the-2012-christmas-windows-at-the-bay-store-on-queen-street/
Amazing gingerbread houses on Toronto's underground Pathway
https://tayloronhistory.com/2012/12/12/amazing-christmas-gingerbread-houses-on-torontos-pathway/
Christmas cards mailed in Toronto during the years 1924-1926
https://tayloronhistory.com/2012/12/11/xmas-cards-mailed-in-toronto-1924-1927/
The Christmas buffet lunch at the Arcadian Court at the Simpson's Queen Street Store in Toronto (the Bay)
https://tayloronhistory.com/2011/11/30/christmas-lunch-at-simpsons-arcadian-court-in-the-1950s-featured-in-murdermystery/
Christmas at Mackenzie House on Bond Street.
https://tayloronhistory.com/2011/12/07/torontos-mackenzie-house-on-bond-street-at-christmas/
Christmas at Toronto's St. Lawrence Market
https://tayloronhistory.com/2011/12/09/christmas-at-the-st-lawrence-market-in-torontos-yesteryear/
The Christmas Market at the Distillery District
https://tayloronhistory.com/2011/12/10/my-recent-visit-to-torontos-christmas-market-at-the-distillery-district/
Memories of the Christmas windows of the Simpson's store on Queen Street
https://tayloronhistory.com/2011/12/03/memories-of-the-christmas-windows-of-the-simpsons-store-at-queen-and-bay-streets/
Christmas at the Kensington Market
https://tayloronhistory.com/2011/12/01/enjoying-the-kensington-market-at-christmas/
Memories of Toyland on the fifth floor of the old Eaton's Store at Queen and Yonge Street
https://tayloronhistory.com/2011/11/29/memories-of-eatons-toyland-in-the-1940s/
The Christmas lights on Yonge Street in the 1950s
https://tayloronhistory.com/2011/11/24/memories-of-the-lights-at-xmas-on-torontos-yonge-street-in-the-1950s/
The history of Toronto's Santa Claus Parade
https://tayloronhistory.com/2011/11/15/history-of-torontos-santa-claus-parade/
The 1940s Christmas radio broadcasts featuring Santa Claus
https://tayloronhistory.com/2011/11/15/memories-of-trimming-the-tree-and-the-eatons-christmas-radio-broadcasts-in-1944/
Christmas at Toronto's historic St. Andrew's Market
https://tayloronhistory.com/2011/11/23/christmas-during-the-19th-century-at-torontos-historic-st-andrews-market/
Christmas trees and seasonal decorations in Toronto
https://tayloronhistory.com/2011/12/20/favourite-christmas-trees-and-decorations-in-toronto-this-year/
Celebrating the 12 days of Christmas in old Newfoundland
https://tayloronhistory.com/2012/12/12/celebrating-the-12-days-of-christmas-in-the-newfoundland-of-yesteryear/
Link to the Home Page for this blog: https://tayloronhistory.com/