There may be no snow in Toronto, but "It's beginning to look a lot like Christmas." Shoppers are crowding the Eaton Centre, the underground Pathway, and the shops of Yonge Street and other avenues. The decorations add a festive mood that ameliorates the feeling that the yuletide season is too commercialized.
I have been photographing the streets of the downtown, choosing sunny days for my expeditions. I have noticed that many of the streets, due to the predominance of the city's tall buildings, receive no direct sunlight any time of the day. They remain completely in shadow, detracting greatly from the quality of the photos. In some pictures, the grey background is not a grey sky, but the concrete or glass walls of the buildings.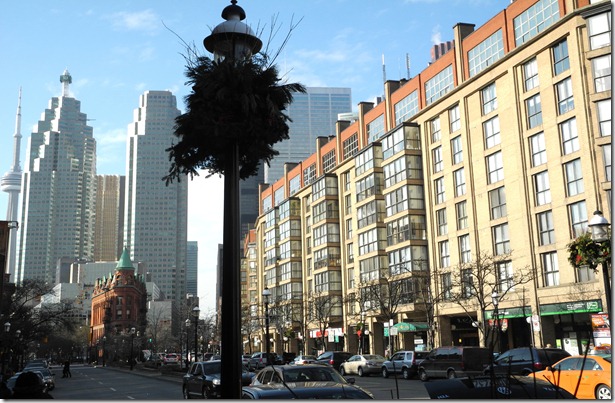 Front Street East looking west toward the Gooderham Building, the CN Tower, and buildings of the financial district.
The Gooderham Building at Front and Wellington Streets on a cloudy morning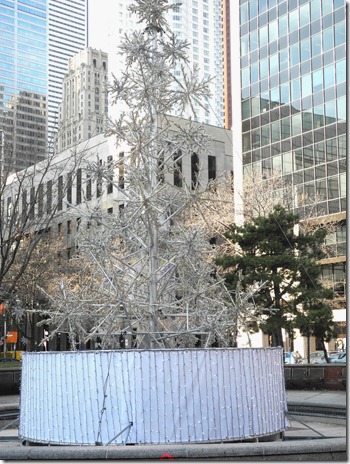 Berczy Park between Front and Wellington, east of Yonge Street.
Yonge Street looking north from Front Street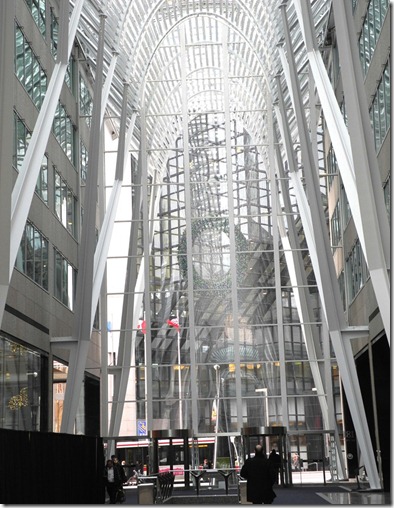 BCE Place between Yonge and Bay Streets, north of Front Street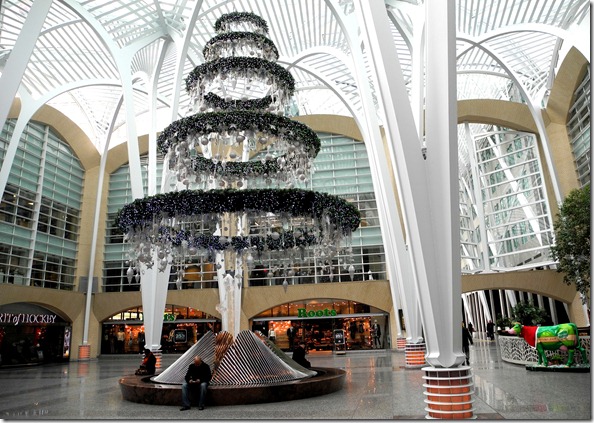 Christmas tree in BCE Place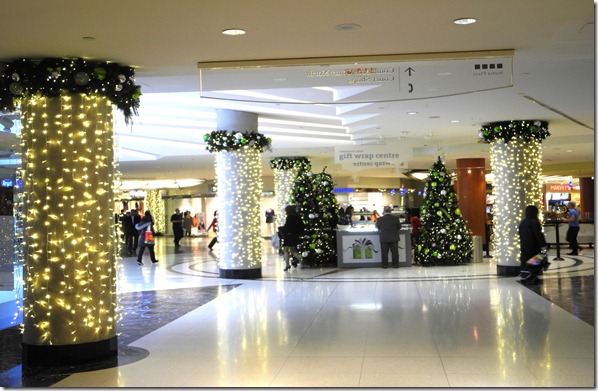 A section of the Pathway under the downtown buildings of Toronto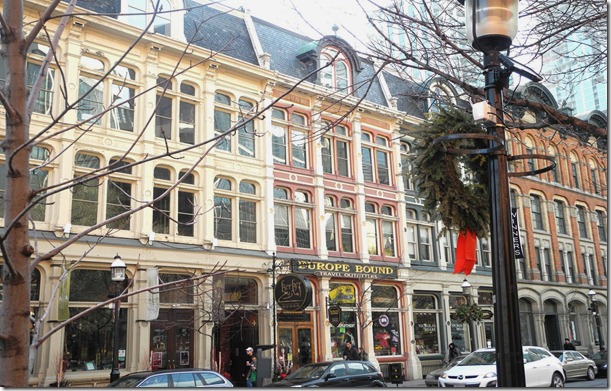 19th-century warehouses on Front Street East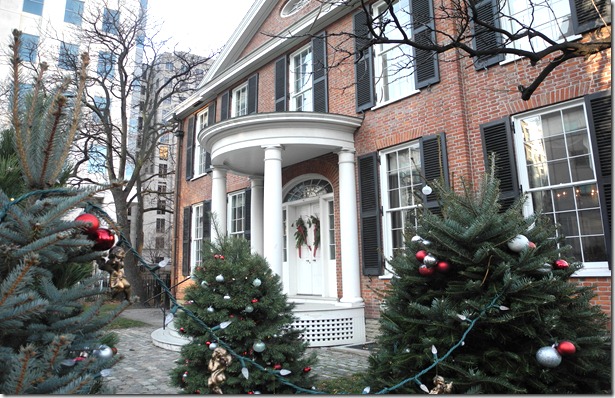 Historic Campbell House at Queen and University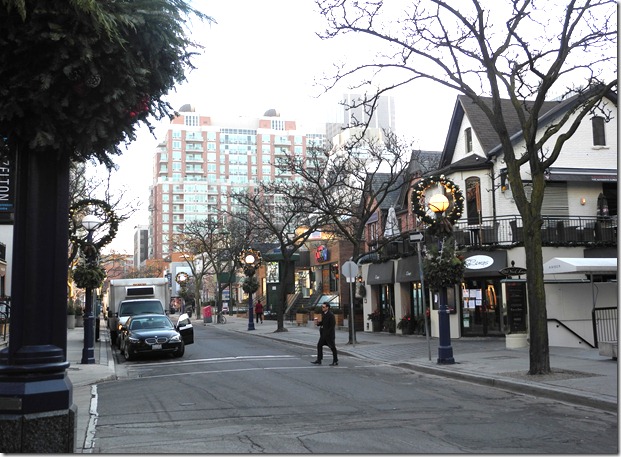 Trendy Yorkville in the Bloor-Yonge area of Toronto
Xmas tree on Bloor Street Xmas tree in Dundas Square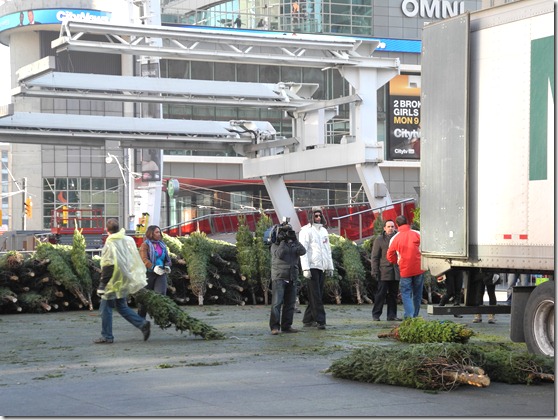 Unloading Xmas trees at Dundas Square on 13 December, 2012
To view posts about Christmas in Toronto throughout the years
The Christmas windows at the Bay Store on Queen Street, 2012
https://tayloronhistory.com/2012/12/12/the-2012-christmas-windows-at-the-bay-store-on-queen-street/
The amazing gingerbread houses on the underground Pathway in Toronto
https://tayloronhistory.com/2012/12/12/amazing-christmas-gingerbread-houses-on-torontos-pathway/
The gigantic metallic reindeer in the Eaton Centre
https://tayloronhistory.com/2012/12/13/the-gigantic-xmas-reindeer-in-the-eaton-centre/
Christmas cards mailed in Toronto during the years 1924-1926
https://tayloronhistory.com/2012/12/11/xmas-cards-mailed-in-toronto-1924-1927/
The Christmas buffet lunch at the Arcadian Court at the Simpson's Queen Street Store in Toronto (the Bay)
https://tayloronhistory.com/2011/11/30/christmas-lunch-at-simpsons-arcadian-court-in-the-1950s-featured-in-murdermystery/
Christmas at Mackenzie House on Bond Street.
https://tayloronhistory.com/2011/12/07/torontos-mackenzie-house-on-bond-street-at-christmas/
Christmas at Toronto's St. Lawrence Market
https://tayloronhistory.com/2011/12/09/christmas-at-the-st-lawrence-market-in-torontos-yesteryear/
The Christmas Market at the Distillery District
https://tayloronhistory.com/2011/12/10/my-recent-visit-to-torontos-christmas-market-at-the-distillery-district/
Memories of the Christmas windows of the Simpson's store on Queen Street
https://tayloronhistory.com/2011/12/03/memories-of-the-christmas-windows-of-the-simpsons-store-at-queen-and-bay-streets/
Christmas at the Kensington Market
https://tayloronhistory.com/2011/12/01/enjoying-the-kensington-market-at-christmas/
Memories of Toyland on the fifth floor of the old Eaton's Store at Queen and Yonge Street
https://tayloronhistory.com/2011/11/29/memories-of-eatons-toyland-in-the-1940s/
The Christmas lights on Yonge Street in the 1950s
https://tayloronhistory.com/2011/11/24/memories-of-the-lights-at-xmas-on-torontos-yonge-street-in-the-1950s/
The history of Toronto's Santa Claus Parade
https://tayloronhistory.com/2011/11/15/history-of-torontos-santa-claus-parade/
The 1940s Christmas radio broadcasts featuring Santa Claus
https://tayloronhistory.com/2011/11/15/memories-of-trimming-the-tree-and-the-eatons-christmas-radio-broadcasts-in-1944/
Christmas at Toronto's historic St. Andrew's Market
https://tayloronhistory.com/2011/11/23/christmas-during-the-19th-century-at-torontos-historic-st-andrews-market/
Christmas trees and seasonal decorations in Toronto
https://tayloronhistory.com/2011/12/20/favourite-christmas-trees-and-decorations-in-toronto-this-year/
Celebrating the 12 days of Christmas in old Newfoundland
https://tayloronhistory.com/2012/12/12/celebrating-the-12-days-of-christmas-in-the-newfoundland-of-yesteryear/
Link to the Home Page for this blog: https://tayloronhistory.com/