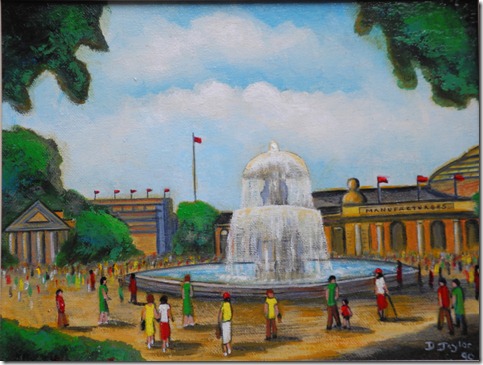 This painting, acrylic on stretched canvas, may evoke a few memories for those who can recall the days when if you became separated from your friends at the CNE, you always told them to: "Meet me at the fountain." In decades past, this was the magnificent Gooderham Fountain, erected in 1911. It was at the western end of the Ex grounds, near the Horticultural Building. The fountain was named after George H. Gooderham, president of the CNE from 1909 until 1911. He was the grandson of William Gooderham, one of the partners who founded the Gooderham and Worts Distillery. The old buildings of the distillery today form the Distillery District.
The Gooderham Fountain of 1911 resembled one of the fountains in St. Peter's Square in Rome. In 1958 is was replaced with the present-day Princess Margaret Fountain. Princess Margaret attended its official opening during her visit to Canada in that year.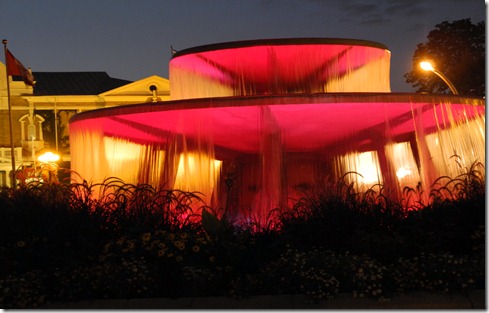 The Princess Margaret Fountain at the 2012 CNE
To view a post about the 2012 CNE: https://tayloronhistory.com/2012/08/28/try-viewing-the-2012-cne-through-new-eyes/
To view other posts about the CNE, follow the links:
Memories of the CNE of yesteryears.
tps://tayloronhistory.wordpress.com/2011/08/22/memories-of-the-cnetoday-and-yesterday/
Ten suggestions to improve the CNE
https://tayloronhistory.com/2011/09/05/ten-suggestion-to-make-the-cne-great/
The old CNE fountain was a copy of those in Rome's St. Peter's Square
https://tayloronhistory.com/2011/09/05/the-fountain-at-the-cne/
Attending the 2011 Ex.
https://tayloronhistory.com/2011/08/25/whats-it-like-to-attend-the-cne-in-2011-in-comparison-with-yesteryear/
Memories and photos of the Grandstand shows of the 1950s
https://tayloronhistory.com/2011/09/03/the-magnificent-grandstand-shows-of-the-1950s/
Postcard views of the CNE from the 1940s
https://tayloronhistory.com/2011/08/29/postcard-views-of-the-1947-cne-part-one/
More postcard views of the CNE from the 1940s
https://tayloronhistory.com/2011/08/30/postcard-views-of-the-1947-cne-part-two/
To view the Home Page and blog archives : https://tayloronhistory.com/