In 2011, I was not in Canada for the autumn season. I never realized how much I would miss its delights. I vowed that I would never again depart from Canada during September and October. They are glorious months, with warm afternoons and pleasantly cool evening. I realize that there are also rainy, damp miserable days. However, on afternoons when sunshine filters through the golden leaves on Toronto's forested streets, I feel more than compensated for the dreary days that the season presents.
On 25 October 2012, the season presented one of those perfect sun-filled days. The afternoon temperatures hit 23 degrees. Early in the morning, I departed from downtown Toronto, where I reside. I rode the subway to the Bloor West Village and strolled among the residential streets north of Bloor Street. I thoroughly enjoyed my visit. Crunching dry leaves underfoot brought back fond memories of childhood. I recalled warm sunny October afternoons, returning from school, when I kicked chestnuts and acorns with my shoe. Autumn – glorious autumn.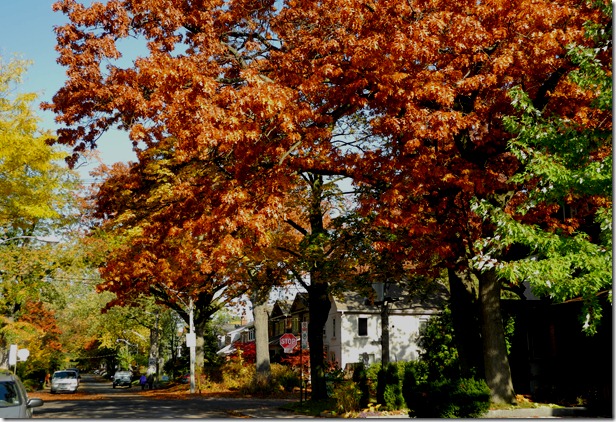 A tree-lined street in the Bloor West Village
Other Bloor West Village scenes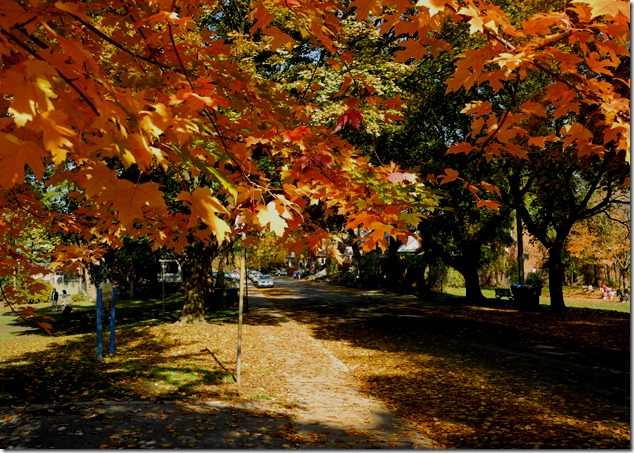 A street and a small park in the Village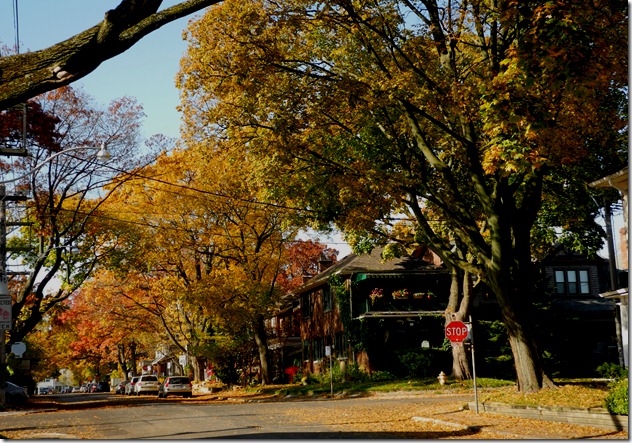 Autumn colours abound on the streets in October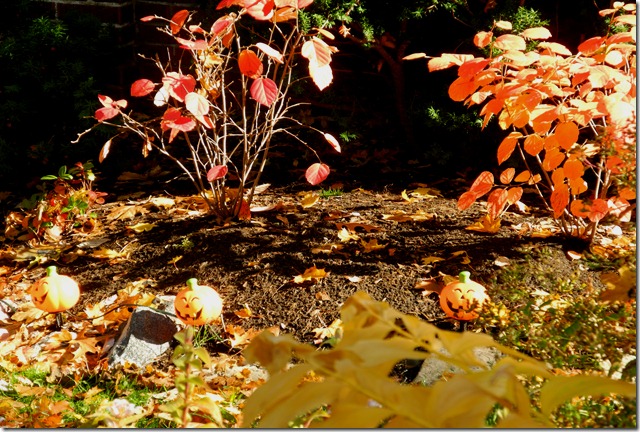 A scene in a garden that would make an excellent oil painting
To view other posts about Toronto experiences:
Photos of the surroundings of the CN Tower and and the St. Lawrence Market in 1977
https://tayloronhistory.com/2012/10/18/photos-of-the-surroundings-of-the-st-lawrence-market-and-cn-tower-in-1977/
The old Dominion Bank Building at King and Yonge Street
https://tayloronhistory.com/2012/06/08/the-old-dominion-bank-buildingnow-a-condo-hotel-at-one-king-st-west/
The Canada Life Building on University and Queen Street West.
https://tayloronhistory.com/2012/06/13/exploring-torontos-architectural-gemsthe-canada-life-building/
Campbell House at the corner of Queen Street West and University Avenue
https://tayloronhistory.com/2011/08/18/a-glimpse-at-the-interior-of-campbell-house-at-university-avenue-and-queen-street/
A study of Osgoode Hall
https://tayloronhistory.com/2012/04/12/enjoying-torontos-architectural-gems-osgoode-hall/
Toronto's first City Hall, now a part of the St. Lawrence Market
https://tayloronhistory.com/2012/04/21/torontos-first-city-hall-now-a-part-of-the-st-lawrence-market/
The St. Lawrence Hall on King Street
https://tayloronhistory.com/2012/04/28/enjoying-torontos-architectural-gems-the-st-lawrence-hall/
Toronto's streetcars through the past decades
https://tayloronhistory.com/2012/03/26/memories-of-torontos-streetcars-of-yesteryear/
History of Trinity Bellwoods Park
https://tayloronhistory.com/2012/04/09/the-history-and-beauty-of-trinity-bellwood-park/
A history of Toronto's famous ferry boats to the Toronto Islands
https://tayloronhistory.com/2012/02/24/remember-the-toronto-island-ferries-the-bluebell-primroseand-trillium/
Toronto's Old City Hall at Bay and Queen Streets
https://tayloronhistory.com/2012/04/22/enjoying-torontos-architectural-gems-old-city-hall/
To view the Home Page for this blog: https://tayloronhistory.com/