These murals appeared recently (Oct. 2012) in McDougall Lane, the alley that is west of Spadina, between Richmond and Queen Streets. Already, someone has placed an unsightly tag on one of the pieces of art work. The murals are worth a visit to view them while they are fresh. When Rick Mercer does his popular "Rick Mercer Report," he often employs the mural in the laneways of this area as background.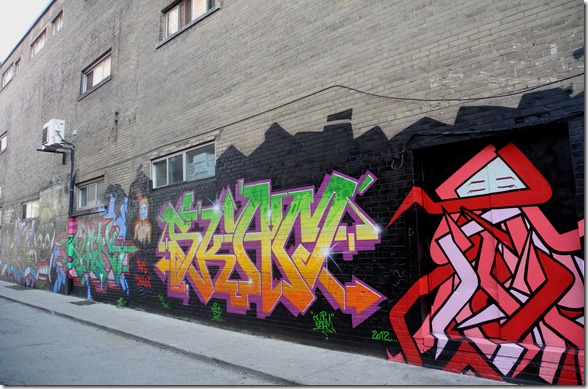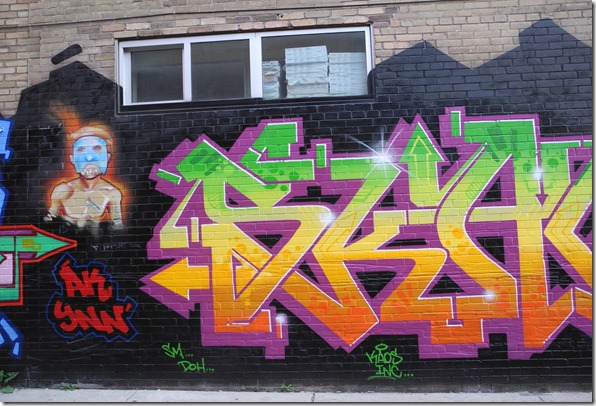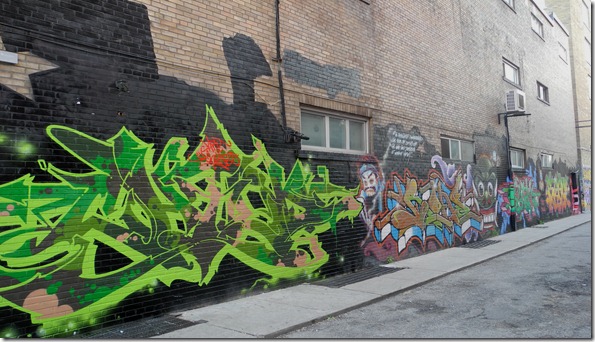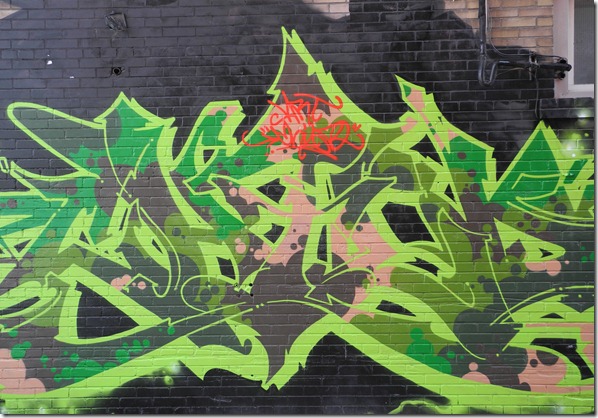 To view others posts about the Toronto graffiti scene:
The graffiti-decorated "hug-me-tree" on Queen Street West.
https://tayloronhistory.com/2012/10/25/queen-street-wests-graffiti-adorned-hug-me-tree/
Graffiti in a laneway amid the colours of autumn
https://tayloronhistory.com/2012/10/23/graffiti-amid-autumn-in-the-city/
A mural in the Kensington Market, with tongue-in-cheek humour:
https://tayloronhistory.com/2012/10/17/clever-humorous-graffiti-in-the-kensington-market/
In July of 2011, I placed a post on this blog about the abstract expressionists. At that time, there was an exhibition of their work at the AGO. I received comments from readers who strongly disagreed with the post. Their opinions were indeed valid, but the ideas expressed in the post may also have validity. To view this post:
https://tayloronhistory.com/2011/08/06/abstract-expressionist-masters-at-the-ago-waste-of-time-or-meaningful/
In August of 2012 I placed another post in which I compared the work of the graffiti artist Uber5000 to the abstract expressionists. This too became a controversial post.
https://tayloronhistory.com/2012/09/17/in-graffiti-alley-torontos-artists-put-to-shame-new-york-abstract-expressionists/
To view the Home Page for this blog: https://tayloronhistory.com/