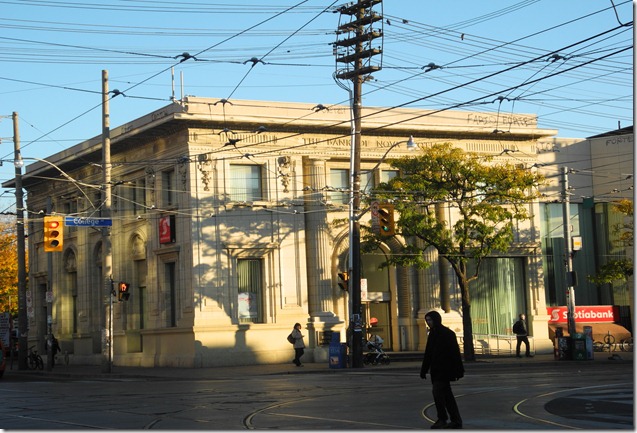 The impressive bank building on the northeast corner of College and Bathurst Streets is one of Toronto's architectural gems, as it is one of the few buildings remaining in Toronto that has ceramic tiles employed as cladding on its facades.
In 1891, J. Clooney operated a flour and feed store on this site. In 1900, Isaac French took over the business, but shared the premises with Edward Pease, who sold leather horse whips. In 1904, the Metropolitan Bank located a branch on the site, its manager being T. B. Clarke. The head office of the Metropolitan Bank was at 7-9 King Street E, and its general manger was Frank W. Baille. The bank operated another branch at 33 Richmond Street West.
In 1913, the architectural firm of Darling and Pearson designed the building that remains on the site today at 440 College Street for a branch of the Bank of Nova Scotia. It's style is reminiscent of a Roman temple, as it contains many classical designs and two massive Doric pilasters on either side of the doorway.
The ornate facade of the bank, with its white ceramic tiles.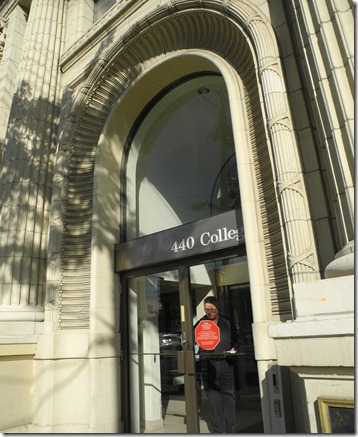 The impressive doorway of the 1913 bank building is a graceful Roman arch.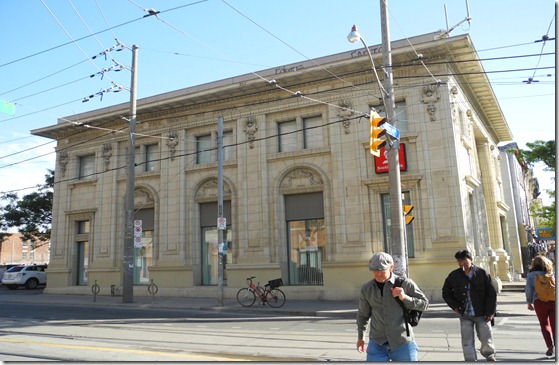 The west facade of the bank building, facing Bathurst Street.
To view post about Toronto's historic buildings:
Photos of the surroundings of the CN Tower and and the St. Lawrence Market in 1977
https://tayloronhistory.com/2012/10/18/photos-of-the-surroundings-of-the-st-lawrence-market-and-cn-tower-in-1977/
The old Dominion Bank Building at King and Yonge Street
https://tayloronhistory.com/2012/06/08/the-old-dominion-bank-buildingnow-a-condo-hotel-at-one-king-st-west/
The Canada Life Building on University and Queen Street West.
https://tayloronhistory.com/2012/06/13/exploring-torontos-architectural-gemsthe-canada-life-building/
Campbell House at the corner of Queen Street West and University Avenue
https://tayloronhistory.com/2011/08/18/a-glimpse-at-the-interior-of-campbell-house-at-university-avenue-and-queen-street/
A study of Osgoode Hall
https://tayloronhistory.com/2012/04/12/enjoying-torontos-architectural-gems-osgoode-hall/
Toronto's first City Hall, now a part of the St. Lawrence Market
https://tayloronhistory.com/2012/04/21/torontos-first-city-hall-now-a-part-of-the-st-lawrence-market/
The St. Lawrence Hall on King Street
https://tayloronhistory.com/2012/04/28/enjoying-torontos-architectural-gems-the-st-lawrence-hall/
Toronto's streetcars through the past decades
https://tayloronhistory.com/2012/03/26/memories-of-torontos-streetcars-of-yesteryear/
History of Trinity Bellwoods Park
https://tayloronhistory.com/2012/04/09/the-history-and-beauty-of-trinity-bellwood-park/
A history of Toronto's famous ferry boats to the Toronto Islands
https://tayloronhistory.com/2012/02/24/remember-the-toronto-island-ferries-the-bluebell-primroseand-trillium/
Toronto's Old City Hall at Bay and Queen Streets
https://tayloronhistory.com/2012/04/22/enjoying-torontos-architectural-gems-old-city-hall/
To view the Home Page for this blog: https://tayloronhistory.com/