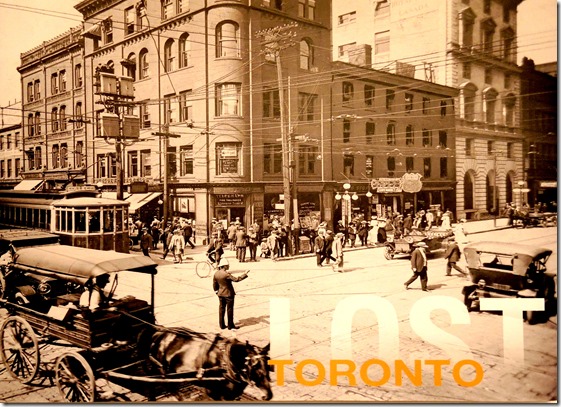 Lost Toronto by Doug Taylor, Pavilion Press, published January 2018. Photo King and Yonge Streets, Toronto Archives.
When Old City Hall was slated for demolition in the 1960s, protestors united to save this key piece of Toronto's architectural heritage. Their efforts paid off and eventually led to the passing of the Ontario Heritage Act, which has been preserving buildings of cultural value since the mid-1970s. But what happened to some of the cultural gems that graced the City of Toronto before the heritage movement? Lost Toronto brings together some of the most spectacular buildings that were lost to the wrecking ball or redeveloped beyond recognition.
Using detailed archival photographs, Lost Toronto recaptures the city's lost theatres, sporting venues, bars, restaurants and shops. Along the way, the reader will visit stately residences (Moss Park, the Gordon Mansion, Benvenuto) movie palaces (Shea's Hippodrome, Shea's Victoria, Tivoli Theatre, Odeon Carlton), grand hotels (Hotel Hanlan, Walker House, Queen's Hotel), department stores ( Eaton's Queen Street, Eaton's College Street, Robert Simpson Company, Stollery's), landmark shops (Sam the Record Man, A & A Book Store, World's Biggest Book Store, Honest Ed's), arenas and amusement parks (Sunnyside, Maple Leaf Stadium, CNE Stadium), and restaurants and bars (Captain John's on the M. V. Normac, Colonial Tavern, Ed's Warehouse).
This richly illustrated book brings some of Toronto's most remarkable buildings and much-loved venues back to life. From the loss of John Strachan's Bishop's Palace in 1890 to the scrapping of the S. S. Cayuga in 1960 and the closure of the HMV Superstore in 2017, these pages cover more than 150 years of the city's built heritage to reveal a Toronto that once was.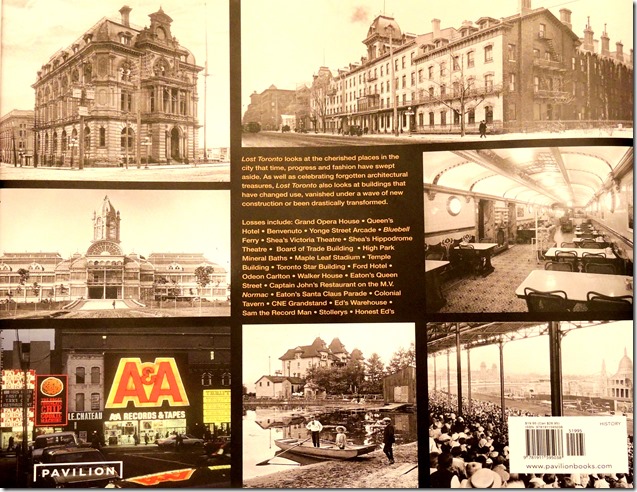 Back cover of Lost Toronto, available in book stores or online, $26.95
To view the Home Page for this blog: https://tayloronhistory.com/
For more information about the topics explored on this blog:
https://tayloronhistory.com/2016/03/02/tayloronhistory-comcheck-it-out/
Books by the Blog's Author
"Toronto's Theatres and the Golden Age of the Silver Screen," explores 50 of Toronto's old theatres and contains over 80 archival photographs of the facades, marquees and interiors of the theatres. It relates anecdotes and stories by the author and others who experienced these grand old movie houses.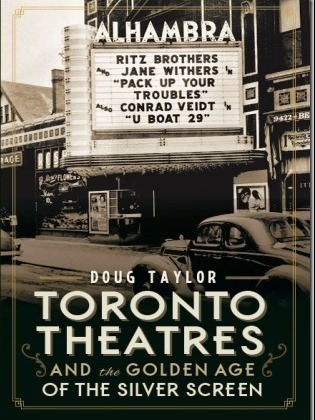 To place an order for this book, published by History Press:
https://www.historypress.net/catalogue/bookstore/books/Toronto-Theatres-and-the-Golden-Age-of-the-Silver-Screen/9781626194502 .
Book also available in most book stores such as Chapter/Indigo, the Bell Lightbox and AGO Book Shop. It can also be ordered by phoning University of Toronto Press, Distribution: 416-667-7791 (ISBN 978.1.62619.450.2)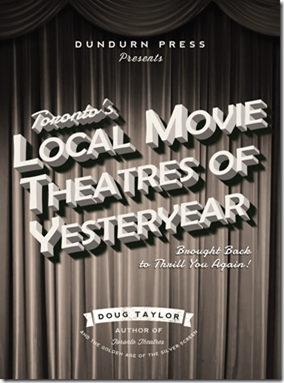 Another book on theatres, published by Dundurn Press, is entitled, "Toronto's Movie Theatres of Yesteryear—Brought Back to Thrill You Again." It explores 81 theatres and contains over 125 archival photographs, with interesting anecdotes about these grand old theatres and their fascinating histories. Note: an article on this book was published in Toronto Life Magazine, October 2016 issue.
For a link to the article published by |Toronto Life Magazine: torontolife.com/…/photos-old-cinemas-doug–taylor–toronto-local-movie-theatres-of-y…
The book is available at local book stores throughout Toronto or for a link to order this book: https://www.dundurn.com/books/Torontos-Local-Movie-Theatres-Yesteryear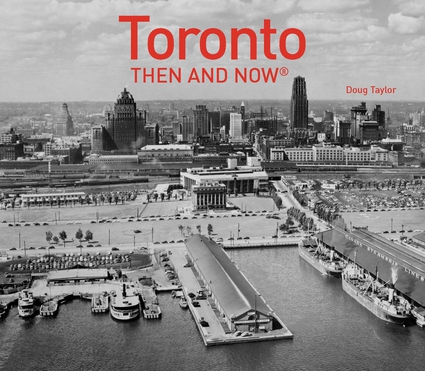 Another publication, "Toronto Then and Now," published by Pavilion Press (London, England) explores 75 of the city's heritage sites. It contains archival and modern photos that allow readers to compare scenes and discover how they have changed over the decades. Note: a review of this book was published in Spacing Magazine, October 2016. For a link to this review:
spacing.ca/toronto/2016/09/02/reading-list-toronto-then-and-now/
For further information on ordering this book, follow the link to Amazon.com here or contact the publisher directly by the link below:
http://www.ipgbook.com/toronto–then-and-now—products-9781910904077.php?page_id=21