Residing in downtown Toronto, which is rich with graffiti mural art, I have become very aware of the quality ( or lack of) the work that adorns the alleys and laneways of the city. I am presently in Puerto Vallarta (Mexico). As it is the land of Diego Rivera, one of the great muralist who ever lived, I have been curious to see the graffiti art that is displayed in this small town. The first thing I noticed is that although the white cement walls of the residences and shops provide endless possibilities for graffiti, the spaces are amazing free of the tagging and mindless scribbles that we often see in major cities in North America, Toronto included. Perhaps it is because Puerto Vallarta is a small town and people know each other better that they respect the property of others. It is a refreshing change.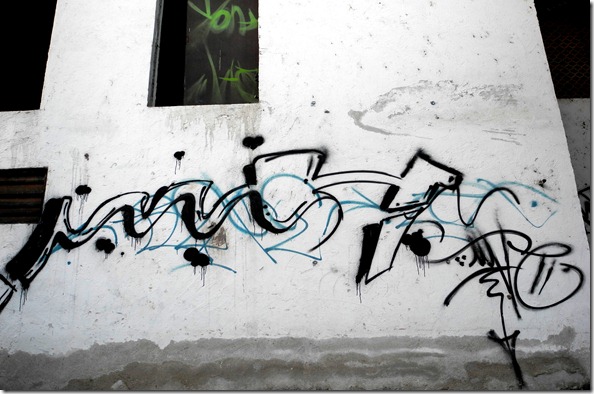 This type of wall scribbling can be found in most cities throughout the world. Fortunately, it is rare in Puerto Vallarta.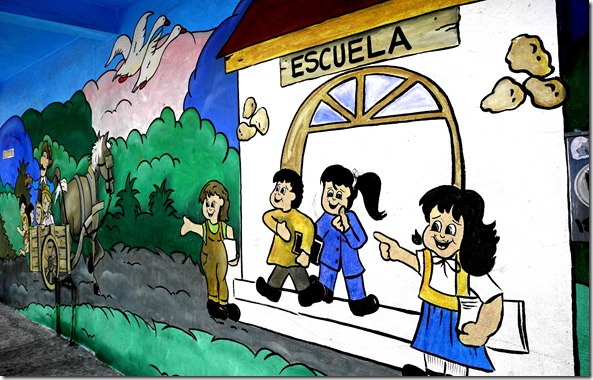 This delightful mural adorns the walls of a primary school. Its colours and simplistic style, as well as the theme, suit its location.
These murals were also on the walls of the primary school.
This art work was commissioned by the owner of the building. Skulls are a common theme in Mexican art, as illustrated by the objects seen below.
Tourists objects seen in a shop window.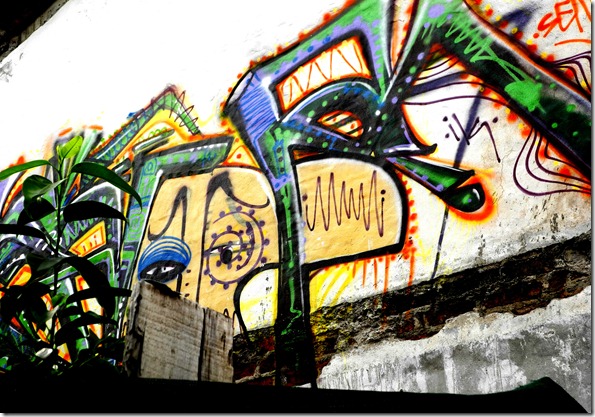 Graffiti in Puerto Vallarta on the wall of the building facing an empty building lot.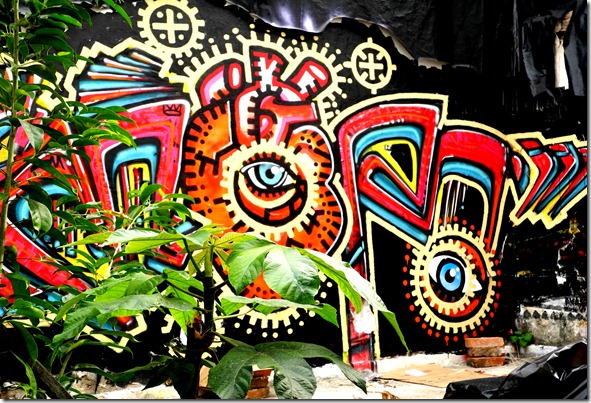 This wall mural is certainly colourful and intricately designed.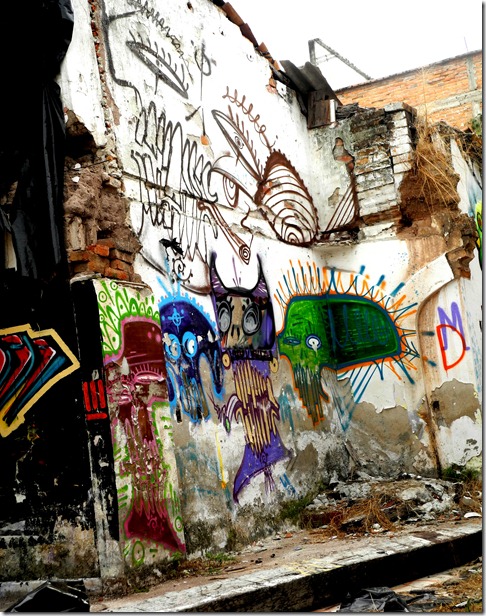 This abandoned building contains graffiti that appears to contain contributions from various artists of dubious distinction.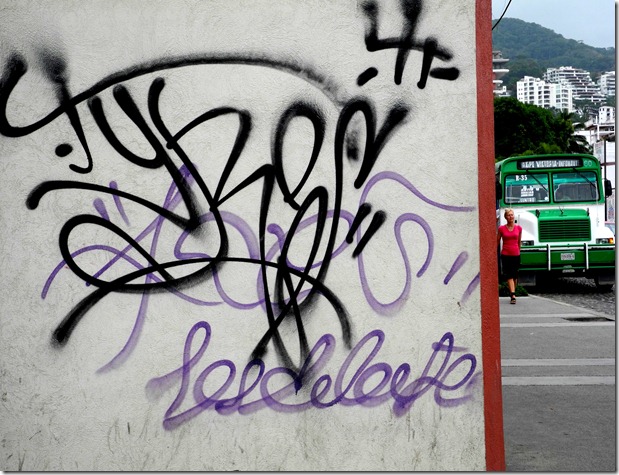 This wall appears more like the tagging that is on walls in Toronto.
To view posts about the Toronto graffiti scene:
Toronto graffiti murals amid the winter snows
https://tayloronhistory.com/2012/12/31/graffiti-murals-in-toronto-amid-the-winter-snow-2012/
Uber5000 painting a building in Graffiti Alley
https://tayloronhistory.com/2012/11/08/uber5000-has-new-graffiti-art-in-mcdougall-lane/
New commissioned mural by Uber5000 at 74 Denison Avenue
https://tayloronhistory.com/2012/11/04/new-graffiti-mural-by-uber5000-on-dennison-avenue/
New mural on McCaul Street has traces of Diego Rivera
https://tayloronhistory.com/2012/11/03/new-mccaul-st-mural-has-traces-of-diego-rivera/
Black and white graffiti in Kensington Market is unique
https://tayloronhistory.com/2012/11/02/new-black-and-white-graffiti-art-in-kensington-market-is-unique/
McDougall Lane has a new graffiti display (Nov. 2012)
https://tayloronhistory.com/2012/11/01/mcdougall-alley-has-a-new-display-of-graffiti-art/
The graffiti-decorated "hug-me-tree" on Queen Street West.
https://tayloronhistory.com/2012/10/25/queen-street-wests-graffiti-adorned-hug-me-tree/
Graffiti in a laneway amid the colours of autumn
https://tayloronhistory.com/2012/10/23/graffiti-amid-autumn-in-the-city/
A mural in the Kensington Market, with tongue-in-cheek humour:
https://tayloronhistory.com/2012/10/17/clever-humorous-graffiti-in-the-kensington-market/
In July of 2011, I placed a post on this blog about the abstract expressionists. At that time, there was an exhibition of their work at the AGO. I received comments from readers who strongly disagreed with the post. Their opinions were indeed valid, but the ideas expressed in the post may also have validity. To view this post:
https://tayloronhistory.com/2011/08/06/abstract-expressionist-masters-at-the-ago-waste-of-time-or-meaningful/
In August of 2012 I placed another post in which I compared the work of the graffiti artist Uber5000 to the abstract expressionists. This too became a controversial post.
https://tayloronhistory.com/2012/09/17/in-graffiti-alley-torontos-artists-put-to-shame-new-york-abstract-expressionists/
To view the Home Page for this blog: https://tayloronhistory.com/