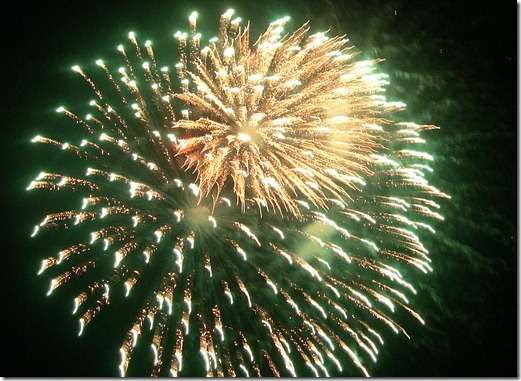 As I watch the fireworks on New Year's Eve, I am more acutely aware of the passage of time than on my birthdays. One of the true blessings of childhood was that I never thought about the past. I was too preoccupied with the coming year, when I would be another year older. I still anticipate the future enthusiastically, but I no longer enjoy adding to my age.
I believe that the Toronto of today is more vibrant, interesting, and tolerant than it was when I was a child. Our city is now one of the most ethnically diverse urban areas in the world. It does not just tolerate differences in life-style and religious faith, but embraces them. Toronto also accepts that some people do not identify with any religious faith. Immigrants have helped turn Toronto into one of the gastronomic centres of the world. It is a great time to live in the city. I feel privileged that I have been able to participate in the age of mass communication and social media as it provides endless opportunities to learn about others and reach out to them. The changes in mass transportation are another marvel of our modern world. I can have coffee on a cold winter morning in Toronto, watch the snow drift past my window, and in the late afternoon be in the heat of the tropics, sipping on a rum-filled drink.
When I was a child, the world was a different place. In every century, in every country, if a person lives long enough, they eventually make this claim. Because the concept is universally true, its truth is not diminished. When I tip my glass to toast the New Year, although it is a moment to celebration the future, I remember the past and the world of my childhood. In those days, our street was akin to a small village. We knew everyone for several city blocks in either direction. We had our own corner store to purchase penny-candy, a grocery store for our daily needs, drug store, local movie theatre, and churches within walking distance. The same people had lived our street year after year, and if someone moved away or died, they created a hole in the fabric of our village scene. On Halloween, we knew who would answer the door of the houses, and were aware who handed out the best treats. On Christmas, we knew who would purchase a tree of balsam and who would buy a pine or spruce. There was predictability to life that our transient society of today lacks.
On New Year's Eve, in our neighbourhood, it was rare for anyone to journey downtown to a restaurant or club. Few could afford such a luxury. Some might go to the local movie theatre, but before midnight, they returned home. When the clock struck twelve, everyone left their place by the radio and went outside on the veranda to welcome in the New Year. People banged pots and pans together, blew on a brass instrument, or employed anything they could find to make a noise. Sometimes, they even used the lids of garbage cans. They shouted "Happy New Year" as loudly as possible and shook hands with those who lived in the houses nearby. Then, within three or four minutes, the cold temperatures forced everyone back indoors, where they resumed the celebration. Sadly, this tradition has disappeared from the urban scene. It has been a long time since I have seen anyone in residential areas go outside to wish their neighbours "Happy New Year."
However, during the past few years, on New Year's Eve in our downtown condo, a small group that lives within the building go out on our balcony to make noise at midnight. Alas, our racket is the only sound in the neighbourhood. No one else ever ventures outside in the cold to welcome in the New Year. Perhaps this year will be different!
In yesteryears in Toronto, on our village/street, it was possible to greet your neighbours personally on New Year's Eve as you knew them well, having shared their joys and sorrows throughout the previous year. You chatted with them daily in the local grocery store, passed them frequently as you walked along the sidewalks of the neighbourhood, and complained together on stormy days as you shovelled the deep drifts of snow. No one drove to a plaza where they knew no one or shopped in a huge supermarket where there were no opportunities to chat with people. People tended to work at the same job, often with the same company, throughout most of their career. They remained in the same house for decades. Today, people change jobs and living space frequently. These changes in society have advantages, but also drawbacks. We have gained much throughout the previous decades, we have also lost some things that were worthwhile.
As we approach the new year, may we all create new memories during 2013 that we will fondly cherish in the years ahead.
Happy New Year!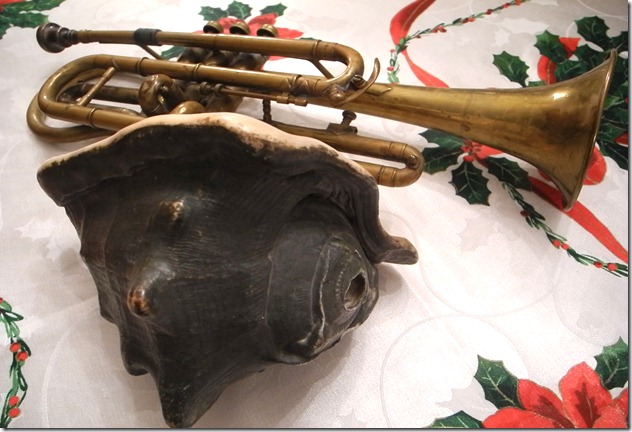 The two objects in the above picture are noise-makers that have been in my family for many years. They were employed when I was a child to make noise on New Year's Eve, when we went out on the veranda. The old trumpet was my dad's. He was a member of McCormick's Dance Orchestra in the 1930s, when he played during the Depression years to supplement the family income. The grey object is a conch shell that was owned by my grandfather when he fished on the Grand Banks of Newfoundland, in the early days of the 20th century. The tip of the shell had been removed to create a hole, turning the shell into a horn-like instrument. A person places his/her lips on the hole and blows to create a loud, hollow sound. When my grandfather was fishing in a dory (small boat), in the fog, he used the conch shell to signal his position to the schooner. The conch shell has been in my family for over 100 years. These are the same two objects that we employ on the balcony of our condo today to make a racket at midnight.
Conch shell, showing the hole for blowing.
To view other posts about the festive Season in Toronto throughout the years.
New Year's Eve in Toronto in 1945
https://tayloronhistory.com/2012/12/28/new-years-eve-in-toronto-1945/
Toronto's iconic buildings amid December's snow in 2012
https://tayloronhistory.com/2012/12/27/torontos-streets-and-iconic-buildings-set-in-snow-dec-2012/
Toronto's Eaton Centre decorations at night
https://tayloronhistory.com/2012/12/22/torontos-eaton-centre-xmas-decorations-at-night-in-2012/
Butter sculptures in the lobby of Toronto's Royal York Hotel
https://tayloronhistory.com/2012/12/19/xmas-butter-sculptures-in-royal-york-hotel-lobby/
A popcorn man on the street in downtown Toronto during Christmas
https://tayloronhistory.com/2012/12/18/a-popcorn-man-in-toronto-during-christmas-2012/
Photos with the Eaton's Santa in 1941 and 1943
https://tayloronhistory.com/2012/12/18/photos-with-eatons-santa-claus-in-1941-and-1944/
A church Christmas pageant in Toronto in 2012
https://tayloronhistory.com/2012/12/17/church-xmas-concerts-of-yesteryear-remain-alive-in-toronto/
Downtown Toronto's lights and Christmas displays – 2012
https://tayloronhistory.com/2012/12/17/downtown-torontos-xmas-displays-at-night/
The Christmas windows at the Bay Store are magical at night
https://tayloronhistory.com/2012/12/16/the-bay-xmas-windows-on-queen-become-magical-at-night/
Christmas at the historic St. Lawrence Market in 1921 and in 2012
https://tayloronhistory.com/2012/12/14/xmas-at-the-historic-st-lawrence-market-in-1921-and-in-2012/
The Christmas windows at the Bay Store on Queen Street, 2012
https://tayloronhistory.com/2012/12/12/the-2012-christmas-windows-at-the-bay-store-on-queen-street/
The amazing gingerbread houses on the underground Pathway in Toronto
https://tayloronhistory.com/2012/12/12/amazing-christmas-gingerbread-houses-on-torontos-pathway/
The gigantic metallic reindeer in the Eaton Centre
https://tayloronhistory.com/2012/12/13/the-gigantic-xmas-reindeer-in-the-eaton-centre/
Christmas cards mailed in Toronto during the years 1924-1926
https://tayloronhistory.com/2012/12/11/xmas-cards-mailed-in-toronto-1924-1927/
The Christmas buffet lunch at the Arcadian Court at the Simpson's Queen Street Store in Toronto (the Bay)
https://tayloronhistory.com/2011/11/30/christmas-lunch-at-simpsons-arcadian-court-in-the-1950s-featured-in-murdermystery/
Christmas at Mackenzie House on Bond Street.
https://tayloronhistory.com/2011/12/07/torontos-mackenzie-house-on-bond-street-at-christmas/
Christmas at Toronto's St. Lawrence Market
https://tayloronhistory.com/2011/12/09/christmas-at-the-st-lawrence-market-in-torontos-yesteryear/
The Christmas Market at the Distillery District
https://tayloronhistory.com/2011/12/10/my-recent-visit-to-torontos-christmas-market-at-the-distillery-district/
Memories of the Christmas windows of the Simpson's store on Queen Street
https://tayloronhistory.com/2011/12/03/memories-of-the-christmas-windows-of-the-simpsons-store-at-queen-and-bay-streets/
Christmas at the Kensington Market
https://tayloronhistory.com/2011/12/01/enjoying-the-kensington-market-at-christmas/
Memories of Toyland on the fifth floor of the old Eaton's Store at Queen and Yonge Street
https://tayloronhistory.com/2011/11/29/memories-of-eatons-toyland-in-the-1940s/
The Christmas lights on Yonge Street in the 1950s
https://tayloronhistory.com/2011/11/24/memories-of-the-lights-at-xmas-on-torontos-yonge-street-in-the-1950s/
The history of Toronto's Santa Claus Parade
https://tayloronhistory.com/2011/11/15/history-of-torontos-santa-claus-parade/
The 1940s Christmas radio broadcasts featuring Santa Claus
https://tayloronhistory.com/2011/11/15/memories-of-trimming-the-tree-and-the-eatons-christmas-radio-broadcasts-in-1944/
Christmas at Toronto's historic St. Andrew's Market
https://tayloronhistory.com/2011/11/23/christmas-during-the-19th-century-at-torontos-historic-st-andrews-market/
Christmas trees and seasonal decorations in Toronto
https://tayloronhistory.com/2011/12/20/favourite-christmas-trees-and-decorations-in-toronto-this-year/
Celebrating the 12 days of Christmas in old Newfoundland
https://tayloronhistory.com/2012/12/12/celebrating-the-12-days-of-christmas-in-the-newfoundland-of-yesteryear/
A humorous account of a Christmas concert in old Newfoundland
https://tayloronhistory.com/2012/12/17/a-humorous-account-of-a-church-xmas-concert-in-old-newfoundland/
Link to the Home Page for this blog: https://tayloronhistory.com/
S