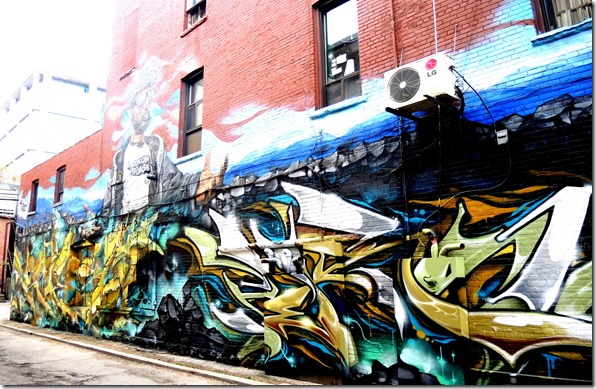 A new mural has appeared in McDougall Laneway this month (October 2013), commissioned by "Brooklyn Projects," which is a skateboard, street wear, boutique and art gallery. It was founded by Dominick DeLuca in 2012. The mural that this enterprise has sponsored is on a wall in McDougall Lane. It is a colourful addition to the street art of the city. The brickwork of the building where it is located was renovated and repaired over the past summer, and the wall was repainted. It provided a blank canvas for a talented artist to display his work.
McDougall Lane is located west of Spadina, between Queen West and Richmond streets. Graffiti Alley intersects with it. The area has the best displays of street art in the city. It is visited by many tourists and Torontonians. It is always included in the Jane Walks, held annually the first weekend of May.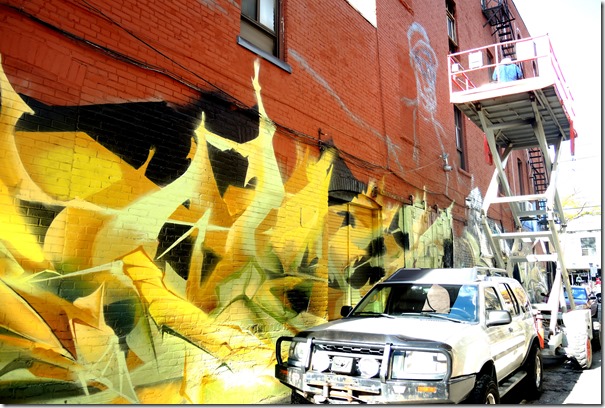 The artist at work in late-October of 2013.
Sketching the figure that will be atop the mural.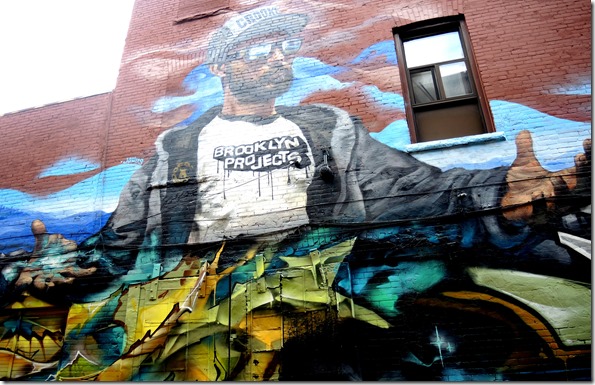 The completed figure on the mural.
This work merits a visit to enjoy the mural's intense colours and broad sweeping lines.
To view the Home Page for this blog: https://tayloronhistory.com/
To view other posts about the Toronto graffiti scene:
Toronto graffiti murals amid the winter snows
https://tayloronhistory.com/2012/12/31/graffiti-murals-in-toronto-amid-the-winter-snow-2012/
Uber5000 painting a building in Graffiti Alley
https://tayloronhistory.com/2012/11/08/uber5000-has-new-graffiti-art-in-mcdougall-lane/
New commissioned mural by Uber5000 at 74 Denison Avenue
https://tayloronhistory.com/2012/11/04/new-graffiti-mural-by-uber5000-on-dennison-avenue/
New mural on McCaul Street has traces of Diego Rivera
https://tayloronhistory.com/2012/11/03/new-mccaul-st-mural-has-traces-of-diego-rivera/
Black and white graffiti in Kensington Market is unique
https://tayloronhistory.com/2012/11/02/new-black-and-white-graffiti-art-in-kensington-market-is-unique/
McDougall Lane has a new graffiti display (Nov. 2012)
https://tayloronhistory.com/2012/11/01/mcdougall-alley-has-a-new-display-of-graffiti-art/
The graffiti-decorated "hug-me-tree" on Queen Street West.
https://tayloronhistory.com/2012/10/25/queen-street-wests-graffiti-adorned-hug-me-tree/
Graffiti in a laneway amid the colours of autumn
https://tayloronhistory.com/2012/10/23/graffiti-amid-autumn-in-the-city/
A mural in the Kensington Market, with tongue-in-cheek humour:
https://tayloronhistory.com/2012/10/17/clever-humorous-graffiti-in-the-kensington-market/
July of 2011, a post about the abstract expressionists.
https://tayloronhistory.com/2011/08/06/abstract-expressionist-masters-at-the-ago-waste-of-time-or-meaningful/
August of 2012, comparing the work of the graffiti artist Uber5000 to the abstract expressionists.
https://tayloronhistory.com/2012/09/17/in-graffiti-alley-torontos-artists-put-to-shame-new-york-abstract-expressionists/
A Torontonian's view of Mexican graffiti art and graffiti
https://tayloronhistory.com/2013/01/14/a-torontonian-viewing-mexican-graffiti-and-graffiti-art/
To view links to the old and present-day movie houses of Toronto
https://tayloronhistory.com/2013/10/09/links-to-toronto-old-movie-housestayloronhistory-com/
To view links to the heritage architecture and history of Toronto
https://tayloronhistory.com/2013/10/08/links-to-historic-architecture-of-torontotayloronhistory-com/